Original URL: https://www.theregister.co.uk/2011/08/03/review_pure_sirocco_550_hi_fi_music_combo/
Pure Sirocco 550 music combo
Hi-fi with Wi-Fi
Posted in Personal Tech, 3rd August 2011 06:00 GMT
Review Pure has pumped out tabletop digital radios and pocket portables for yonks, but largely avoided micro hi-fi. The notable execptions being its DMX and Legato products a few years ago, the inexpensive DAB-equipped Sirocco 150 in 2009, and this new 550 model.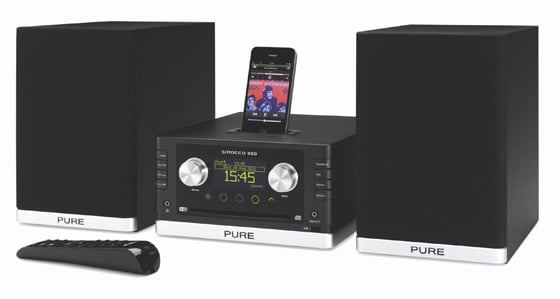 Beat combo: Pure's Sirocco 550
Compared to its forerunner, the 550 has a smaller main unit but beefier amplification, an integrated iPod/iPhone dock and, notably, wireless internet. With this you can access more than 18,000 internet radio stations, podcasts, on-demand programmes (including BBC catch-up), an ambient noises library, audio files from shared devices on your network and any songs you've bought using Pure's cloud-based Lounge service.
Given that music on discs is still popular, it also handles CDs – though a slot-loading drive – as well as digital formats from flash memory sticks (not hard disk drives) attached to the front USB port. The only digital files it loads this way are MP3 and WMA. Docking an iPod provides more choices, such as AAC, Apple Lossless, AIFF, WAV and Audible audiobooks.
For the UPnP-based network media player, Pure provides a free copy of the Twonky media server but you are not obliged to use this if you have a favourite alternative.
I was able to stream MP2, MP3 and AAC music with the media player – including iTunes downloads – but obviously not older DRM-protected iTunes tracks or any of the aforementioned uncompressed or lossless variations, nor the likes of FLAC.

If you don't get on with the touch sensitive controls, there's aleways the remote
The Sirocco is controlled through front panel dials, touch sensitive soft keys and standard buttons for quick access to source inputs. Navigating within USB or networked storage took some getting used to, even though I'm familiar with other Flow radios. To get out of a subfolder or playlist you have to scroll to the tracklisting then press Back to access the library. Pressing Back from within a song jumps all the way to the source list (for changing to CD, radio, etc).
Cabinet decisions
It doesn't use its internet connection to fetch CD artist and track names through the Gracenote database or an equivalent, which is a shame, because net-connected gizmos have been doing this for ages. Pure says it's something that might be enabled in the future.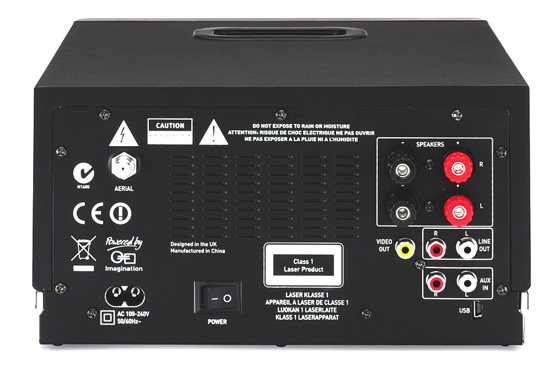 Built-in Wi-Fi: an Ethernet adapter will cost you extra though
Sirocco is the name of a hot wind from the Sahara, so does its performance live up to this breezy name? The supplied speakers' build and sound quality isn't up to pricier but otherwise comparable packages, such as the warm sounding (but not net-connected) Onkyo CS-545UK, however, it's respectable enough for a mid-priced compact.
Staralfur by Sigur Rós on CD balances the soaring strings, piano and moody vocals effectively and the system does justice to the epic Redwings by Guillemots. A streamed MP3 of Paint it Black by The Rolling Stones doesn't sound too off colour, however, a piano concerto by Haydn sounded woolly. I swapped the speakers to a similarly sized KEF pair and the results were much more defined, so it's worth getting the main unit on its own and adding your own choice of speakers.
Using Class D digital amplifiers accounts for the smaller size of this model compared to its predecessor and decent power efficiency. It also has a generous range of sockets, including an F-type terminal that takes a rooftop FM/DAB antenna connection, in case reception needs a boost, though it worked well in my test with the supplied wire aerial. Likewise if you prefer a wired net connection, there's an optional Ethernet adapter, which will cost about £25.
Unfortunately, it doesn't dock with earlier (largely pre-2007) iPods that aren't capable of outputting digital audio. The only option with these and other MP3 players is the front line-in, but it won't charge or remotely control those gadgets this way.
A special feature of Pure's internet radios is Flow Songs, which employs Shazam music tagging so you can identify and, if you wish, buy songs through the radio. It costs £2.99 a year for the Shazam facility, though new users get a 90-day trial.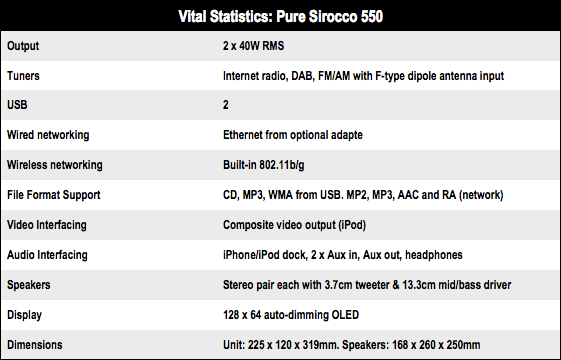 Flow charts
Launched last summer, Flow Songs is still patchy. Shazam is fine at matching pop music to its database but Pure's follow-through is mixed, with many of the tracks I'd consider buying being unavailable for purchase on the platform. It's also often undercut on price by Amazon's MP3 store, although Flow Songs' time-saving advantages might be worth the extra pennies.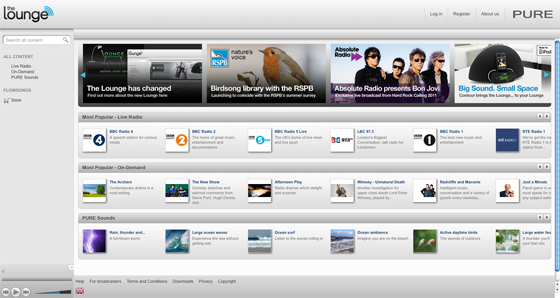 Pure's Lounge had a makeover earlier this year and is all the better for it
Click for a larger image
The Lounge web portal has had a much needed revamp and includes a digital music store, so you can buy songs or albums from a conventional looking site (not just tracks tagged from the radio), stream them to compatible Pure radios or download the MP3s. Time will tell if it becomes a better proposition than Apple's planned iCloud for iTunes.
Verdict
This multiplatform hi-fi encompasses almost every audio source that most people would want, but it could do with a service such as Spotify. Flow Songs isn't the same kind of thing and you need to have bought each track rather have a rolling all-you-can-eat subscription. Although its USB playback choices are limited, the media streaming and internet radio features do go some way to compensate for this. Despite the sometimes tricky menus and the unexceptional (but optional) speakers, it's a convenient and good value item. ®
More AV Gear Reviews...

Logitech
Z906
Ten…
wireless speakers
Eight…
spatial soundbars
Ten…
DAB kitchen radios
Marantz
Melody Media