Original URL: http://www.theregister.co.uk/2011/08/03/review_patriot_wildfire_ssd_storage/
Patriot Wildfire 120GB Sata 3 SSD
Upgrades all round
Posted in Personal Tech, 3rd August 2011 13:07 GMT
Review Patriot Memory's latest Wildfire Sata 3 SSDs come with the promise of read and write speeds in excess of 500MB/s along with read and write IOPS in the 60K region. All of this blazing speed is available in 120GB (£240), 240GB (£420) and 480GB capacities – a 60GB version is in production, but not currently available in the UK.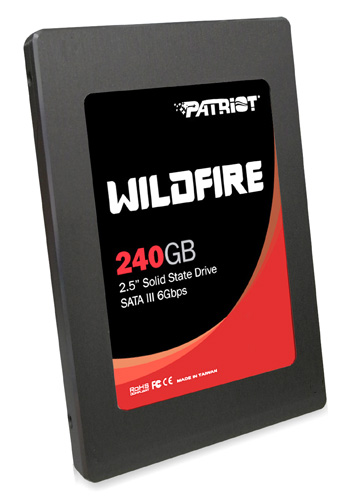 Life in the fast lane: Patriot Memory's Wildfire
The 120GB drive I have here for review is an engineering sample, but I am assured that purchasers of the retail product will receive the usual complement of proper packaging and 3.5in drive bay adapter.
Delivering on Patriot's promises is a SandForce SF-2281 controller, much like that found in OCZ's Vertex 3. The Wildfire is, theoretically, the fastest drive I've ever had on my test rig, so I was certainly keen to see how it performed.
Crystal DiskMark and AS SSD test revealed some very impressive read numbers around the 375MB/s mark, even if it wasn't the promised 500MB/s. ATTO took those numbers even higher, up to 415MB/s with 4MB blocks. However, when it came to read performance, I have to admit I was disappointed to see numbers topping out at 210MB/s, less than half of what I should have been seeing.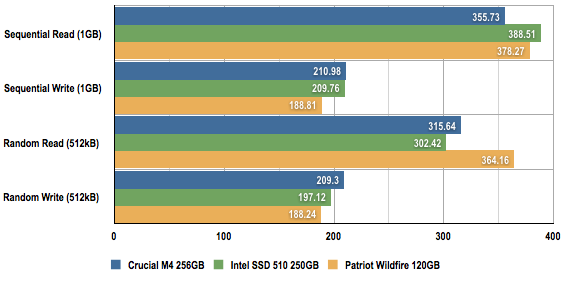 CrystalDiskMark test results
Longer bars are better
At this point I started to wonder if I had reached some kind of limit on my system, but I've seen higher numbers on Marvell based SATA 3Gb/s drives. So I'm inclined to think my rig might not be particularly SandForce-friendly as, given the right hardware, reports suggest this drive does indeed deliver on its promises.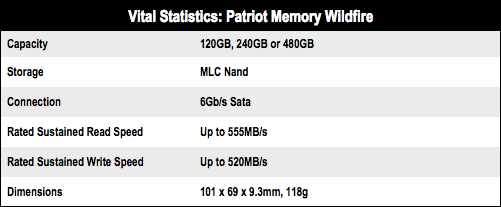 Out with the old...
This makes a verdict difficult. I want to love the Wildfire because I don't doubt that it can perform phenomenally well, but I can't get it to play right with my soon-to-be-replaced hardware comprised of an Intel 3GHz Core2 Duo E6850, a Gigabyte P35-DS3R mobo and a Marvell 88SE9120 Sata controller. Indeed, it seems this storage upgrade demands an upgrade to realise its full potential.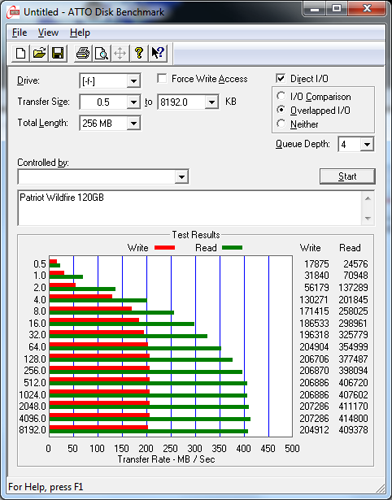 ATTO test results
Still, I'm certainly not saying to stay away from the Wildfire, it remains the overall best performing drive I have tested and if you've got the system to handle it, by all means it is one of the best options on the market today and seriously worth considering.
Yet it does appear that what we have here is a dividing point in the SSD market. Before the SATA 3Gb/s barrier was broken, an SSD was considered an excellent upgrade for any older system with a 3Gb/s controller, now we have drives pushing towards the limits of 6Gb/s controllers that are fantastic for new systems, but are wasted on older kit.
Verdict
These ultra-fast drives come at a cost premium, so if you're cautious about spending £2/GB for a Wildfire to revive your aging PC, perhaps you're better suited to something a little more tame. However, if you've got the cash to burn, the Wildfire would be an excellent purchase. ®
More Storage Reviews

Ten… Portable
USB 3.0 HDDs
Samsung
470 250GB
Intel
510 300GB
Crucial
M4 256GB
Seven...
SSD Sizzlers