Original URL: https://www.theregister.co.uk/2011/08/02/skype_on_ipad/
Skype arrives on fondleslab
Shout into this
Posted in Networks, 2nd August 2011 10:28 GMT
Skype has finally arrived on the iPad – after one false alarm. Now anybody can talk into a gigantic, oversized iPhone.
Skype's VoIP service has several advantages over Apple's newborn video-conferencing service FaceTime: it works over 3G, it is "presence aware", it works with non-Apple gear, and best of all, it can call any phone in the world.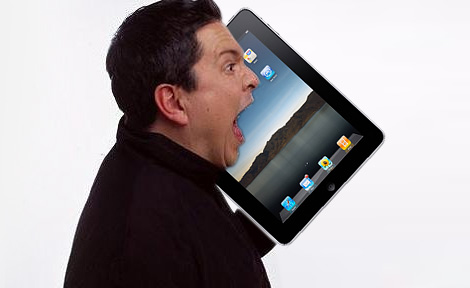 This could be you
Facetime couldn't be more basic, and it isn't clear yet whether Apple plans to invest in it, or leave it fed but locked away in the basement, like Apple TV. Last year industry sources confirmed that Apple wanted to do away with SIM cards altogether and put the network authentication in software – indicating that it wants to be free from network controls altogether.
For now, Apple needs the carriers as distribution partners, and users need those masts. The day of cutting the tether is still a long way off. ®