Original URL: https://www.theregister.co.uk/2011/08/02/review_pctv_nanostick_t2/
PCTV NanoStick T2 USB TV tuner
Freeview HD telly on the move
Posted in Personal Tech, 2nd August 2011 12:16 GMT
Review Ten years ago, investing in a PC TV tuner seemed a neat way of watching while you work – integrating the gogglebox with laptop or desktop duties. Today, the idea is more questionable given access to on-line video streaming and download services from the likes of YouTube and the BBC iPlayer respectively.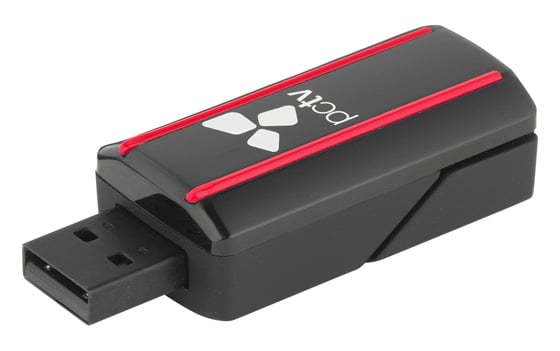 PCTV's Nanostick T2: for those with an HD habit
So why should you fork out £80 PCTV Systems' NanoStick T2 USB tuner when your web browser gets more channels? One good reason is that if you're on the move and you miss your telly, then using a dedicated tuner, rather than streaming, isn't going to cost you dearly for mobile data usage. Another plus point is that the Nanostick is a rather rare beast among portable tuners, as it is capabable of receving Freeview HD channels.
Hardware setup is easy; just plug the flash drive-style device into a USB 2.0 port and connect it to either the included antenna or your home aerial system. If you're at home, stick with the manual's recommendation to avoid using the tiny magnetic antenna. I gave it a shot though and testing in Surrey resulted in the ability to receive Top Gear repeats on Dave and not much else. However, using a proper aerial I was able to receive a full compliment of SD and HD channels.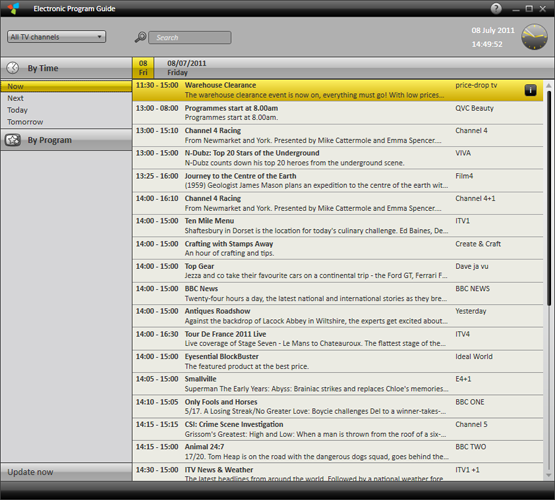 The Now and Next EPG shows other channels, but could be more intuitive
The NanoStick T2 includes a copy of PCTV System's TVCenter which is does a fine job of receiving, displaying and recording your favourite shows, but I didn't really like the interface. The whole system feels rather unintuitive and basic functions are not immediately obvious – this is not TV for TV people.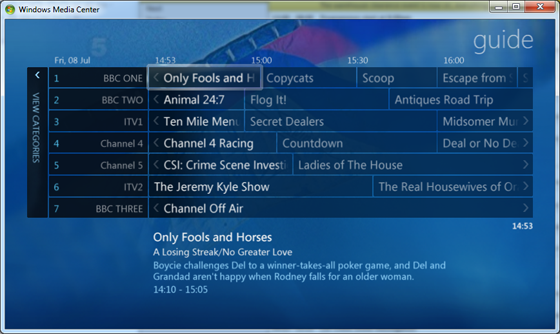 Windows Media Centre EPG integration
The included IR remote does help ease the system back into the realms of familiarity, but ultimately viewing shows by channel or listing for time period, rather than a segmented EPG timetable of multiple stations, is TVCenter's undoing. There are workarounds though. For those of you running higher-end versions of Windows 7 or, dare I say it, Vista with Windows Media Center the NanoStick T2 can be used as an integrated tuner.
HD ready
In this scenario, WMC does all the heavy lifting and once you've provided some details on your location you get a full-featured EPG and a much better interface. The downside is that the included remote is not compatible with WMC and Vista users will have to upgrade to Windows 7 to receive HD channels.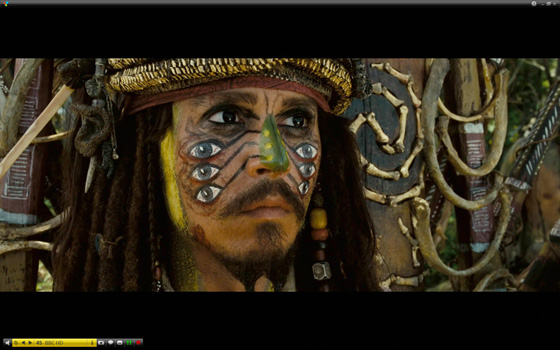 The NanoStick certainly makes the most of full-HD screen
While the Nanostick will have appeal for the avid traveller, being sure of a decent signal is always going to be an issue. Those with country aerial equipped country retreats may find it an ideal option, but that's certainly a niche market. Incidentally, there's the DistanTV feature which allows anything with a web browser to control the NanoStick T2 and stream whatever you're watching over any suitable connection. This works well, even on the iPhone, but again is it necessary if you already have an internet connection?
Verdict
All-in-all, if you're unable to replace a TV tuner with an Internet connection, then £80 is probably a wise investment to be able to enjoy HDTV on the go, if there's a signal... or record programmes ahead of time to watch later. If you can cope with the remote and TVCenter's interface or Windows Media Centre then the nanoStick T2 will do exactly what you need it to. ®
More Gadget Reviews

Elgato
Tivizen
H2O
Apple Digital
AV Adapter
Griffin
PowerDock
Dual
Nokia
DC-14