Original URL: https://www.theregister.co.uk/2011/07/29/review_canon_eos_600d_dslr/
Canon EOS 600D 18Mp DSLR
Choices, choices...
Posted in Personal Tech, 29th July 2011 12:00 GMT
Review Those looking for a new DSLR haven't had a decision this tricky in years. In one corner, Nikon's D5100 and in the other, Canon's EOS 600D. Both offer similar specifications, and neither is exactly lacking when it comes to both image quality and platform support.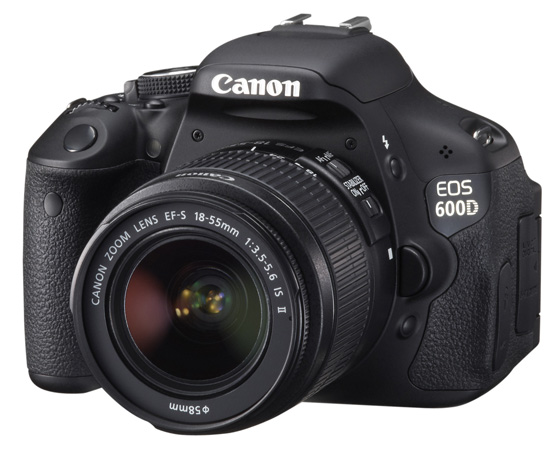 Entry-level in the mid-range market? Canon's EOS 600D
At the heart of the EOS 600D is an 18Mp, APS-C CMOS sensor. Notching up 18Mp is fast becoming Canon's sweet spot for its mid and high-end DSLRs – see also the EOS 7D, EOS 60D and EOS 550D. The ISO ranges from 100 to 6400, yet make a small adjustment in the custom settings menu and you can push it to ISO 12800. It's a very wide range range, but image quality is impressive across the board. Noise simply isn't a factor until ISO 1600 – and it merely shows its presence with a little softness and chroma noise at ISO 3200.
Even ISO 6400 is usable, which isn't something you could have said about any mid-range camera 18 months ago. Compared to similar still-life images from the Nikon D5100 (review next week), it's not quite as sharp or as refined, but for many, choosing between them is merely an exercise in hair-splitting.
Sensor details aside, image quality isn't particularly helped by Canon's EF-S 18-55mm f/3.5-f.6 II. It's a stabilised lens with no huge flaws – chromatic aberration isn't a major problem, and the stabilisation mitigates the relatively small aperture when zoomed in. However, it is rather soft, and keen photographers will do better to buy the EOS 600D body-only and invest in some superior glass.
The EOS 600D is a compact DSLR, with a smaller grip than Canon's more expensive offerings. With the front of the grip and the back of the camera coated with rubber where you grasp it, even ham-fisted types should have no problem keeping hold of it. It's also an easy to manage weight, at just under 600g without a lens.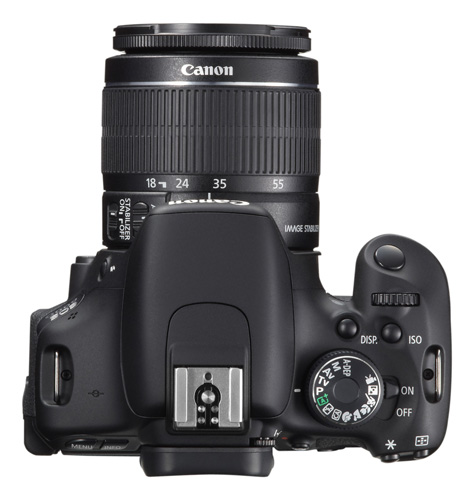 The video option on the dial is some way off from the other modes
If you're already Canon DSLR user, you'll find the body controls fall nicely to hand with no major surprises. The mode dial and control wheel click round satisfyingly, and the knobbly ISO and Display buttons on the right-hand shoulder are easier to find and press than those on the EOS 60D. The viewfinder covers 95 per cent of the frame with 0.85x magnification – a rather tighter viewfinder than some, but not enough to make framing difficult.
Dialling out
Like the 60D, the 600D makes its video capabilities a separate setting on the mode dial. This is frustrating - the video mode is at the end of the dial settings from the M or Av modes, so you have to spin the wheel almost a whole revolution to get at the video mode, then turn it all the way back to return to shooting stills.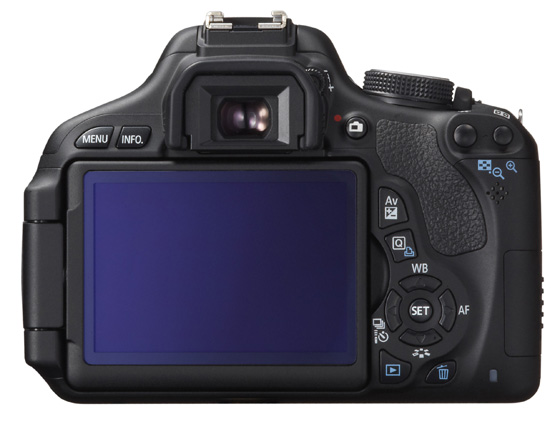 The articulating panel nestles neatly into the body when off-duty
This doesn't compare well to the approach Nikon has taken with the D5100, which uses a spring-loaded switch to activate Live View, and a dedicated record button to start shooting. Still, I'm pleased there's no lock button on the mode dial, as it makes things less fiddly. There's only one control wheel, which means you need to hold the Exposure Compensation button to access aperture settings in manual mode.
The 3in, 1040k-pixel LCD is a peach. As is the fashion, it's a Vari-Angle monitor, swivelling out from the camera body from a hinge on the left side, and then tilting up and down. It's very useful for shooting video, and clicks firmly into place when you're finished.
The screen can also be turned round to face inwards, which could stop it picking up scratches if you're the type to dump things in a shoulder bag. It's a bright display too, and while I missed the dedicated LCD settings panels of Canon's higher end cameras, the settings screen is clear and responsive.
More exciting than the fold-out screen, though, is the wireless flash control, which is a great inclusion on a consumer-grade camera. Make the appropriate choices in the 600D's menu system and you can fire a Speedlite via a control flash from the integrated unit. Wireless TTL flash control normally costs a few hundred pounds, but the 600D allows you to create relatively complex lighting setups with no extra hardware.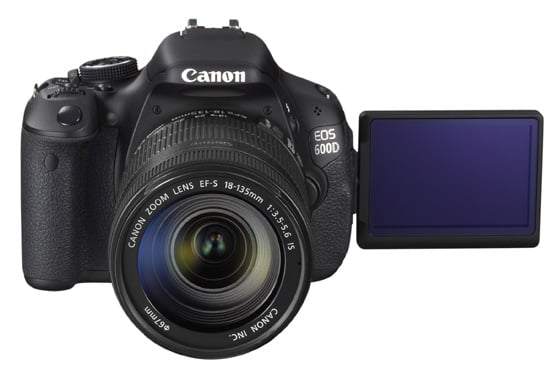 Few self-respecting cameras would be without flip screen viewing this year
It worked pretty well in my tests, particularly indoors, where the effect of the in-camera flash bouncing off walls allowed a remote flash to fire even without line of sight, to a distance of around 30 feet. Outdoors, with more ambient light and nothing to bounce off, the system required the slave flash and the camera to be looking at each other, and distance was reduced to around 15 feet.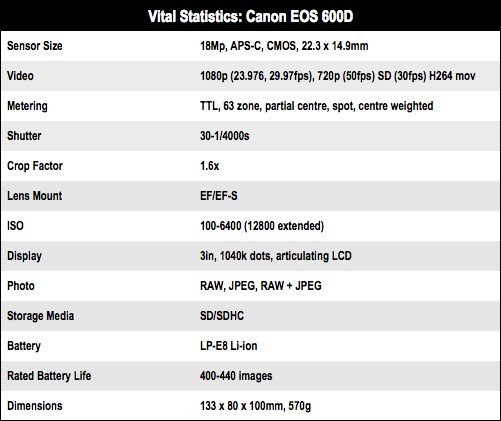 Sample Shots
ISO Tests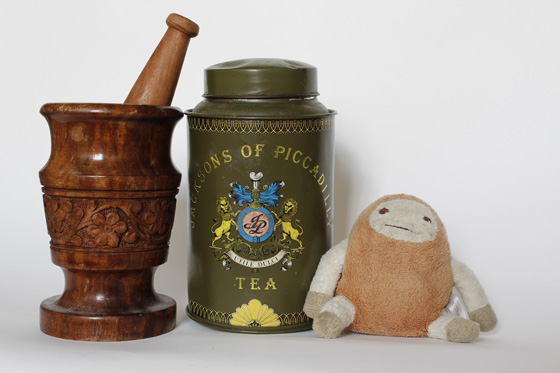 Click to download the full-resolution ISO 100-12800 samples zip file (45MB)
Focus foibles
The list of features continues with 1080p HD video. Canon must be feeling the pressure as Nikon gradually rolls out H.264 video across its DSLRs, but the 600D holds its own nonetheless. You can shoot at 25 or 24fps in 1080p mode, or 50fps in 720p mode, with a 'legacy' 640 x 480 mode for masochists.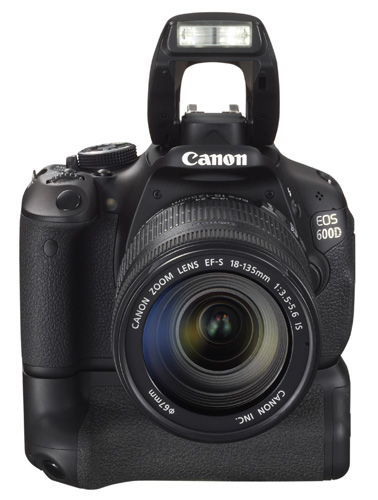 The BG-E8 battery pack option is an essential extra for the long haul
Video quality is superb, with the only disappointment that Canon still hasn't made progress when it comes to autofocus, which, although supported, is all but useless. You either need to choose contrast detection, which doesn't interrupt shooting but which takes ages and lots of hunting, or switching to phase-detection, is much faster but introduces a jarring, noisy break as the camera resets the shutter and mirror. If you want good results you'll need to get to grips with your lens's focus ring and do things manually.
As with any camcorder the ESO 600D picks up body noise like no-one's business: even with an ultrasonic motor (USM) lens attached you'll be able to hear it whirring away. The plastic body also gathers handling noise if you're not careful, so a bit of practice is required if you want to shoot clips without resorting to an external microphone. The EOS 600D will take a stereo mic in its 3.5mm jack socket.
A word of warning goes to travellers expecting to spend days away from a charger – the 3in display is used to show shooting information, so it spends a lot of time draining power from the small 1120mAh battery. If you shoot only stills, Canon quotes a battery life of around 400 shots, but once you start recording video you can expect to exhaust the battery quickly – under two days with even moderate video use. Those with an eye on multimedia should invest in the BG-E8 battery grip (£100) and a few spare batteries.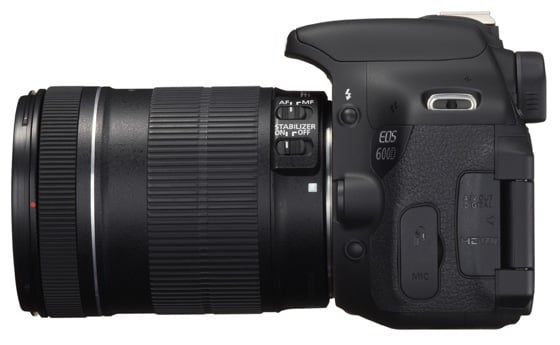 With 18-135mm zoom: alas, the kit lenses don't do the body justice
With the 600D and Nikon D5100 at almost exactly the same price at the time of writing, recommending one over the other is next to impossible. Both take incredibly good images, and both are backed up with a spectacularly wide range of lenses. Both shoot 1080p video, with the D5100 edging out the EOS 600D for usability and the Canon countering the Nikon for features with its excellent wireless flash system.
Verdict
If you've been using Canon kit for a few years and are looking to replace an entry-level DSLR with something more up-to-date, the EOS 600D is an excellent halfway house between a low-spec DSLR and a semi-professional model such as the EOS 60D or EOS 7D. If you haven't chosen a platform yet, the best advice is to pick both cameras up and see which you prefer: neither will disappoint. ®
Dave Stevenson is the author of A Pocket Guide to Digital Photography.
More Camera Reviews…

Ten…
Pocket compacts
Leica
X1
Hasselblad
H4D-40
Stainless steel
Fujifilm
Finepix X100
Nikon
D7000