Original URL: https://www.theregister.co.uk/2011/07/29/hgst_smr/
Hitachi GST plugs its areal hole with shingles
Listens to Google, Facebook as much as HP or Dell
Posted in The Channel, 29th July 2011 08:00 GMT
Hitachi GST, in the process of being acquired by Western Digital, says Shingle Magnetic Recording is a necessary gap-filler before advanced disk recording technologies come on stream. It is currently talking to Facebook and Google about this.
CEO Stephen Milligan said Hitachi GST aims to cover all the storage bases from fast access flash thimbles to big fat spinning data tubs. Although it is a hard disk drive (HDD) vendor it doesn't approach the market just as a HDD unit shipper. Instead, it sees its job as enabling a cloud storage ecosystem that encourages content creation and consumption, by consumers with hand-held devices for example. The more data there is the more data has to be stored.
Hitachi GST is developing future flash and disk storage devices in consultation with stakeholders; its major OEMs, operating system suppliers, and cloud software stack owners such as Google and Facebook.
It's probably best to start from areal density where the HDD industry is having issues that will affect these stakeholders.
Areal density matters
Data content is increasing and disk capacity is growing too, based on areal density improvements. The problem is that areal density advances have slowed. Brendan Collins, Hitachi GST's VP for product marketing, said: "We plan for 30 per cent increases annually currently but we are actually running at 15 to 20 per cent."
Between now and 2016 or so, when post-perpendicular magnetic recording (PMR) technologies such as Bit-Patterned Media (BPM) and Thermally-Assisted Recording (TAR1) could come in and increase areal density up to 5Tbit/in2 and beyond, an area where PMR simply cannot go, there is a gap. Shingle Magnetic Recording (SMR) is a technique to get more tracks on disk platter surfaces.
PMR technology is increasing areal density too slowly, as well as facing a limit as to how far it can go, and the HDD industry needs SMR as an intervening technology to give PMR a helping hand. Collins said: "SMR could get us back up to the 30 per cent annual increase rate... TAR1 and BPM: we're going to need both [and] SMR is the bridge to getting there."
For sure, both BPM and TAR will be needed: "It's not either/or; they are complementary." One will be first and may have a one to two years on its own before the other technology joins it. The problem is that no one knows which one will be first, so HDD vendors have to invest in both technologies.
Shingled magnetic recording
SMR comes with its own issues. It writes partially overlapping tracks to increase a drive's areal density – imagine overlapping shingle tiles on a roof. There is a problem with random writes and deletes though, as the deleted parts of the target tracks are also part of the overlapping track or tracks.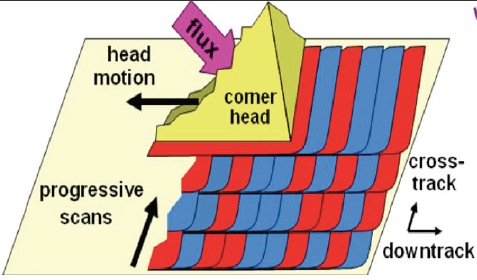 Shingle Magnetic Recording diagram
That means their contents have to be recovered and set aside, the track(s) marked for deletion deleted, and then the set aside data re-written to the drive. All of this takes time and slows the shingled drive's performance when doing deletes.
Random writes are also problematical. If they are written in free space then files can end up very fragmented with extended read access times. If they are written in the file's existing space, then any overlapping tracks have to be re-written too, thus extending write times. Collins reckons that Hitachi GST has some ideas that could help.
He thinks that archive data storage is a good fit with SMR technology as lots of sequential blocks are written. In general though: "We have to find ways of embedding intelligence into architectures to hide shingle disadvantages."
Getting back to server and client computer code stacks that read and write from hard drives, Collins emphasises that HDD vendors and code stack owners have to work together: "Look at Microsoft: its operating systems are not optimised for SMR. We have to make the [SMR] drive totally seamless to the O/S [and] make it look like a PMR drive... Google and Facebook have their own stacks and are making changes to ensure their software file systems work with SMR drives. We're already having in-depth technical discussions with them."
Milligan emphasised that: "We're talking to all our customers about this. It's incumbent on us to establish the right relationship with all our customers [and ask] how can we be relevant to you?"
Collins said: "The Wintel platform has been a major influence on our product designs for the past 20 years and will be our bread and butter for the next five years. But ARMs and Android devices are opening up whole new opportunities going forward."
Hitachi GST will carry on talking to major Wintel OEMs, such as HP and Dell but, increasingly, Web 2.0 and Internet infrastructure companies, like Google and Facebook, are becoming influential too.
Drive portfolio
Collins said Hitachi GST needed a full portfolio and one in which the product's command queuing, caching and error-checking and correction (ECC) methods and interfaces are the same. This is important as it means an OEM or large customer can use one code stack to address all the portfolio members.
The company sees a need for a portfolio to span SAS and SATA interface SSDs, PCI flash products, and a range of HDD speeds and capacities from fast, lower capacity drives to slower but much more capacious drives for storing longer term data. Such a portfolio is needed to cover the storage requirements for tier 0 (hot), 1 (active), 2 (less active) and 3 (cold) data. Collins seems particularly interested in PCIe flash for hot data. We note that Intel, with whom Hitachi GST is working on its coming SAS and Fibre Channel SSD, could be a presence in that product space.
"The Wintel platform has been a major influence on our product designs for the past 20 years and will be our bread and butter for the next five years. But ARMs and Android devices are opening up whole new opportunities going forward."
In general HDD use cases are becoming more fragmented and a single basic spinning disk technology, such as PMR, can no longer cover all these needs, which is why new technologies are coming into play.
One incoming technology is a combination of flash and spinning disk technology, so-called hybrid drives.
Hybrid drives
Notebook storage is a hard disk drive-dominated market, with some 95 per cent of products using spinning disk for storage. Some low-end netbooks use flash and so do premium notebooks costing more than £900 or so, the MacBook Air and so forth, and flash is creeping into Notebook storage from the edges as it were.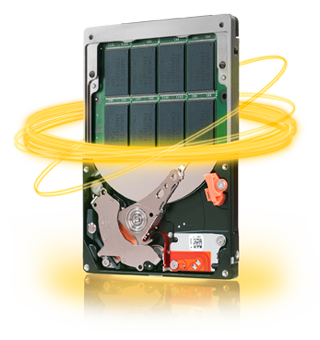 Hybrid hard drives, Collins says, could slow down the cannibalisation of notebook HDD use by flash. A hybrid drive adds flash cache inside the disk drive enclosure to provide flash I/O speed as well as spinning disk capacity. The state-of-the-art drive, the only one of its kind, is Seagate's 2.5-inch Momentus XT with 4GB of flash.
Collins thinks: "The current hybrid drive is not a compelling offering." That's due, he says, to its relatively small flash capacity, and use of expensive single level cell NAND. If you could find a way to use more affordable multi-level cell (MLC) flash then that would still add $30 to $40 to the drive cost. It has to be worth doing from a customer's point of view.
OEMs have told Hitachi GST that they think there is a need for file system intelligence in the drive which would handle how you move data back and forth between the flash and disk and make a better-performing drive.
Collins said SMR drives would have that level of intelligence and, if we could find a way to make MLC work, then we might envisage a hybrid drive with these features:
8 to 16GB of MLC flash;
Embedded intelligence
Behaves like an SSD
1TB capacity
Not that Hitachi GST has said as much, but we might conceive of such a drive coming out between now and the middle of 2013.
Using the cloud
Milligan said all of HItachi GST's product developments that are nearing shippable product will ship. He specifically mentioned consumer products in the regard. It's not as if anything is on hold or being canned because of the pending acquisition. That acquisition has not closed yet, although it is on track to close in the fourth quarter, and it is business as usual. No products have swords poised over them.
It seems likely that all the HDD vendors will take the Hitachi GST course and be concerned with stimulating and encouraging a content creating and consuming cloud ecosystem to emerge because that will help ensure that the content gets stored on their devices. It means they have to talk and have relationships with all the major players who own or use code stacks that interface to disk drives and SSDs.
Although the disk drive/flash drive industry has to stay deeply involved with areal density and MLC endurance intricacies, it will, to coin a phrase, have to get more nebulous in the future as well. ®
1. Others have used the term HAMR (Heat-assisted Magnetic Recording) but TAR seems to be replacing that.