Original URL: https://www.theregister.co.uk/2011/07/29/games_review_from_dust/
From Dust
Playing God
Posted in Personal Tech, 29th July 2011 06:00 GMT
Review Microsoft's Summer of Arcade has become something of an institution these last few years, ushering in the release of some of the best seen download-only games yet seen; the likes of Limbo, Braid, Shadow Complex and last week's Bastion to name but a few. Up next is From Dust, a release with a pedigree all of its own in the gaming world, having been developed by none other than Eric Chahi, lead developer of the seminal Another World, which wowed the games-buying public back in 1991.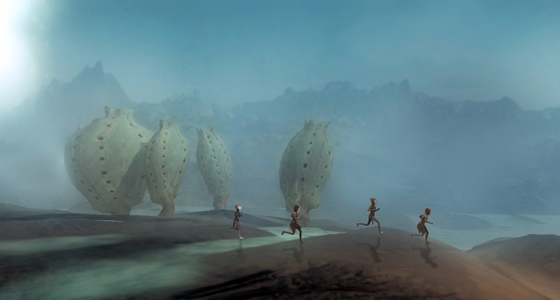 The hills have mites
While Chahi has been out of the games industry for a while, his return signals a return to what made his earlier games special: minimalist gameplay and beautifully realised visuals. Yet, where From Dust departs from his previous projects is in its genre. This is no side-scrolling adventure, but rather an evolution of the god sim in which players become the 'breath', a primordial force with the power to shape the Earth and so aid its inhabitants.
Like Populus before it, From Dust's challenge revolves around arranging the land so it can be safely settled by your tribe. Unlike Peter Molyneux's classic however, today's technology – coupled with some clever programming – allows for the compositions of some truly breathtaking landscapes to be created, moulded and changed in real-time.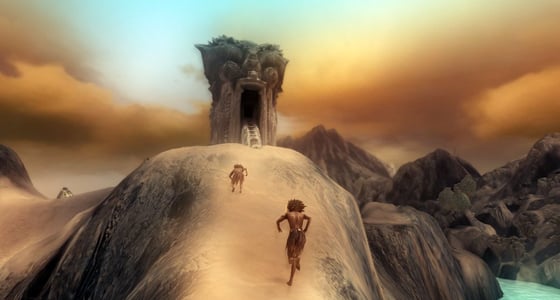 Temple of gloom
It's this graphical prowess which lifts From Dust to the levels of the aforementioned Summer of Arcade games, for without such a fluid physics engine, the limitations of the game's structure might be even more obvious. However, and happily, the power to alter the path of mighty rivers, to build sea walls able to withstand tsunamis and to redirect the flow of lava away from your tribes-peoples' villages proves an adequate distraction, truly putting the God into god sim.
As already covered, your ethereal representation in the game is the 'breath', a divine force able to pick up certain amounts of sand, water, lava and trees before re-depositing them elsewhere. Once the relevant artefacts have been captured, this same force can also perform miracles, such as turning water into pliable jelly, or facilitating the rate at which water evaporates from an area.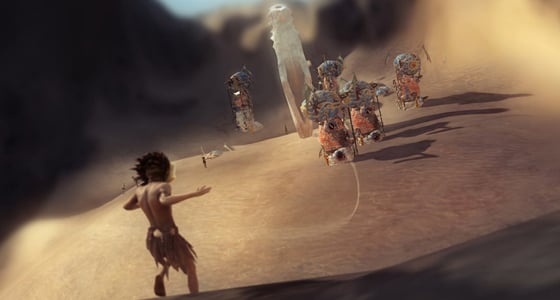 Desert storm
Beginning the game as a weak deity with just a handful of worshippers, your early exploits are solely from the 'minor' miracles shelf. With most missions consisting of carving out simple paths to various totems – points at which villages must be built before a portal to the next land will open. Your early exploits will revolve around the whimsical contruction of land bridges, or the building of walls from cooling lava. It's genuine food for the soul, as you get in tune with the game's rhythmic ebb and flow.
What makes you tick..
This minimalist approach is matched by minimalist controls, with only the picking up of material, the selection of miracles, camera movement and commanding of villagers possible. Alas, nowhere is there an option to set waypoints for villagers, as they direct themselves to the next totem. Not an issue at first when progress is all but assured, but much more of a problem once the difficulty inevitably ramps up, causing your villagers to burn to death, fall, drown and so on, like so many suicidal lemmings as they fail to relocate a village (again).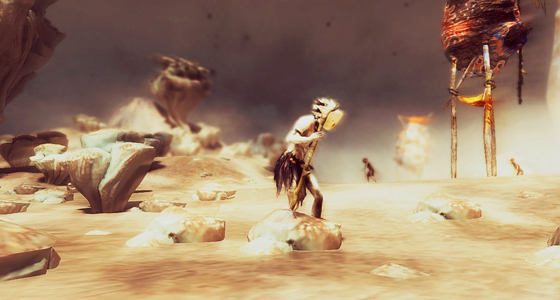 Rock on!
This inefficient pathfinding – when combined with the game's other major fault, its insistence on gradually turning itself into a race against the clock, rather than be content to be a playful sandbox with added goals – proves in many ways the game's partial undoing. It's as if, not happy with creating something beautiful, the development team decided they just had to make it challenging too, mistakenly assuming that a game has to be hard in order to be satisfyingly entertaining (just look at Flower for evidence to the contrary).
Instead, you're soon working against a countdown, at the culmination of which a natural disaster will occur, be that the inundation of a tidal wave or the eruption of a volcano. Then, once said catastrophe has happened, the countdown resets and repeats in an endless cycle – if tsunamis really did occur with this much regularity half the world would be uninhabitable.
Hence, you're tasked with soldiering on, hoping that your tribe will find the quickest route to their next destination before the clock once more hits zero – something which usually sets them running back to their village and so scuppering any progress made.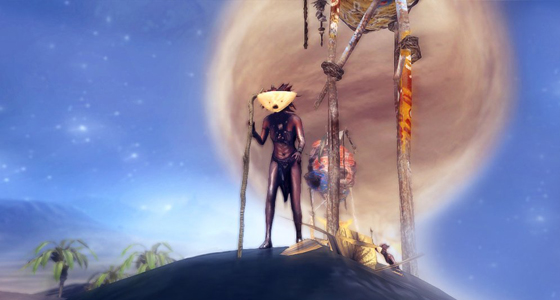 Look out, there's trouble around
Even once they make the journey in time their village's survival isn't always assured as fire, lava or water threatens to constantly level the settlement. Yes, you have the power to divert those hazards, with miracle or foresight, but with the land in such constant flux there's a constant element of frustration. It strikes me that From Dust is far from its strongest when the player is frantically grabbing sand, lava or water from opposite sides of the map in time to divert impending destruction – a simple matter of the controller's shortcomings in comparison to the PC's mouse.
I've got this far without mentioning the side objectives, the collecting of hidden artefacts and the reforestation of the barren landscapes. Perhaps a hint of what might have been a more complex game that never materialised, at least this time around, sees 'Memory of the Tribe' fragments unlocked as life is restored to the barren lands.
Then there's the challenge mode, an entertaining departure which presents further scenarios, unlocked as you progress through the campaign, which act more like logic-based puzzles than traditional god sim.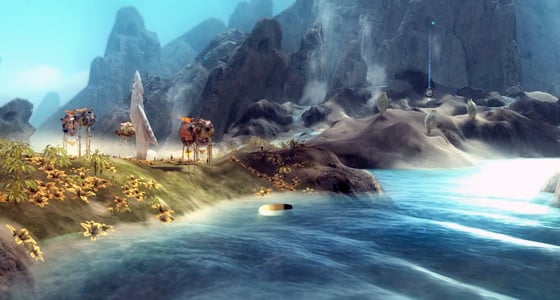 Sitting on the rock of the bay
Verdict
Without doubt From Dust is a game with massive potential and a great many positives, but not without its self-induced limitations. If presented as a true sandbox, in which the player largely played on a whim, I'd be raving about it. Instead, because of a series of enforced deadlines which add challenge yet disconcerting constraint, I'm left with some misgivings. That said, at just over £10, there's really no reason not to take a punt on a game which at least tries something a little different on a console. ®
More Games Reviews

Transformers:
Dark of the Moon
Shadows of
the Damned
FEAR 3
Dungeon
Siege 3
Child of Eden