Original URL: https://www.theregister.co.uk/2011/07/28/quantum_q1_fy2012/
Vanishing OEM robs Quantum of black ink
'There's a bunch of people who need to improve'
Posted in The Channel, 28th July 2011 14:16 GMT
If sales revenue had been just 3 per cent higher, Quantum would have broken even. Instead its first fiscal 2012 quarter showed a $5m loss on revenues of $154m – instead of the expected $160m.
Those revenues were 6 per cent down on the year-ago quarter. Then revenues were higher because $9.5m came in from an OEM selling Quantum's DXi deduplication product. That arrangement stopped and so 6 per cent of the year ago quarter's results disappeared, and Quantum needed to make that up. It nearly did but failed to close a sufficiency of deals at the end of the quarter.
CEO Jon Gacek said in the earnings call : "We just delivered a quarter that was $6.5m shy in a growth business that should have grown 50 per cent and grew 15 per cent."
Overall: "We are not pleased with our overall revenue result for the quarter and specifically the fact that disk systems and software sales did not meet our growth expectations; however, our branded business grew 3 per cent and we delivered another strong quarter for tape automation."
This was just not enough to make up for the missing OEM contribution. Coincidentally Quantum announced a new SVP for worldwide sales, Ted Stinson, in mid-June, a couple of weeks before the quarter's end of 30 June. At the time of this hiring, Quantum CEO Jon Gacek said he wanted to improve overall sales productivity, and the Q1 results show what he means.
"We just delivered a quarter that was $6.5m shy in a growth business that should have grown 50 per cent and grew 15 per cent."
Quantum has also bought Pancetera to improve its ability to back up virtualised servers, scored a reselling deal for StorNext file management software with NetApp, and introduced a StorNext appliance. It has just announced Data Domain-beating DXi 6700 deduplication appliances.
Pancetera has an OEM deal that should bring in revenue and Quantum should launch a new Pancetera product this quarter. Altogether Stinson has a stronger hand to play than his predecessor.
Gacek said: "We are very focused on growing revenue, and we still intend to do so. This start puts us a little behind for the year, but we plan to make it up ... as the drivers for revenue growth are there. To do so, it's clear we need to continue improving our sales and go-to-market execution, including our overall product and overall solution positioning."
DXi dedupe sales and marketing
Concerning DXI revenues, Gacek was crystal clear about missing a target: "While branded DXi, including related maintenance, grew 15 per cent over the same quarter last year, we only achieved approximately 70 per cent of our DXi revenue plan for the quarter."
Gacek himself was surprised by the results: "We actually got some pretty good start[s] last quarter, to be candid. We just didn't close well. And I didn't expect this to be the result with a week to go in the quarter. I felt we'd be over $160m. So we just didn't get stuff done."
He drilled down into this: "We made progress in closing DXi8500 deals, resulting in DXi8500 revenue increasing over 80 per cent sequentially. This was a significant improvement from the past two quarters, but we still fell short of our goal. Our DXi8500 product is very competitive and well-positioned, but we still need to do a better job of closing deals that we are working. What was more significant this quarter, however, was that we had a sequential decline in our mid-range DXi6000 family revenue."
This makes yesterday's 6700 announcement all the more important.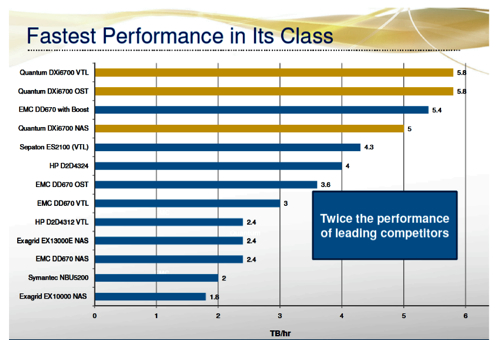 Quantum DXi6702 performance comparisons
We should note that the DXi v2.0 software helping to make the 6700 go so fast has not yet been ported to the 8500. When it is, and it could be in the September quarter, Quantum's fiscal Q3, that product's dedupe speed should accelerate as well.
Why Dxi sales fell short
Gacek bluntly explained the reasons why DXi sales lagged: "We had plenty of opportunities to meet and exceed our DXi revenue plan. We just didn't get the deals closed by quarter end. We still are not getting uniform and consistent results from our team or our channel partners."
There was a DXi6000 product-positioning issue as well: "I believe the introduction of DXi 2.0 software on the 6500 while the 6700 remained on a previous generation software for several months, made it more complicated for our channel partners and our own sales team to drive the intended level of sales velocity. With today's announcement of our new DXi6701 and 02 appliances, which includes the DXi 2.0 software, this is obviously no longer an issue."
A compounding issue was increased competition: "We saw a much more aggressive competition in Q1 and our [overall] win rate was reduced to approximately 45 per cent [from 55 per cent]. However, with today's launch of the DXi6701 and 02, we believe we have a disruptive solution that will get us into significantly more opportunities, enable us to increase our win rate and overall revenue."
StorNext stumbled
Gacek also fingered StorNext sales: "The other main driver of the revenue shortfall was StorNext. Q1 was the first time in five quarters where we didn't grow StorNext either sequentially or on a year-over-year basis. While this fact has our attention, we do not think this is a start of a trend that will continue."
"There's a bunch of people who are doing very well and there's a bunch of people who need to improve"
"Most of the shortfall was in sales and into installed base as we still added a significant number of new customers. Q1 also did not include any revenue contribution from our new StorNext partnerships or the new StorNext appliance products."
Tape was a bright spot: "We also continued the trend of new customer acquisition, adding approximately 120 new mid-range Enterprise tape customers. We believe tape is far from dead." Indeed, and there is the recent OEM deal with HP for Quantum's Scalar i6000 library that encourages this view.
Coach Gacek says the team will pull back
Gacek drilled down deeper in answer to a question on the call: "I think the first issue ... is uniformity of execution... We have some channel partners and we have some salespeople who absolutely are doing great. And we have channel partners whose business have grown 400 per cent, 500 per cent year-over-year. We have salespeople who are way over their quota. So the number 1 issue that I would say, is we don't have uniform performance yet."
He said there were a number of factors that had contributed to this, including stronger competition in some accounts, some inadequately trained partners and salespeople that "lacking opportunities".
Gacek summed it up like this: "There's a whole bunch of tactical things... And it isn't just any one thing. There's a bunch of people who are doing very well and there's a bunch of people who need to improve, and we're trying to drive execution across all of that. I'll say this is a growth business and we're going to grow, but we have to start playing better to grow."
Gacek is determined to make up the missing revenue: "Q1 put us $6.5 million behind for the year, but we intend to make it up and achieve our growth objectives for fiscal 2012... Q1 put us behind, but we are driving to make it up for the year. We are not stepping back internally from our annual goals."
He added this: "As everybody knows on the call, this is a growth year for us. We expect everything to grow, but we expect the bulk of the growth to be driven by DXi and then StorNext. So to answer your question, yes, we think we're going to grow this quarter."
Ted Stinson has a job to do. ®