Original URL: https://www.theregister.co.uk/2011/07/28/lithium_imide_batteries_double_lifespan/
Lithium cells take salt to extend life
Imide live longer
Posted in Personal Tech, 28th July 2011 15:00 GMT
Li-ion battery technology looks set to be given a new lease of life with the emergence of an improved electrolyte process that promises increased heat tolerance and a significantly longer lifespan.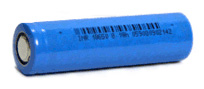 Today's Li-ion batteries have limited lifespans thanks to the build up of crystal deposits within the electrolyte that hinder the movement of charge carrying lithium ions.
Acids in the electrolyte can also eat away the cathode, which is commonly made from oxides of manganese, nickel, cobalt or iron.
The Lithium-Imide batteries from Leyden Energy use a patented salt in the electrolytes that doesn't get as affected by heat or moisture. Instead of the traditional materials, it throws in a conductive graphitic foil for its cathode.
Technicals aside, this apparently means batteries last much longer, can be used in environments with extreme temperatures and have over 1000 charge cycles, losing less than 20 per cent of their charging capacity over a three year life span.
To put that into perspective, current Li-Ion batteries can lose up to 50 per cent capacity within just 500 charge cycles.
Leyden Energy's Li-Imide batteries are available now and have already been used to boost the battery life of electric motorcycles. The company says the batteries are ideally suited for consumer electronics, other electric vehicles and grid storage product industries. ®