Original URL: https://www.theregister.co.uk/2011/07/27/review_dell_streak_7_android_tablet/
Dell Streak 7 Android tablet
Affordable dual-core fondleslab, anyone?
Posted in Personal Tech, 27th July 2011 12:00 GMT
Review Despite the original Streak being one of the first devices of its type on the market, Dell's Android tablet didn't really set the word alight. A less than fresh version of Android, a high price tag and a distance between the screen corners too close to many a smartphone, all counted against it.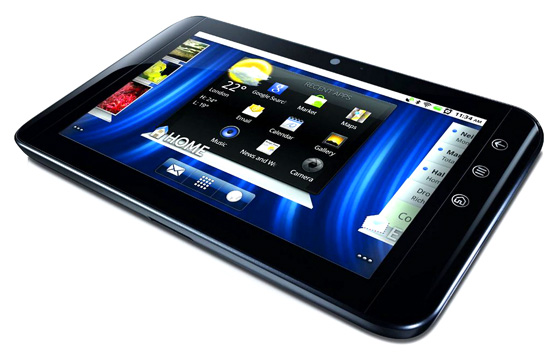 Clean slate? Dell's Streak 7
Now we have version 2.0 with a 7in screen, a 1GHz dual-core CPU, Android 2.2 and a much more realistic sub-£300 price tag, £100 less than its unloved 5in sibling would have set you back at launch around 12 months ago.
As you would expect Streak 2 is larger than Streak 1 but at 200 x 120 x 12.4mm it's par for the 7in Android tablet course, and more or less the same size as HTC's Flyer. It's made entirely of plastic though, so it doesn't feel quite as slick as the, admittedly, more expensive HTC device.

Seven-inch slabs all tend to look a bit chunky
The price drop and an extra two inches of screen isn't all you get over the old model. Internal storage has jumped to 16GB – of which, 2GB is available for apps – so many users won't ever have to cough up for a storage card. Should you need more than 16GB Dell has fitted a full-sized SD card slot but it still only accepts cards of up to 32GB in capacity.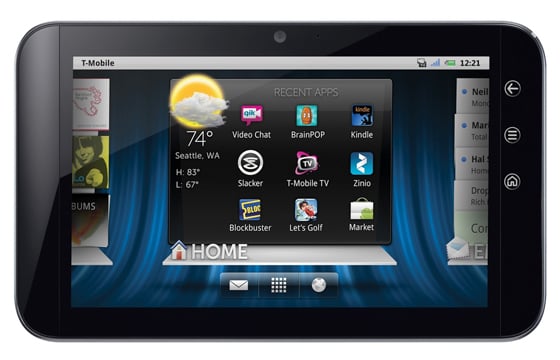 Not the latest Android, but an upgrade path exists
The dual-core CPU has 512MB of RAM to play with, but the system still returned an impressive Quadrant Standard benchmark result of 1,800 - only 80 points shy of the Flyer. Android 2.2 isn't quite the latest thing but at least it's more current than v1.6 was when Dell foisted it on the Streak 5 and it can be updated OTA, which suggests a Gingerbread or Honeycomb update may arrive at some point.
Screen test
In use, the capacitive screen is extremely responsive and the UI impressively fluid. Bring the accelerometer into play and everything flips back and forth between portrait and landscape in the blink of an eye. With an 800 x 480 screen you won't have any issues with your favourite phone apps not supporting your tablet's screen resolution. The down side of that resolution and size combination is rather fewer dots per inch than the Flyer or Samsung Galaxy Tab can boast.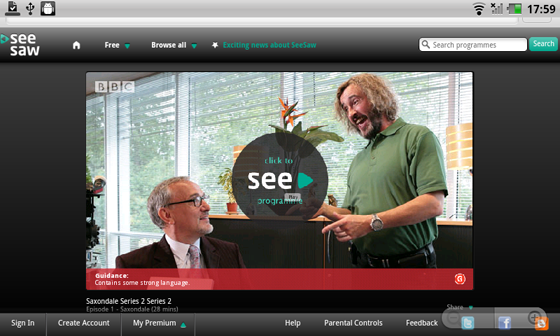 See Saw entertains
Put the Streak screen-by-screen with the HTC tablet and it looks a bit rough, especially when you are reading small type on a web page. It's also not the brightest tablet screen I've come across. Use the Streak 7 in isolation and these failings are less obvious but at the end of the day a higher quality 1024 x 600 panel would have been a good idea. At least the screen is made of Gorilla Glass, so it's very smooth and pleasant to the touch.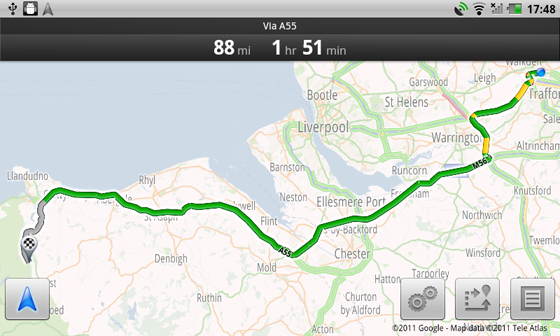 Seven inches of satnav
Overlaying Google's mobile OS is Dell's rather basic Stage launcher and bespoke full-page widgets. As far as these things go, it's not at all bad allowing easy access to media files, e-mail accounts, web bookmarks, social feeds and the like, but it's no HTC Sense. Of course, the Market is full of good launchers, so if you don't like Dell's, download something else.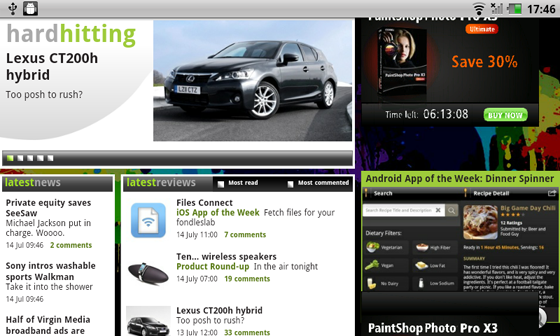 Browser
For wireless communication the Streak makes do with 802.11n Wi-Fi and Bluetooth 2.1. The version with a 3G modem that I had on test is available through T-Mobile in the US and should arrive in the UK later in this year assuming a telco picks it up for contract sale. For physical connections, all you get is a PDMI data/charge port and a 3.5mm audio jack. Annoyingly, you can't charge from a USB port.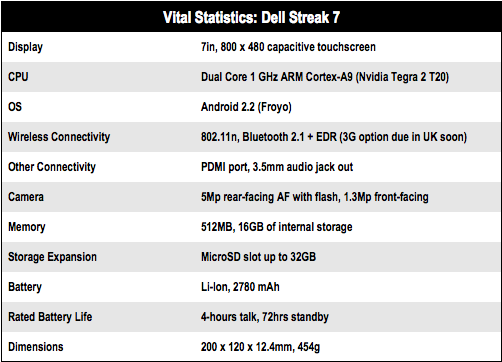 Cost conscious
Having the Google stamp of approval you will find the Android Market as well as all the usual Google apps like Maps, Navigation and Gmail. Dell has also installed QuickOffice and the Swype keyboard, both worthwhile additions.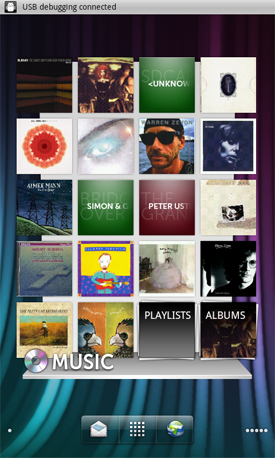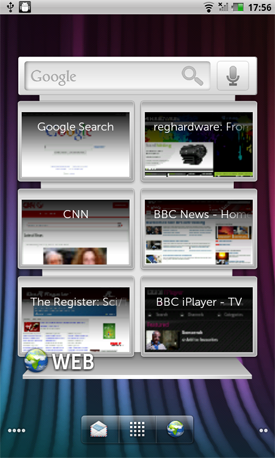 Music and web options
For photographic duty you get a rear facing 5Mp unit and a 1.3Mp web cam. The main shooter has an LED flash and auto-focus and does a decent enough job though colours looked a little washed out even in good light. Not being Skype-with-video approved, you can't make Skype video calls but Qik comes pre-loaded. Video can be captured up to a maximum resolution of 720p but the results look rather rough and over-saturated when played back.
Battery life is frankly disappointing. In a knock-down and drag-out test, looping a standard definition AVI video file, the power lasted 3hrs and 10mins. In day-to-day use, I was always looking for a mains socket well before I turned in for the night. Unlike the 5in Streak, the 7's battery is built-in.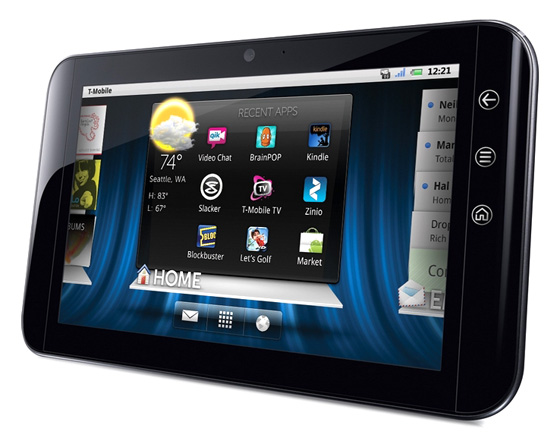 Not quite a winning Streak, but the price helps forgive its shortcomings
Yet the best thing about the Steak 7, is the price. At £295 it sits comfortably between the sub-£200 Android Market- and GPS-less devices and more up-market machines like the Flyer and Galaxy Tab. Of course, the latter can sometimes be found at a similar price but you have to forgo the Tegra CPU.
Verdict
Better late than never, the Dell Streak 7 fixes most of the problems found in its predecessor, at a much reduced price. With a quick CPU, plenty of storage and a near enough up-to-date version of Android, it makes for a convenient hand-held connected device. But it's a shame the screen is a bit low-rent and low-res – the battery life could be better too. Still, this is progress, but you have to wonder how many Streaks Dell would have sold had it done the job properly in the first place. ®
Thanks to Expansys for the loan of the review sample.
More Tablet Reviews

HP
TouchPad
Asus
Eee Pad
Transformer
Lenovo
Thinkpad X220T
RIM
BlackBerry
PlayBook
Apple
iPad 2