Original URL: https://www.theregister.co.uk/2011/07/26/review_macbook_air_13in_mid_2011/
Apple MacBook Air 13in Core i5 laptop
Pricey, but nifty
Posted in Personal Tech, 26th July 2011 14:30 GMT
Review The lightweight, streamlined design of the MacBook Air is undeniably attractive, and still leaves most of its ultraportable PC rivals looking like a chaotic collision metal and plastic. However, that sleek design has always come with something of a premium price – especially given the relatively modest specification of its processor and other components.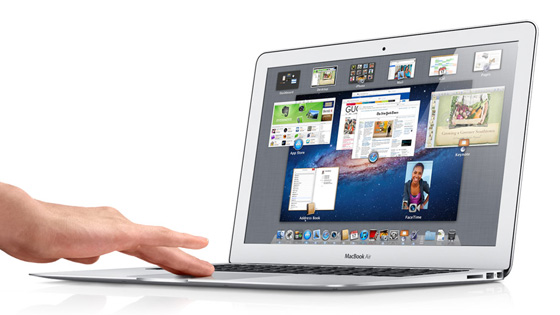 Quicksilver: Apple's MacBook Air
Unlike the new Mac mini, this latest Air update doesn't get any kind of price cut but it does at least get a very decent speed bump. Both the 11in and 13in models replace last year's Intel Core 2 Duo processor with the Intel Sandy Bridge Core i5 kit, and they use faster RAM too, stepping it up from 1066MHz to 1333MHz.
Prices start at £849 for the 11in model and £1099 for the 13in. The latter, features a 1.7GHz Core i5-2557M processor, 4GB RAM and 128GB SSD. For £1349 you get a 256GB SSD, which is the model on review here. If you want to splash out a further £100 you can have a 1.8GHz Core i7 CPU. Alas, if you want this Core i7 option, then you're forced to stump up the extra cash for the 256GB SSD drive.

The Thunderbolt peripheral storage port doubles as an external display connector
The basic design of the MacBook Air remains unchanged, but these new models do gain Apple's new Thunderbolt I/O port and a backlit keyboard. One minor detail that I noticed is that the 13in model has actually put on weight, increasing from last year's 1.32kg to 1.35kg. That extra 0.03kg is hardly going to compromise the Air's 'ultraportable' status, but I can't help wondering where it came from.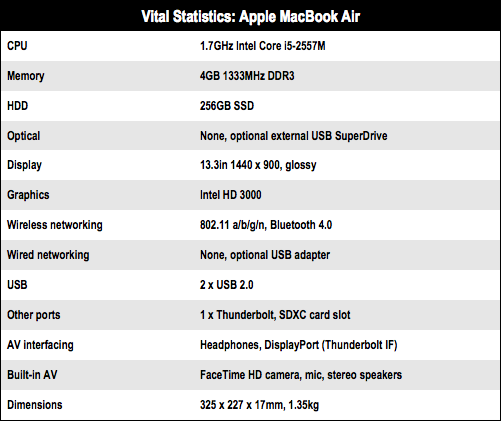 Successful port?
Also, given the price of the MacBook Air, I still think that Apple ought to include one of its external SuperDrive optical drives as a standard accessory, rather than charging £66 extra for it, but one can dream.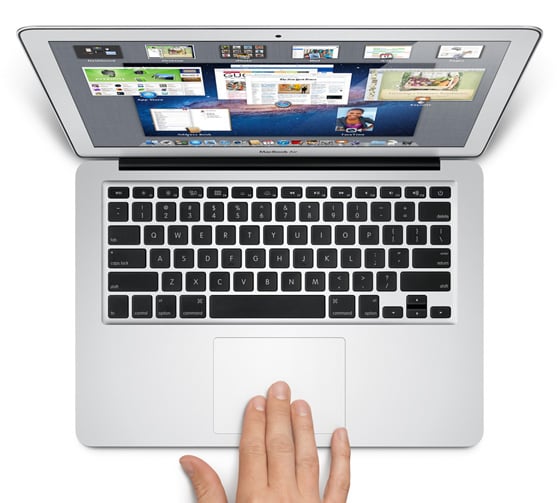 The Air features a multitouch trackpad and an illuminating keyboard
The long-standing criticism of the MacBook Air's lack of connectivity remains valid too. There's still no Ethernet or Firewire, and although Apple points to the versatility of the new Thunderbolt port, apart from monitors, there's bugger all out there to connect it to and I've hunted in vain for something like a USB 3 or Firewire adaptor that will work with Thunderbolt. That said, USB Ethernet adaptors are available.
Still, the bottom line with this new model is that it provides an undeniably solid performance improvement. It justifies Apple's claim to be twice as fast as last year's model when running native Mac software. And, for comparison's sake, I also used Apple's Boot Camp to instal Windows 7 in order to see how it fared against some of its PC rivals.
Benchmark Tests
PCMark Vantage Results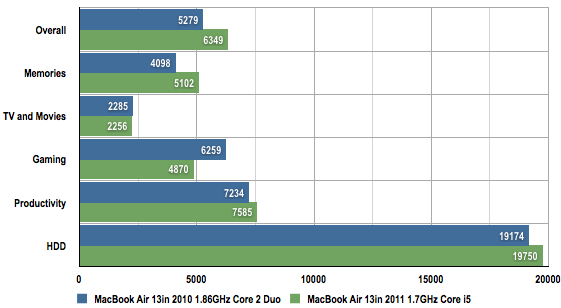 Longer bars are better
Using the PCMark Vantage benchmarking software produced a mix bag of results. A probable cause being Apple's use of Intel's 3000 HD graphics processor, which uses shared system memory. The previous 13in Air used an Nvidia GeForce GT 330M which has 256MB of RAM on-board.
Casual gamer
Intel's own web site describes the 3000 HD as having "casual mainstream gaming capabilities" – which translates as: not very fast. Its gaming score in PCMark Vantage was disappointing, and that also dragged down the overall final score as well.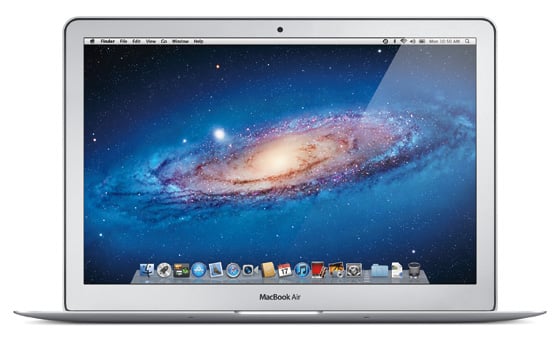 Purpose built
But while the MacBook Air is no gaming rig, the faster processor and memory provide more than adequate power for most day-to-day tasks. It certainly felt a lot faster and more responsive than last year's model, and had no trouble coping with all the graphical flim-flammery in the new Lion operating system.
Battery life was impressive too. Issuing out punishment by running the PCMark benchmarks continuously delivered a full 240 minutes from the MacBook Air, so you can certainly expect to get a good five hours out of it for less demanding tasks.
Verdict
Despite the hiccough in graphics performance, the new MacBook Air solidly outperforms last year's model and it no longer feels as though you're sacrificing performance in order to achieve that lightweight design. It's still pricey, of course, but the improved performance and ultraportable design is an undeniably attractive combination. ®
More Apple Mac Reviews

Apple
iMac 27in
Apple
MacBook Pro 15in
Apple
Mac OS X 10.7 Lion
Apple
MacBook Pro 13in
Apple
Mac Mini Server