Original URL: http://www.theregister.co.uk/2011/07/23/review_philips_bdp7600_blu_ray_player/
Philips BDP7600 Blu-ray player with Net TV
Silver surfer
Posted in Personal Tech, 23rd July 2011 07:00 GMT
Review Sidestepping the cheap black plastic approach of even some mid market Blu-ray Disc players, the BDP7600 from Philips has a robust metallic build. Its smooth and quiet disc tray emerges from a mirrored front panel, which is otherwise interrupted only by a USB port to the right. Beneath the fascia is a curved control strip with illuminated touch sensitive controls.

Shining example: the Philips BDP7600 distances itself from non-descript black plastic Blu-ray boxes
Around the back is a broad range of AV connections as well as an Ethernet port for networking and internet access. The BDP7600 also features built in 802.11n Wi-Fi. Although it has more sockets than basic players, a second HDMI would have been be helpful for sending HD audio to older AV receivers that can't pass through 3D images. Moreoever, if you're committed to using analogue component video on your receiver or TV, then you're out of luck, as this player doesn't have this interfacing either.

Well served for audio with optical, coaxial, HDMI or analogue 5.1
The BDP7600 is well up to the current spec for disc playback, outputting at up to 1080p – including a film-friendly 24 frames-per-second mode – and 3D compatibility at full HD resolution.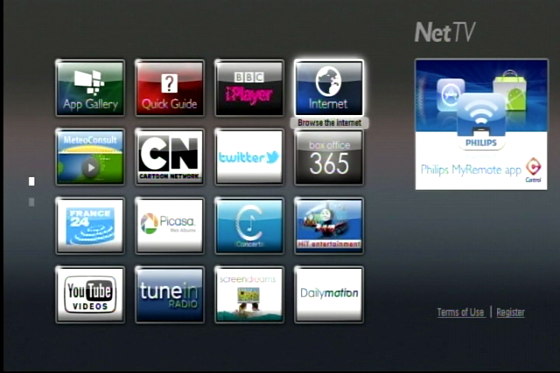 Yes, these really are just about all the apps it has
It is also a fully-fledged digital media player, with a massive range of supported audio-visual formats that it can pick up over your home network or directly using a hard disk or flash drives attached to the USB port. Alternatively, this connection can be used for a dongle for a wireless keyboard if you want to be a heavy user of the Net TV feature.
Network niceties
The supplied remote control, like Philips' recent TV handsets, is reasonably simple to use, though it's odd looking, like a little plastic rowing boat. The machine can also be controlled by Philips' free MyRemote app for iPhone, iPod Touch or iPad.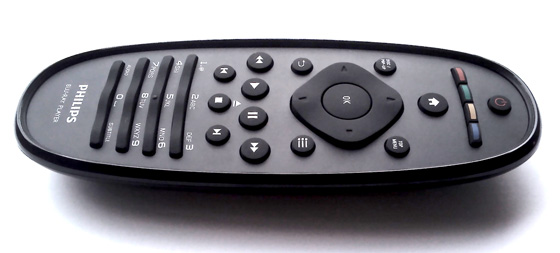 A reasonably simple, if odd looking handset
Nearly all of the expected media formats are supported, such as XviD, DivX (up to Plus HD), H264, MPEG1/2/4, MKV, VC1, AVCHD, WMV, JPEG photos, AAC multichannel audio, MP3, WMA and PCM. Not mentioned in the user guide but also playable are MOV video and WAV uncompressed audio. The only obvious and potentially useful formats it misses out are ISO (disc image) and lossless audio codecs such as FLAC.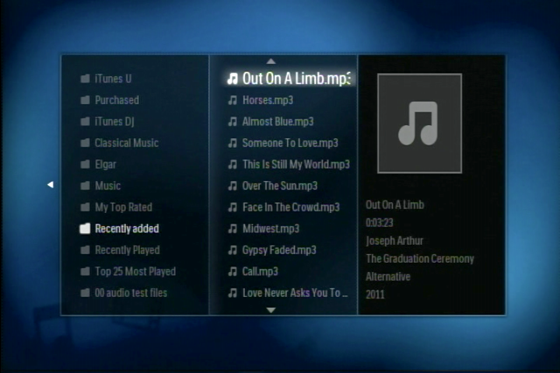 A simple but informative network media player
The picture quality for these files is OK, depending on the type and level of compression, though I think my network-connected Sony player is slightly better at handling this. Scrolling through long library listings also made the system slow to a crawl, so you might have to break them up with a fair amount of sub-folders.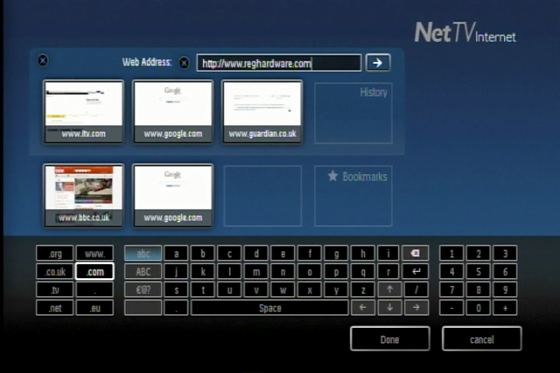 Net TV is a bit cumbersome unless you get a wireless keyboard
It also uses its network connection for the Net TV platform, which is similar to the apps on Philips' 'smart TVs'. There is not a huge selection compared to equivalents by other major brands but there are familiar names, including a smooth running BBC iPlayer app, YouTube, Picasa, eBay and Twitter.
Simple surfer
There is also an internet browser that works quite well, within limits, but simplified mobile versions of sites usually work better on a TV screen because they are less fiddly to navigate around with the remote. It can be prone to locking up from time to time and the browser lacks JavaScript or Flash capabilities, however, so a lot of sites won't work fully.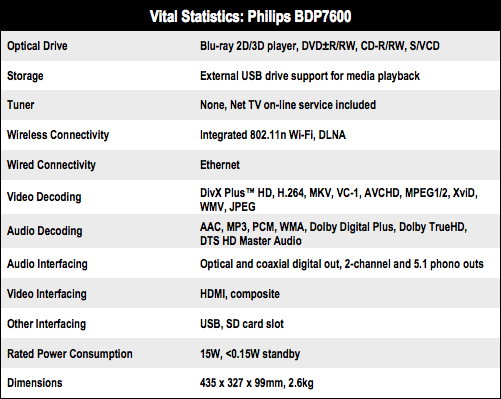 Of course, the main purpose of the Philips BDP7600 is disc playback. The Blu-ray version of Inception is presented as slickly as ever, while the colourful CG animation Legend of the Guardians, looks effective in full HD 3D. As far as sound is concerned, the highly detailed DTS-HD Master Audio soundtrack of Tron Legacy is suitably punchy, especially during the lightcycle race in Chapter Seven.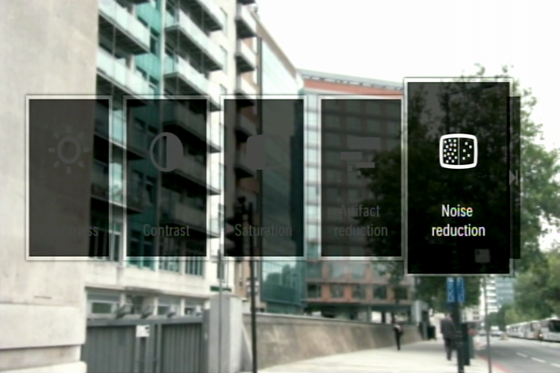 The user interface graphics do it large
It also does a good job of DVD upscaling, avoiding excessive graininess and blocky outlines. Edges can be a little oversharpened, creating a slight cardboard cut-out effect but you can easily tinker with the settings to make this less pronounced. Be careful with them, though, as these user preferences also seem to apply to Blu-ray, where you wouldn't really want extra processing applied.
Finally, one of the player's handy quirks is that discs can be ejected immediately if the player is sitting in standby, so you don't have to wait and power it up fully. After ejecting it then continues to start up normally, so it's ready to load something else.
Verdict
The Philips BDP7600 is user friendly, although its on-screen icons are massive, as if it assumes you are half blind or watching from 20 metres away. One or two niggles aside, it is a sleek, well designed device that produces a high-calibre picture. The DVD upscaling, clear audio delivery and wide ranging digital media compatibility also work strongly in its favour. ®
More AV Gear Reviews...

Samsung
BD D8900
Panasonic
DMR-BWT700
Arcam
FMJ BDP100
Virgin Media TV
TiVo
Sony
BDV-E370