Original URL: https://www.theregister.co.uk/2011/07/22/review_apple_mac_os_x_lion/
Apple Mac OS X 10.7 Lion Part One
The mane event?
Posted in Software, 22nd July 2011 06:00 GMT
Review There was a time when I'd be excited about the launch of a new version of Apple's Mac operating system. I'd count the days leading up to the launch with the same fervour as opening the windows on a yuletide advent calendar.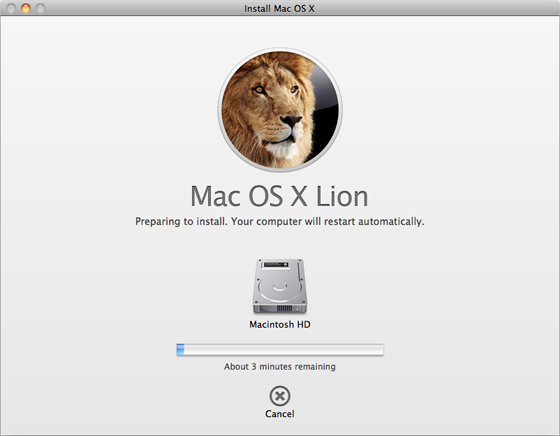 Installing the big cat
The day of arrival was never a disappointment. The drama of it all – breaking open the wholly unnecessary white box, wasting half a day on the installation, playing with animated onscreen bits that pop up or slide about, copying files from drive to drive simply to watch the new progress bars – was worth the trouble of half my old software not working properly any more.
But at some point, I became a humourless old git who finds these upgrades tiresome. And I can pinpoint exactly when this change occurred. It was this week, while I was testing OS X Lion immediately prior to, during and after its launch.
For the best all-round upgrade experience, I installed Mac OS X Lion on two Intel Core i7-based computers: a borrowed 17in 2.2GHz MacBook Pro notebook and my own 27in 2.8GHz iMac desktop machine.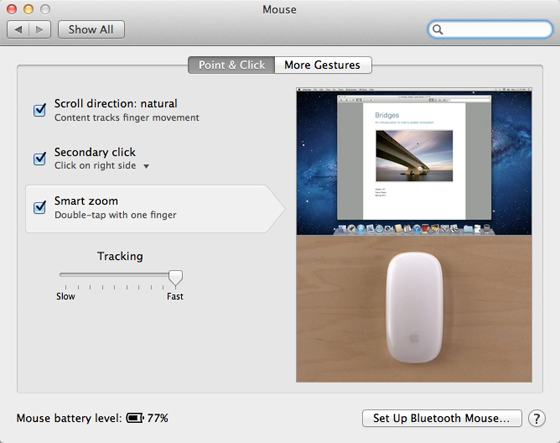 Meaningless gestures: Double-tap to zoom? Not on my Mac, it doesn't
After manually installing the operating system over a clean copy of OS X Snow Leopard on the MacBook Pro, things were looking good. Apple has taken some clever ideas from its iOS 4 operating system for phones and tablets and reworked them for its big computers, and these are just the ticket for notebooks. In particular, the expanded variety of multi-touch trackpad gestures are very welcome, such as sliding different numbers of fingers left and right to flit back and forth between web pages, workspaces or full-screen apps feels empowering.
A three-fingered upward flick opens the new Mission Control view of all your running programs. A three-fingered downward flick opens Exposé to sort out windows in the current program. Spring open your fingers to make all the windows fly away, revealing the Desktop. Scrunch your fingers together to call up the new LaunchPad view of the programs installed on your computer. It's marvellous stuff and helps make up for the difficulty in navigating a computer using a trackpad.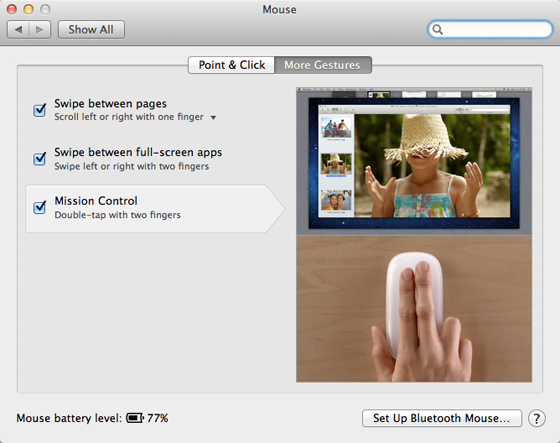 Mission Control does not appear with a two-fingered double-tap, despite what it says here
By the way, do you like the new Mouse Battery Level? Yesterday, it read '100%'
However, on turning to my sedentary iMac, I discover that most of these clever tricks are unavailable for the multi-touch MagicMouse. Some that are supposed to, don't: no end of double-tapping with two fingers would persuade Mission Control to show its face [it works for us, Ali - Ed]. There's even a gesture that I couldn't get working on either computer. According to the Mouse and TrackPad System Preferences, I ought to be able to double-click on a window to zoom in, like you would on an iPhone or iPad. The problem is that double-clicking already has a function: it selects things such as text, and insists on doing so without fail.
Out to launch
The differences between running OS X Lion on a notebook and a desktop computer became increasingly evident as my testing progressed. The most telling example was LaunchPad. This is an iOS-style way of launching programs from large, hovering app icons, which is fine alternative on the MacBook Pro to launching tiny program and alias icons littered around the Finder using an imprecise trackpad.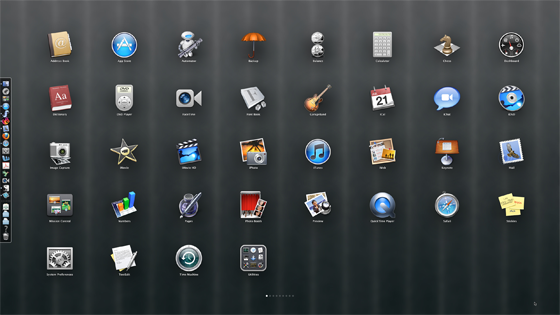 Do you like LaunchPad? Good, because I have another seven screenfuls just like this one
But over on my iMac, which has acquired quite a lot of software over the past couple of years, LaunchPad simply filled my 27in display with scores of icons… in fact, eight screens of them. Another website has compared this to playing 'Where's Wally?' with your programs. Me, I was shouting 'Where the fuck?' at my screen. Apple would have me organise all the icons into groups, like you do in iOS. I started doing that, but soon realised that it's a waste of time.
If I want to run Adobe InDesign CS5.5, I do not want to call up LaunchPad, flit back and forth between screens until I find a group called 'Adobe Creative Suite', click it to open it up and then hunt through the 20 or so programs in there to find InDesign, especially when I also have to distinguish between InDesign CS5, CS4 and CS3 on the same computer. It's far quicker to use Spotlight or a proper third-party launcher app.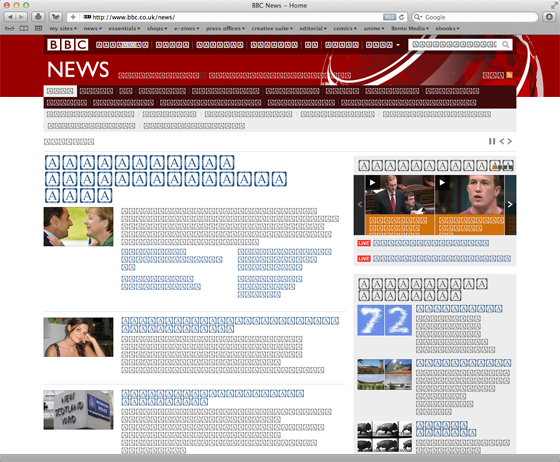 Wot not fonts? Safari's new 'Scouse' edition of the BBC News website
Then I made the mistake of running Microsoft Word, after which Safari decided to turn all my fonts into hieroglyphs. Fixing this problem took a lot of nervous cache-clearing (none of my usual font utilities are officially Lion-approved yet) and several restarts before Safari began behaving again. Note, however, Firefox was unaffected.
Maybe these various problems are due to my iMac suffering from too much nerdy Terminal abuse and unmoderated software acquisition, and what I need is to install a clean copy of OS X Lion - but how?
Time out
OS X Lion is not a physical product: it's merely a retail concept in the Mac App Store. Once it's installed, the Mac App Store won't let you try to re-install it unless you remove OS X Lion first. This is not impossible but it is tricky since there's no physical installer DVD (you can make your own but Apple gives NO instructions on how to do it), and it's made all the more complicated by the fact that the OS X Lion installer self-destructs after installation, so you have to surreptitiously make a copy while it's looking the other way.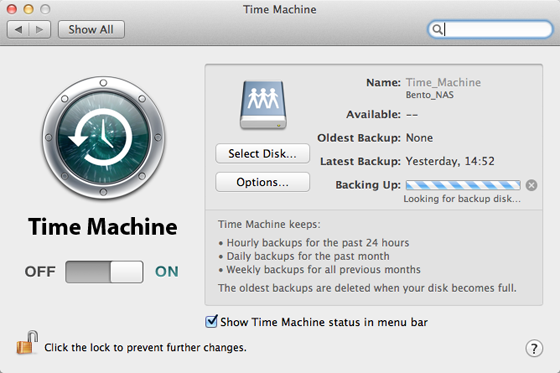 Where has my Nas drive gone? Not only can I no longer back up, nor can I restore anything. Aaargh!
At this point, I began making plans to back up my hard disk and start from scratch, whereupon I discovered that TimeMachine was no longer working and my 1.5TB Nas drive was inaccessible.

Oh, so my Nas is one of those old-fashioned servers like they used in the old days – silly me
It turns out Apple has changed its support for AFP connections, as used by lots of Nas drives. Although I can still connect via SMB and CIFS, there's little I can do about accessing my Nas volumes from the left-hand panel in Finder windows, nor can I configure TimeMachine not to use AFP. Basically, the moment I installed OS X Lion, my backups ceased. I await Buffalo Technology's firmware update to fix this.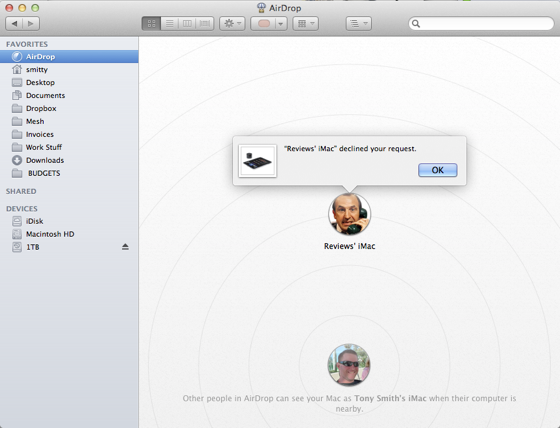 Network file sharing: AirDrop is weirdly wireless only
End of Part One
And this is the story so far – end of part one. In part two, I manage to get things running smoothly again and look beyond the cosmetic surgery to focus on the real benefits that OS X Lion can bring. You can read all about it here. ®
Thanks to Square Group for the loan of the MacBook Pro.