Original URL: https://www.theregister.co.uk/2011/07/22/mac_lion_kills_celerra/
Mac Lion's breath causes Celerra NAS storage to die
Get the patch, don't fear the pussy
Posted in The Channel, 22nd July 2011 15:48 GMT
When the Lion roars, Celerra bleats and plays dead.
El Reg has been told there is a problem with Mac OS X Lion clients accessing the Celerra filer array. The NAS head goes offline and failover doesn't kick in. An EMC patch is available and fixes the problem.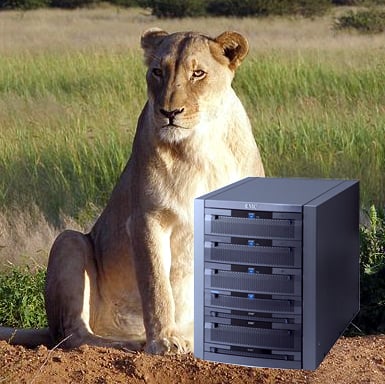 What am I supposed to do with this then?
There was a posting on an EMC unified storage discussion site on 7 March by richleroy about Celerra arrays crashing when a Mac OS 10.7 beta client connected to it. The poster said patches are available with a reference of Primus emc263721.
Primus is an EMC self-service knowledge base for its customers.
An EMC spokesperson said: "The current versions of the VNX/Celerra operating environment offer support for Apple's OS X 10.7 (Lion) and allow our customers to deploy it and take advantage of its many new features. However, because OS X 10.7 includes a new CIFS client, customers with older versions of the VNX/Celerra operating environment should upgrade their code to prevent any issues. This is available immediately, was available on day one, and details are available through their EMC support resources either via the phone, online or through their EMC account team." ®