Original URL: https://www.theregister.co.uk/2011/07/21/review_vodafone_smart_android_smartphone/
Vodafone Smart Android smartphone
Budget Googlephone, anyone?
Posted in Personal Tech, 21st July 2011 12:00 GMT
Review You can argue all you want about the merits of the various mobile operating systems but it's undoubtedly Android that has put smartphones into the hands of the impecunious masses and in numbers that would have been inconceivable just eighteen months ago.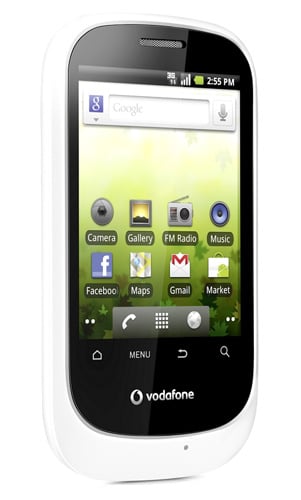 Tidy price: Vodafone's Smart
The new king of the cheap charlies is the Vodafone Smart or Huawei U8160 to give it its manufacturer designation. This pound shop special runs Android 2.2 and has a capacitive screen but will only set you back £75.
That's nearly 20 per cent less than the price of the Orange San Francisco, né ZTE Blade, which will lighten your wallet to the tune of £99 plus a mandatory £20 credit (£119 altogether). Buy online and Vodafone doesn't demand an airtime purchase as a condition of sale.
Naturally, certain sacrifices have been made to get the price that low. The screen only measures 2.8in corner to corner, the pixel count is a meagre 240 x 320, the chip ticks over at just 528MHz and only has 256MB of RAM to play with.

Lightweight, but a little on the chunky side
Storage is an equally slight 512MB of which only around 130MB is available for apps though you can eke this out by dumping larger applications onto the 2GB MicroSD card that Vodafone supplies.
Cheap the Smart may be, nasty it's not. To start with it's rather well made - albeit entirely of plastic - and rather stylish. The on/off button at the top and the volume rocker on the right are both solid and easy to use and the 3.5mm audio jack is at the top, where it should be.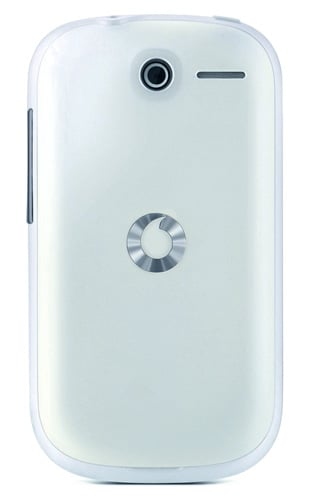 Alas, only a 2Mp camera which needs ideal conditions for decent snaps
The micro SD card lives under the battery but that is something I suspect most people can live with. At 104g it's one of the lightest smartphones around and only two-thirds the size of the HTC Desire HD I normally carry around with me.
Smart choices
With an eye on the yoof market, Vodafone is offering customers the option to design their own back cover for £10 at its Smart Design Studio. You can even upload your own images.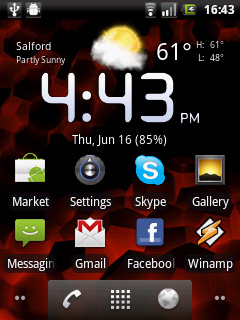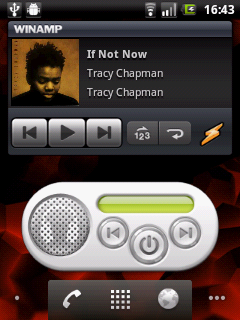 Homescreen and music
With expectations tempered the UI moves at a brisk enough pace and flips between portrait and landscape promptly while the plastic screen is both accurate and responsive to the touch.
It's not at all bad to look at either, though you will struggle to read it in direct sunlight. Clearly it's no retina display but it's certainly usable.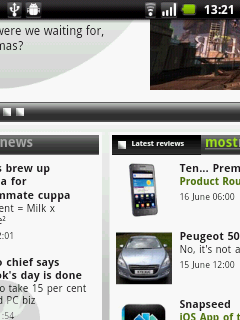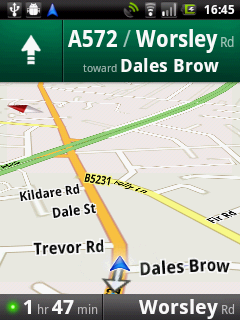 Browser and satnav
At this point I'd usually tell you what the Quadrant Standard benchmark score was but the Smart lacks the cajones to run the test in full, so let's just assume the number would have been lower than Greece's credit rating.
Likewise, graphics-heavy gaming is out of the question - Angry Birds ran so slowly as to be unplayable while Cordy and Stupid Zombies don't even show up in the Smart's Market.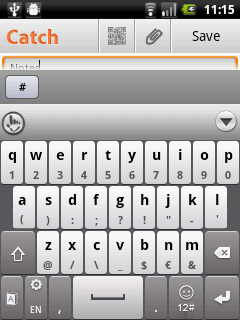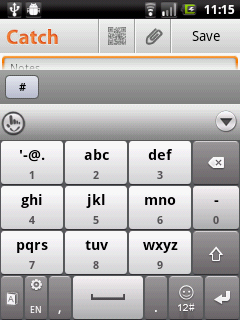 Keyboard layouts
Adobe's Flash player isn't supported either and you will have problems trying to play any video with a resolution much above the screen's QVGA native.
A surprising and regrettable absence is pinch-to-zoom, though double-tapping works well enough and web page text reflows quickly in the stock browser.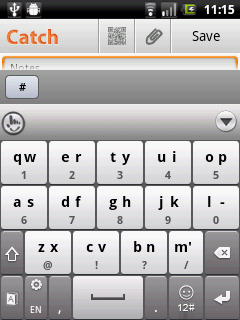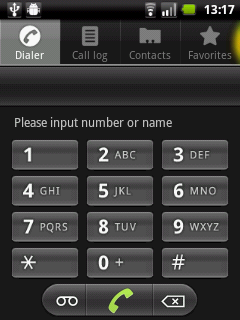 Another keyboard option and phone dialler
The TouchPal keyboard is a bit small - even when set to 'large' - but you can swipe between three alternative layouts and toggle the predictive settings from a handy bottom at bottom left.
Google-eyed
Vodafone deserves plaudits for not swamping the Smart in bloat the way Orange did with the San Francisco. Yes there are a few Vodafone apps installed including a pre-pay account manager and music store. Yet in essence, this is Android as God Google intended, and all the better for it.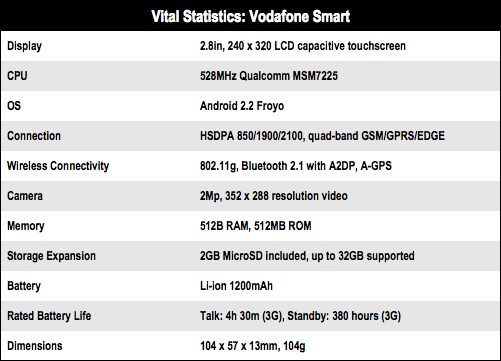 The camera is a 2Mp fixed-focus affair and frankly it's pretty grim. It's fine for shooting QR codes, if you have a steady hand or casual outdoor snapping but boobs-on-a-boar useless otherwise. Video can be recorded at a maximum of 352 x 288.
Reception, both cellular, GPS and Wi-Fi was good and I had no complaints about call quality. Making calls over Skype presented no problems and I was pleasantly surprised to find a proximity sensor on a handset this cheap, so that when you take the phone away from your ear the screen turns back on. The speaker is very good too.
Despite the small screen and lightweight CPU, the 1200mAh battery will only keep you going for a day and a half between charges, or at least it will after a few charge/drain cycles. The out-of-the-box duration was less than 24hrs. Cheap battery syndrome I suspect.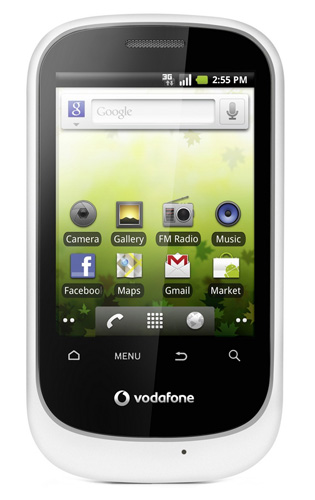 No powerhouse, but not a bad effort for the price
Top up by £10 each month and Vodafone will throw 500MB of data as well as 300 texts into the deal, and you can't really say fairer than that. Incidentally, the Smart is locked to Vodafone so swapping networks will involve something rather more complicated than just replacing the Sim.
Verdict
Though it runs Froyo and has a capacitive screen, the Smart has been ruthlessly built down to a price. Despite that, for talking, e-mailing, texting, navigating and social networking it's up to the job. Yes it falls down when faced with more demanding tasks, but a £75 mobile will never be the gaming or multi-media platform that a £400 1GHz Snapdragon handset is. The Orange SF is a better phone but then it's twice the price and still doesn't support Adobe's Flash player. ®
More Budget Android Smartphone Reviews

HTC
ChaCha
LG
Optimus One
Ten… budget
Android
smartphones
Motorola
Defy
HTC
Wildfire S