Original URL: https://www.theregister.co.uk/2011/07/21/campus_party_2011_roundup/
The greatest tech show on Earth
We attend Campus Party Valencia
Posted in Personal Tech, 21st July 2011 09:36 GMT
I was invited to the Campus Party in Spain last week. After being told it's the biggest tech show on the planet, I could hardly turn the offer down. And, following some manic days at the show, I have to agree: there's nothing quite like it.
Held each year in the beautiful city of Valencia, Campus Party is described as the world's largest tech event for creativity, entertainment and digital culture. Since 1997, it has brought together Spain's geek community from overclocker enthusiasts and hackers, to robotic engineers and video gamers. There were 6500 of them this year.
You name it, some übernerd was there flaunting it.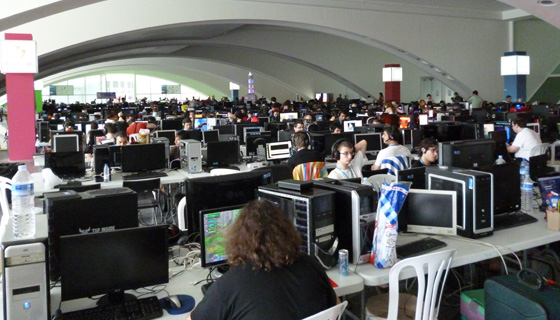 The first room to grab my attention was the computer modding section, where hundreds of enthusiasts gather Lan party-style, each with their own extensive PC tweaks and custom designs. Here, the modders stay up all night and sleep through the day, playing games, networking, sharing ideas and doing what geeks do best: secretly finding ways to watch mature content, ahem.

Image credit: Isa Andreu
With a room this big I didn't know where to start, there was so much to see. I bumped into Sergiokillo, a games enthusiast and console collector from Zonajuganes.com who has been coming to Campus Party for the last five years. Instead of throwing away his old computer parts, Sergiokillo turned them into this custom-made arcade machine, running hundreds of classics from Bubble Bobble to Super Mario Bros.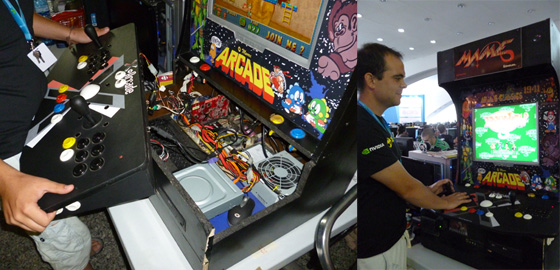 The machine is basically a Windows PC running an emulator, but with a functional coin slot and such a meticulous design, it was impressive nevertheless.
With hundreds of custom jobs crammed into one room, there was, of course, much more to see than just a homemade arcade machine. A stones throw away was this beaut from four-man team ClanPLP.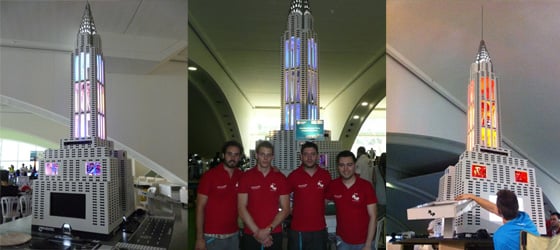 The building, modelled on the Chrysler in New York City, took four and a half months of intense work, carpentry and mechanical engineering to complete. It features a computer on each of the four sides, plus one built into the top of the tower and with full lighting controls and a compressed-air hydraulics system to raise and lower the tower, the Chrysler was by far one of the more impressive design mods in the room. So much so in fact, the team were awarded a first place prize for their effort.
ClanPLP have been coming to Campus Party for six years now, annually trying to top previous efforts. They've been doing a pretty good job of it and have managed to find sponsorship from Microsoft, as well as numerous other outlets. How they'll beat this model next year though, I'll never know.
All mod cons
Surrounding the Chrysler were dozens of impressive mods from dinosaurs and volcanoes to Coke fridges and motorbike conversions. Many of these modders enter designs in the Future Modding Tournament, a competition with prizes in several categories. Entrants get scored at various Lan parties - Campus Party included - and the top scorers are put into the final.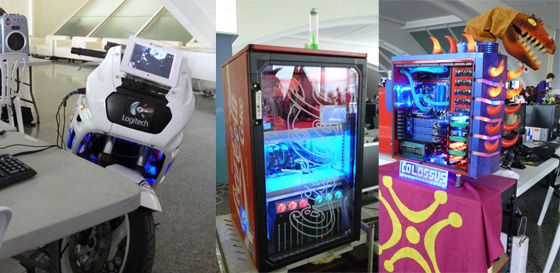 One ex-finalist, Deborah Ruiz Berbegal, who took a third place in last year's competition with her Alice in Wonderland themed mod, was back at Campus Party again, this time with a Metal Dragon, put together using papier-mâché and 517 Coke cans. It's not quite ready to be entered into the tourney yet, though - Deborah told me she intends to tweak the design further and give the wings some movement.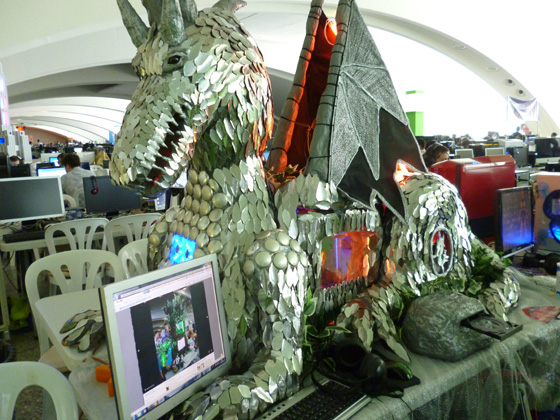 Behind Deborah's computer was a small section dedicated to overclockers, where several groups of computing enthusiasts gathered to try and break records and push particular chips far beyond their maximum speeds. The fact they use liquid nitrogen meant I couldn't get too close - such is health and safety. Despite insisting I wouldn't freeze any fingers off, I wasn't getting any nearer.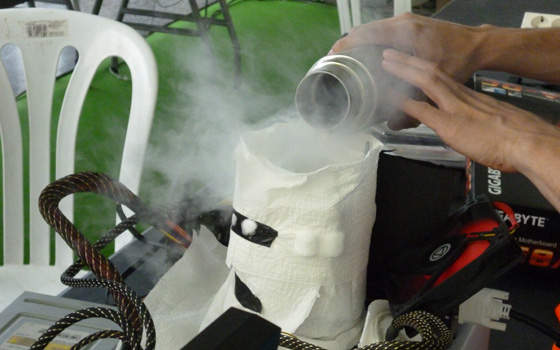 Several of the world's top overclocking squads were here, such as previous front-runners Team OCX, members from HWBot and the UK's very own BenchTec crew, pushing for various world records. The speeds these guys were overclocking at - pressing beyond 11GHz - have taken the practice through the roof and beyond. Things have come a long way since Project Eunuch used a fridge freezer and alcoholic bevvies to overclock a PC to 247MHz.

In a separate area of the building, gaming competitions were being held. These ranged from Counter Strike and Call of Duty, to League of Legends, Fifa 11 and Guitar Hero. With more than €50,000 in prize money on offer, it was unsurprising to see the room crammed with participants, as well as gamers scattered all over the campus honing and toning skills on their title of choice.
Across the way, another building was kitted out with a thousand or so computers and four presentation stages where talks were held on various tech-related subjects.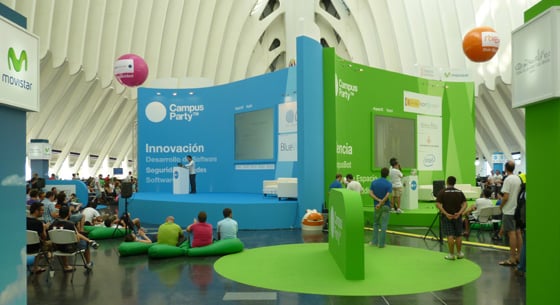 In one corner, the flight-sim community gathered to show off their individual builds, some with full cockpit equipment. If put into a real plane, I'm told they'd be able to fly. I didn't question it, especially when you see the lengths some of these guys go to. Old German aviation maps were scrawled out across one table, with enthusiasts plotting an exact route a Luftwaffe flight would have taken in WWII, then re-enacting it on their flight sim. Hardcore.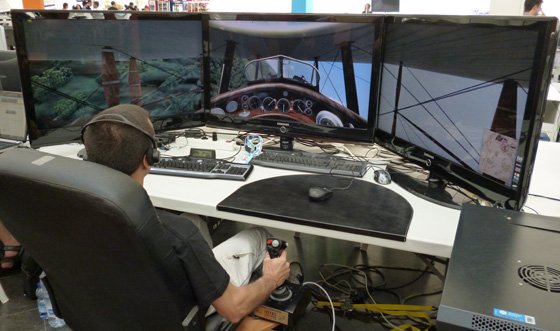 March of the robots
Moving round to robotics - one of the most interesting and innovative sections of the show - I was gobsmacked. There was much to see, and several workshops to attend.
My first encounter here was with the ROS system, an open-source platform that simplifies robotics, making it a much easier prospect for budding roboteers. Melonee Wise gave a talk on the system as well as offering an insight into some of the projects robotics outlet Willow Garage is involved in.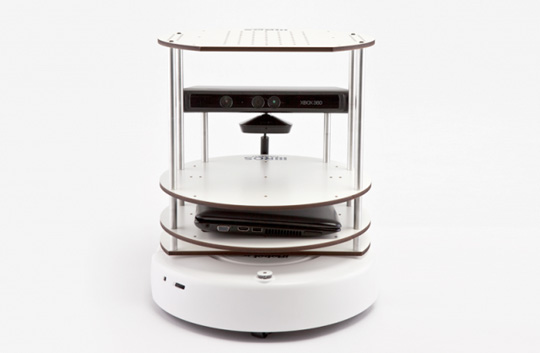 Many of you may remember the TurtleBot, an open-source robot starter kit which allows users to build their own waiter-style table. The TurtleBot is now available to order and can be picked up for about £1200. Wise and her partner Michael couldn't praise the Xbox Kinect peripheral enough, saying it has propelled robotics to another level.
I then spoke with Professor Alberto Sanfeliu about the Urus project, which he has worked upon with various colleges around the world, including Surrey University. The TibiDabo urban robot is designed on the back of a segway and has the potential to replace guide dogs, acting as a companion for the visually impaired.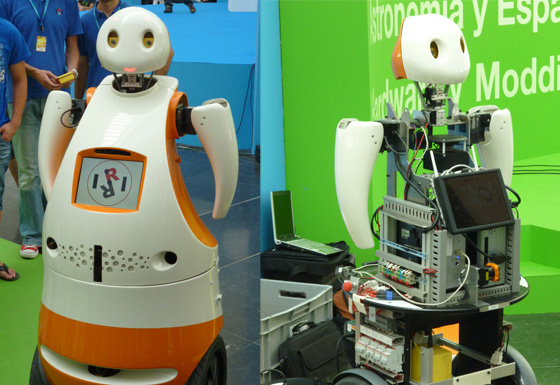 Running on ROS, it moves around, interacts with people and recognises objects. While TibiDabo has been in trial for a while now, such robots should be available for commercial projects within a few years, at least for use within the home.
Prof Sandeliu also talked up some learning algorithms that have been incorporated, meaning the robot has the skills to teach itself and learn from experience. Don't worry, though, a robotic uprising is total sci-fi babble and no matter the algorithm, it's impossible for robots to take over the world... or so he says.
Of course, there was much more to see, from homemade remote controlled helicopters to memory implantation, although with it all in Spanish, I was quickly left behind.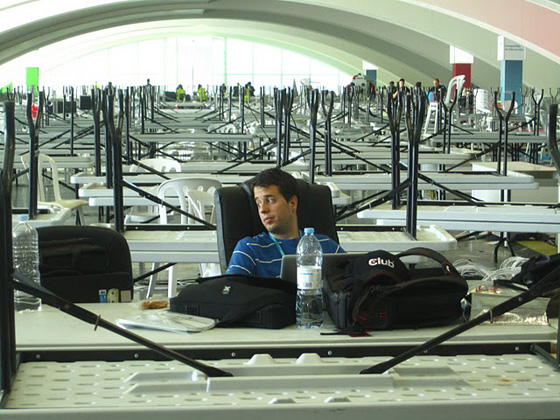 Until next year?
Image credit: Isa Andreu
However, we'll definitely be seeing an English version soon. So far Campus Party takes place in eight countries - Spain and seven Latin America nations - but the organisers are setting up a Campus Party in San Francisco next year. They are even considering a Campus Party Britannia in the not too distant future.
If in the meantime, you fancy a trip to Valencia - I couldn't recommend it enough. Es asombroso. Adiós a mis amigos. ®