Original URL: https://www.theregister.co.uk/2011/07/20/star_wars_the_old_republic_pre_order_tomorrow/
Star Wars: The Old Republic preps pre-order pages
Force with us tomorrow
Posted in Personal Tech, 20th July 2011 15:28 GMT
Retailers have leaked details of pre-order plans for EA and BioWare's anticipated MMO, Star Wars: The Old Republic.
Polish outlet Empik briefly posted a sales page for the game, which stated the pre-order date as 21 July. Meanwhile, over in Spain, XtraLife posted details about the Collector's Edition.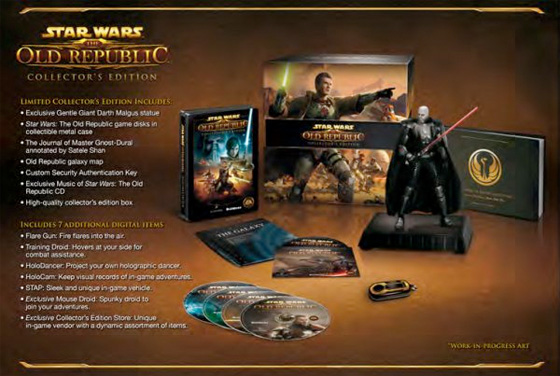 The latter - which is expected to retail for about £150 - is shown to include:
Exclusive Gentle Giant Darth Malgus statue
Star Wars: The Old Republic game disks in collectible metal case
The Journal of Master Gnost-Dural annotated by Satele Shan
Old Republic galaxy map
Custom Security Authentication Key
Exclusive Music of Star Wars: The Old Republic CD
High-quality collector's edition box
There is also the inclusion of 7 additional digital items:
Flare Gun: Fires flares into the air
Training Droid: Hovers at your side for combat assistance
HoloDancer: Project your own holographic dancer
HoloCam: Keep visual records of in-game adventures
STAP: Sleek and unique in-game vehicle
Exclusive Mouse Droid: Spunky droid to join your adventures
Exclusive Collector's Edition Store: Unique in-game vendor with a dynamic assortment of items
According to Kotaku, EA will officially start taking pre-orders at 8am GMT tomorrow morning. Only the first 50,000 pre-orders will be guaranteed, with any overflow put into a waiting list.
The game itself is yet to receive an official launch date, although is widely-expected sometime in November.
More details on Star Wars: The Old Republic are predicted at Comic-Con this week. ®