Original URL: https://www.theregister.co.uk/2011/07/19/dawn_vesta/
First snap of giant asteroid Vesta from orbiting probe
NASA ion-engine craft Dawn surveys juggernaut of space
Posted in Science, 19th July 2011 11:53 GMT
NASA's Dawn asteroid hunter has returned the first photo of Vesta since achieving orbit around the giant object at the end of last week.
The snap (big version here) was grabbed at a distance of 9,900 miles (16,000 kilometres), and shows Vesta's impressive 530 kilometre (330 mile) diameter bulk beginning to come into focus.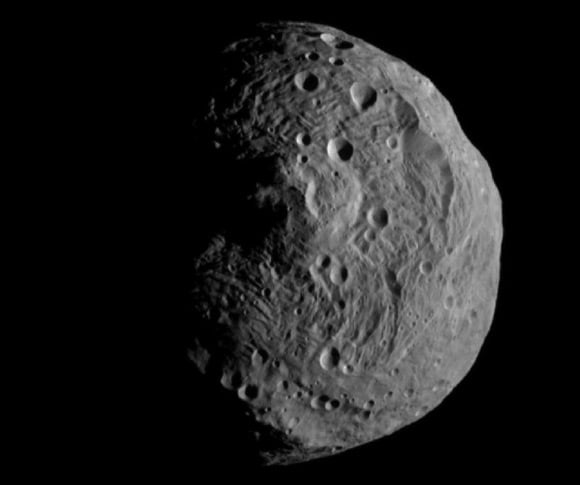 Vesta is the second largest object in the asteroid belt between Mars and Jupiter, with only Ceres surpassing it in size. While NASA notes that it has been observed with ground-based telescopes for a couple of centuries, and more recently the Hubble Space Telescope, Dawn offers the first opportunity for scientists to get up close.
Marc Rayman, Dawn chief engineer and mission manager at NASA's Jet Propulsion Laboratory, enthused: "Dawn slipped gently into orbit with the same grace it has displayed during its years of ion thrusting through interplanetary space. It is fantastically exciting that we will begin providing humankind its first detailed views of one of the last unexplored worlds in the inner solar system."
Christopher Russell, Dawn principal investigator at the University of California, said: "We are beginning the study of arguably the oldest extant primordial surface in the solar system. This region of space has been ignored for far too long. So far, the images received to date reveal a complex surface that seems to have preserved some of the earliest events in Vesta's history, as well as logging the onslaught that Vesta has suffered in the intervening eons."
Vesta shows signs of having taken one very substantial knock during this onslaught, a collision which gouged a substantial crater out of its southern pole. The debris from this impact is believed to account for a round five per cent of meteorites which fall to Earth.
Dawn will now spend three weeks on its "approach phase" to Vesta, during which scientists will "continue a search for possible moons around the asteroid; obtain more images for navigation; observe Vesta's physical properties; and obtain calibration data".
The spacecraft will eventually approach to within 120 miles (200 kilometres) of the asteroid's surface. After a year, it will head off to a 2015 close encounter with Ceres. ®