Original URL: http://www.theregister.co.uk/2011/07/18/review_tablets_hp_touchpad/
HP TouchPad 32GB WebOS tablet
Cross my Palm...
Posted in Personal Tech, 18th July 2011 12:00 GMT
Review What a difference a year makes. Had HP's TouchPad - which went on sale in the UK this past Friday - debuted 12 months ago, maybe even as few as seven, it would have stood tall alongside the competition.
But coming six months or so after the iPad 2, let alone the iPad 1, HP's offering in many ways feels distinctly behind the curve.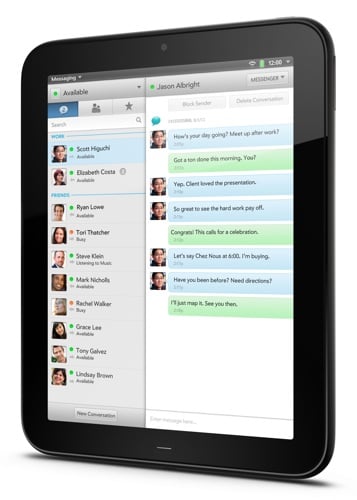 HP's first-gen tablet launches alongside second-gen rivals
That's unfair, because the TouchPad, despite some minor flaws in both the hardware and the software, isn't half bad. It has a functional, aesthetically appealing operating system, and it's a decent piece of work physically.
Yes, it's a me-too product, but then all media tablets are. I don't believe there's a single vendor that can put hand on heart and honestly say it begun work on its fondleslab before Apple launched the iPad - or at least before the many rumours to that effect swamped the internet.
And that the TouchPad feels older than it is, is almost entirely down to the accelerated evolution tablets are undergoing as rivals race to compete, and Apple tries to stay ahead.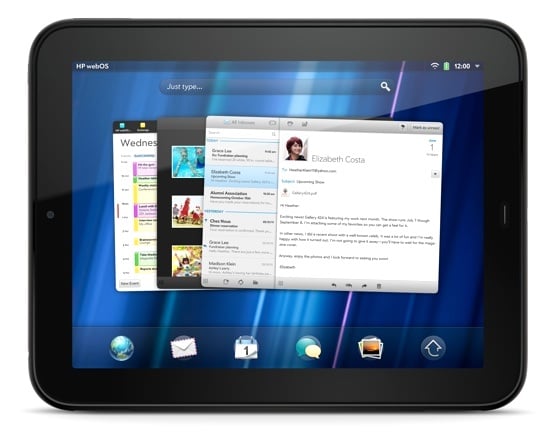 Rotation hesitation: turn the tablet and the screen takes a second to catch up
Lay it flat on a desk and it's a millimetre thinner than the iPad. But its more rounded design makes it feel thicker when you hold it. And that's alongside an iPad 1 - next to an iPad 2 in a shop, no one's going to select the HP over the Apple if size and weight matter to them.
The TouchPad is more me-too so than most. Like the the iPad, it's based around a 9.7in, 1024 x 768 display - a 4:3 aspect ratio, since you ask - a much better choice than the 16:9 widescreen displays everyone else has gone for in a bid to make their offerings appear slightly less iPad-like than they are - and cheaper to make too.
HP was right not to fear invidious comparisons with the iPad. Widescreen is good for watching video in landscape orientation, it's true, but in portrait mode it's too long and thin. The TouchPad's aspect ratio is the ideal balance for a device destined to be used in both portait and landscape orientations.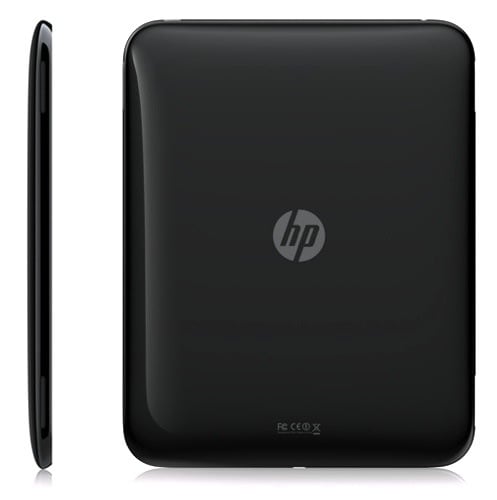 Not as thin as its rivals, but at least there's no pointless rear cam
Like the iPad, the HP tablet uses an LCD screen based in In-Plane Switching (IPS) technology, making for spectacular viewing angles, vertically and horizontally. It's a good looking screen. But it's more reflective than Apple - side by side, with the screens both turned off, the TouchPad makes the better mirror - and it does flex inward when you push it hard.
Class act?
Taps don't require much pressure, and they're signalled with a 'ripple' graphic that's handy for newbies but old tablet hands will want to turn off but can't.
HP's capacitive touchscreen seems sufficiently responsive, but there is a lag, more to do with the OS than the hardware, I think. I'll return to that point - for now, the TouchPad's face shows up fingerprints more than the iPad does.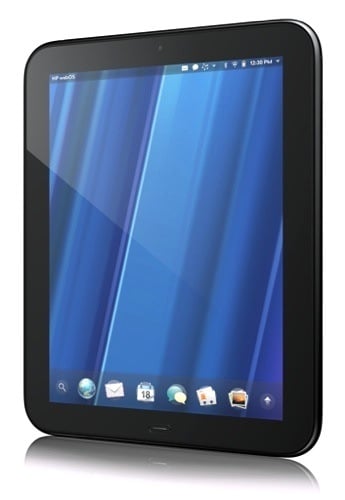 HP has chosen the right aspect ratio for the screen
The glossy black plastic back of the TouchPad does too, and gives the gadget a cheaper feel than it ought to have, given what HP is charging for it. This is a leitmotif. I mentioned the flexible screen, but you can add a rattly power key - on my review sample, at least - and the gaps in the case for the two speakers.
With no iPad around, the TouchPad would seem a classy act. Compared to the aluminium-clad Apple product, it's a lot less luxurious than the price suggests it should be. That's a mark of how Apple has lifted the quality perception bar.

Just thinner than the first iPad - but it doesn't feel that way in your hands
The speaker holes also make the TouchPad a little uncomfortable to hold in portrait mode - I found the lower one grated against my palm. The sound they produce isn't bad, mind, but not stand-out-from-the-crowd good. Stick to headphones.
There's no dock connector, just a micro USB port, on the bottom when the tablet's in portrait orientation. There's no camera on the back - another sign HP's design dates back to before adding this unnecessary feature became vogue - but there is a basic webcam on the front that taps into WebOS' integrated Skype functionality.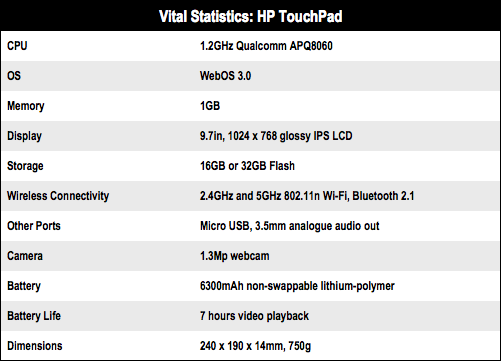 Working with WebOS
Below the screen is the Home button, but not the iPad's circular affair, just a slim rounded oblong that's easy to miss, especially without a graphic to aim for. There is wee backlit strip, but it's not always illuminated, so I often found myself stabbing at it and missing the mark.
On an iPad, the Home key takes you to the app list, but on here it reduces the currently running app's screen and parks it alongside the minimised screens – "cards", HP calls them – of other running apps. Tap one and it opens to full screen, but only if you tap the one in the middle of the screen, not the others you can see.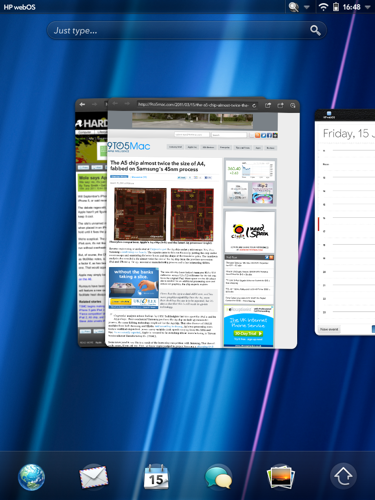 WebOS show running apps' windows, not merely their icons
There is an iOS-esque dock for regularly run apps to save you swiping along the line of cards to find the screen you want. All the dock icons can be changed except the right-most one, which pops up an Android-style Apps menu, next to which the tablet's Settings appear under a separate tab.
The Settings themselves are implemeted not in one, all-encompassing app but as individual programs, making the process of changing several of them at once more of a chore than it need be: you constantly have to return to the Home screen, then to the Apps menu, then to the Settings menu and from there to the next setting you want to change.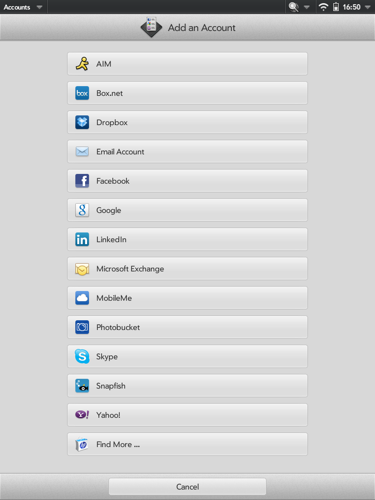 WebOS supports many online services out of the box... but not Twitter
And, Settings being apps and WebOS designed for true multi-tasking, you can end up with your card line full of individual settings screens. Each app can be quit by dragging its card to the top of the screen. Apps with multiple windows – the browser, for example, when you're viewing more than one site at once; no tabbed browsing here – stack their cards one on top of the other.
Cards are live. Open an app, immediately hit the Home key and you'll see the app continue to load up within the card – handy since WebOS has looooong initial app load times. Rotate the tablet and browser cards don't simply turn, they reflow the content to match the new orientation. Yet video doesn't play in minimised form, at least not with WebOS' built-in Photos & Videos app.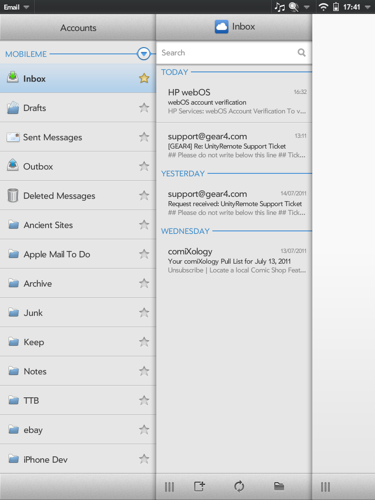 The e-mail client works well
And here we come to the real problem with the TouchPad: not its hardware, not its OS, but its apps. I don't like munging my photos and my videos, for starters, but I'm more irritated by the program's limited array of supported video formats: H.264/MPEG 4 at sub-standard definition is your lot.
Tapping the apps
I can understand Apple, which has videos to sell you, imposing such limitations, but not HP, which doesn't. Especially when it not only allows you to drag and drop pictures, music, movies and other files over USB into the TouchPad's storage space but – get this – doesn't care how you organise them: anally archived or chaotically dumped in the root directory, supported files are automatically found by the apps that can view them.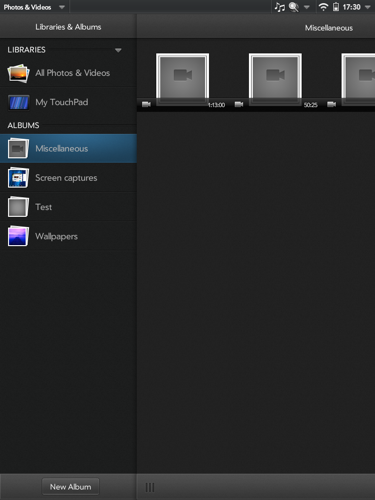 What movies are those, WebOS' Photos & Videos app?
I dragged a whole load of different file formats, but Photos & Videos only showed the MP4s and M4Vs - and only those with an SD resolution or less. Not one of them was presented in the app's content listing with either a name or a still-frame preview to tell me which was which. WebOS looks great, but that doesn't matter a damn if you can find the content you want.
WebOS' apps are full of these kind of instances where HP's coders have focused so much on the bigger picture, they miss the details. WebOS is designed to interface with numerous online services, its philosophy being these should be in no way distinct from locally stored information. I approve, and I'd give this aspect of WebOS all my praise, if only it was implemented equally in all apps.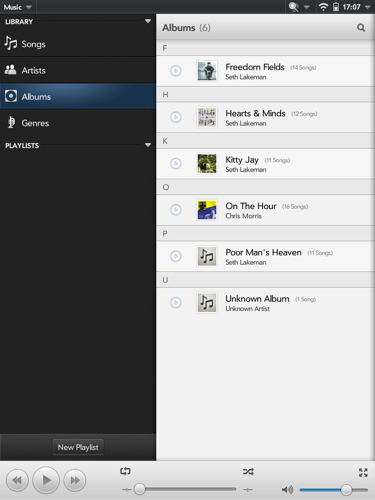 The Music player app is more informative
So, TouchPad lets you tie in your MobileMe account, but only for documents – iDisk access, basically – and e-mail. Forget for the moment that MM is doomed, set to be replaced by iCloud. Anyone with an MM account, ie. migrators from Apple, will want to sync over their contacts, calendars, bookmarks with their TouchPad. Well, they can't.
Calendars supports Facebook, Google, Exchange and Yahoo!, while contacts supports those four plus Skype and LinkedIn. The IM app adds Aim. There's no Twitter support, anywhere.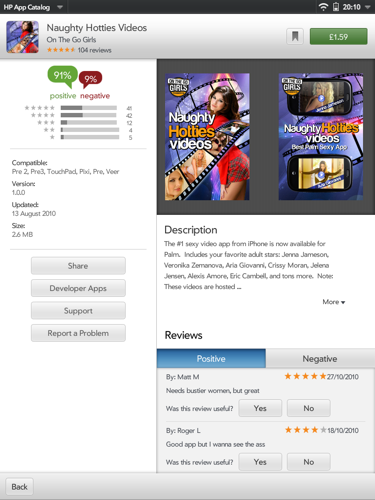 Not what you'd see in the app store – but the punters still aren't happy
Fortunately, there is a Twitter client you can download, but if you're hoping to get all those services you have on an iPad there, you'll likely be out of luck. Want to watch AVI files, for instance? There's nothing you can download. Ditto if you want to read e-books, other the Pré-centric one that doesn't go full-screen. Lots of the content I regularly consume on my iPad can't be viewed on the HP.
Functionality not out of the box, not on the app store
That's not to say apps won't come in time - WebOS has a thriving developer community - but early TouchPad adopters will not find the tablet as flexible a media consumption device as they would an Android machine or even, thanks to the iTunes stores, the iPad.
Most of the TouchPad's pre-loaded apps are good, do what they say one the tin and do it well. The minor flaws they all incorporate are not (mostly) deal breakers and can be fixed through updates.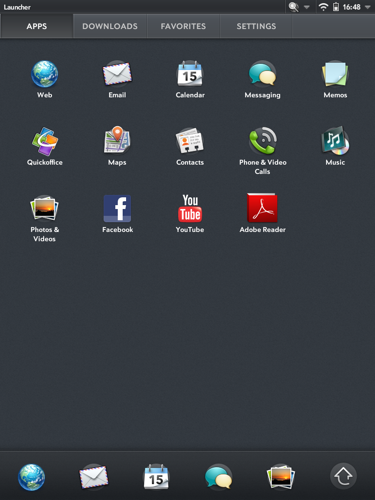 Pre-loaded apps appear in WebOS' Android-like Apps panel...
The TouchPad's lack of processor oomph won't be as easily fixable, however. Most of the time, the tablet operates smoothly, but on too many occasions there was a tiny but perceptible lag between action and consequence. Screen rotations are not instantaneous. Swipe up from the base of the screen to go to the Home view, and the app will scroll for a second before it figures out what you really want to do. Switch into a video and it can take a second or so for the movie to start playing.
This doesn't look good alongside a first-generation iPad let alone the iPad 2 and the new generation of Android tablets.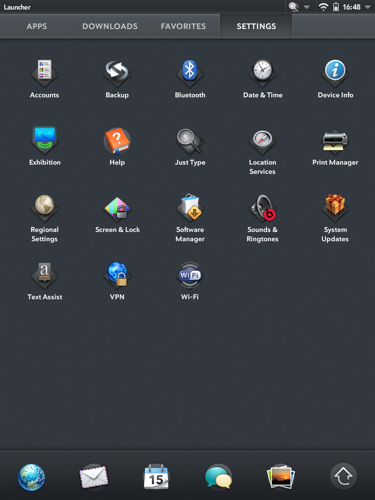 ...as do Settings, each a standalone app
It doesn't really matter where the balance between OS, memory capacity and CPU speed lies when it comes to a tablet's responsiveness, the point is my original iPad is more so than the TouchPad, and it's more than a year older.
So HP has a tough sell to make even if other factors, such as the availability of apps, were equal. And they're not.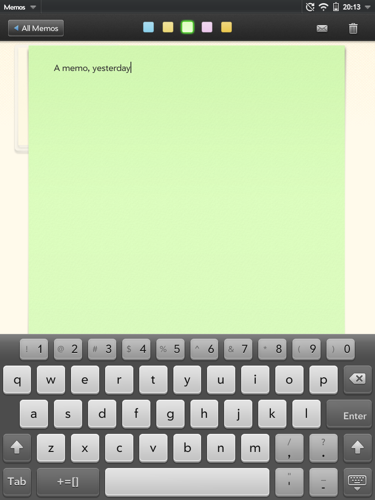 WebOS has a great, inclusive keyboard
This is a shame because, niggles aside, WebOS is a good tablet OS. Its multitasking is intuitive and just need a less clunky way of presenting apps. It has the best virtual keyboard there is, one that not only has numbers and symbols as well as letters, so there's far less switching between keyboard types, but also a Tab key for quickly moving between data fields.
Nice OS, shame about the hardware
Apple, please take note of WebOS' keyboard layout - and of the operating system's drop-down menu that provides direct access key functions. iOS 5 really should be offering this.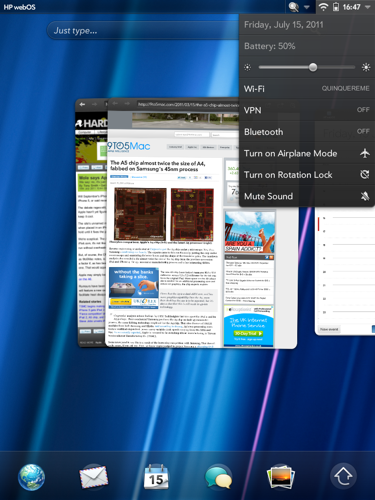 iOS users will envy WebOS' handy drop-down key settings menu
HP likes to emphasise Just Type..., WebOS' joined-up search system, but iOS does that and Android has Google search, which is probably more useful to most folk. Generally, it's easy enough to look in Contacts if you know you're trying to find a contact, but there's no harm in keying in someone's name first.
HP has to be commended for avoiding the easy way and just chucking out yet another non-descript Android offering. God bless the good ship plurality and all who sail in her. Likewise, the company deserves kudos for choosing an odd, yet exactly right screen ratio.
But I suspect many punters won't get to try the TouchPad and WebOS in earnest simply because of the other issues, from the quirky performance of the hardware to the current paucity of key apps and services. I really like WebOS, but I won't buy a TouchPad because it will play too little of my content and – frankly – for the same money I can buy something else that will.
Verdict
HP creates a great generation-one tablet and brings it to market right when the generation-two rivals are hitting the scene. If you dislike Apple's arrogance and Android's Windows-of-the-tablet-world strategy, you'll live with the TouchPad's media playback limitations, revelling in it as a neat internet tool. If you're are WebOS die-hard, ditto
But though the TouchPad has many qualities, and would have made a great iPad rival a year ago, today it's too behind-the-curve at too high a price to thoroughly recommend. ®
Thanks very much to PC World for the review sample
More Tablet Reviews

Apple
iPad 2
Asus
Eee Pad
Transformer
Motorola
Xoom
RIM
BlackBerry
PlayBook
HTC
Flyer