Original URL: https://www.theregister.co.uk/2011/07/17/dawn_vesta/
Asteroid hunter achieves Vesta orbit
'Incredible exploration milestone', enthuses NASA boss
Posted in Science, 17th July 2011 12:18 GMT
NASA's Dawn spacecraft yesterday entered orbit around asteroid Vesta, in what the agency's head honcho Charles Bolden described as an "incredible exploration milestone".
Vesta (pictured below) is the second-largest body in the asteroid belt between Mars and Jupiter, with its 530 kilometre (330 mile) diameter bulk surpassed only by Ceres. Dawn has "relayed information to confirm it entered Vesta's orbit", but it's not yet certain exactly when this happened.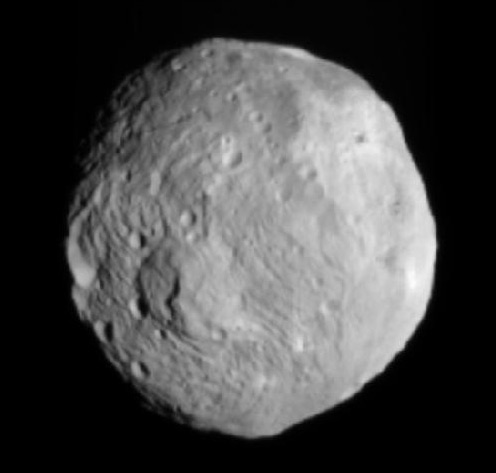 NASA explains: "The time of Dawn's capture depended on Vesta's mass and gravity, which only has been estimated until now. The asteroid's mass determines the strength of its gravitational pull. If Vesta is more massive, its gravity is stronger, meaning it pulled Dawn into orbit sooner."
While presumably popping a champagne cork, Bolden enthused: "Today, we celebrate an incredible exploration milestone as a spacecraft enters orbit around an object in the main asteroid belt for the first time. Dawn's study of the asteroid Vesta marks a major scientific accomplishment and also points the way to the future destinations where people will travel in the coming years. President Obama has directed NASA to send astronauts to an asteroid by 2025, and Dawn is gathering crucial data that will inform that mission."
Once it's wrapped its examination of Vesta, Dawn will head off for a 2015 encounter with Ceres, the dwarf planet which measures 975 by 909 kilometres (606 by 565 miles). ®