Original URL: https://www.theregister.co.uk/2011/07/16/microsoft_one_big_windows/
Microsoft rolls out One Big Windows strategy
Phone, tablet, smartphone united?
Posted in The Channel, 16th July 2011 03:26 GMT
Is Microsoft preparing one Windows operating system for PCs, tablets, and smartphones?
Reading between the lines of what Microsoft execs told 15,000 of the company's partners during their annual conference event this week, it appears that a unified Windows is indeed on the way. But it's unclear how far it will go. The company is likely preparing a common operating system "core" that will allow developers to build applications across multiple devices.
This week, All-About-Microsoft's Mary-Jo Foley pointed to mobile group chief Andy Lees, who spoke at Microsoft's Worldwide Partner Conference (WPC) about bringing together different devices "into a unified ecosystem." Lees said:
At the core of the device itself it's possible to be common across phones, PCs, and TVs, and even other things, because the price drops dramatically. Then it will be a single ecosystem. We won't have an ecosystem for PCs, and an ecosystem for phones, one for tablets. They'll all come together. And just look at the opportunity here.
A day later, chief operating officer Kevin Turner said something similar: "Our future at Microsoft is the ability to unify the ecosystems and the user experiences. It's the ability to enhance those ecosystems with great cloud services," Turner said. Then he added:
So, when you think about the next release of Windows running across x86, ARM, system-on-a-chip, the opportunity to put Windows with an OS that is scalable across those platforms exists in a new and profound way. And where we go in the future of unifying these ecosystems is certainly going to be an exciting ride, but a big, big step forward is about to get made with Windows 8, and this is really important for you to understand.
Turner punctuated his comments with a nod to Apple. Apple has five platforms – iPhone, iPad, iPod, Mac and Apple TV – that run either Mac OS or iOS, and there has been talk of unifying the two operating systems. "It's your guess as good as mine on whether they'll ever unify Mac and iOS," Turner said.
According to a piece in This is My Next, Lees' words confirm what other sources have said. "Microsoft is planning to somehow harmonize not only Windows for PCs and Windows Phone, but also the Xbox operating system sometime within the next four years," the site said "That would mean Microsoft's next next OS will run on PCs, tablets, phones, and the next-gen Xbox when it hits sometime in 2015 / 2016."
When Microsoft talks of the "ecosystem", it's describing many things, from those making the hardware that runs Windows and ISVs who build Windows apps to those supporting and integrating Windows. It's a term that Microsoft also uses to describe the developer tools around Windows and the plug-in providers around the developer tools.
Microsoft wants to allow application developers in this ecosystem to write their apps and have them run on as many different devices as possible. It wants to unify the partner ecosystem. It doesn't want some ISVs writing apps for one class of device, like a PC, and other ISVs writing apps for another, like a tablet.
Enter Windows 8. It will straddle two form factors: PC and tablet. Microsoft is planning a new application programming model for Windows 8 codenamed Jupiter, with an XAML/UI layer on top of Windows APIs and frameworks. According to MJF: "The idea is Jupiter will bring support for smoother and more fluid animation, rich typography, and new media capabilities to Windows 8 devices."
You are the ecosystem, the ecosystem is you
So far, so coherent. The ecosystem will be unified by allowing apps to run on both Windows 8 PCs and tablets.
In one respect, that beats Apple. With Apple, developers must write apps for either the iPad and iPhone or the Mac.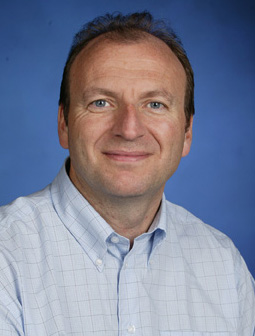 Andy Lees: one Windows core, one ecosystem?
But about Windows Phone, the third part of the equation? Were Lees and Thompson suggesting future Windows phones would run Windows 8 or the successor to Windows 8?
That brings us on to another important word in Lee's statement: "core". This is less nebulous than "ecosystem", and it suggests Microsoft is working towards a model where phone, PC, and tablet run on the same core APIs and frameworks but do not have exactly the same operating system.
This makes Microsoft's strategy more like Apple's. Apple has OS X for Mac and iOS for the phone and tablet, but both platforms use the same Darwin kernel.
So far, we have few technical details about Windows 8, but there are plenty of promises from Microsoft and plenty of optimistic projections from Windows fanbois. So far, we don't know exactly how it will work across PCs and tablets or just how far the XAML architecture allow developers to write once and deploy anywhere on Windows 8. More will be known once the operating system hits beta in September.
While Windows 8 certainly looks like Windows Phone – it has the same tilled and touch-enabled interface – Windows Phone is not Windows 8. It's not even Windows 7. It runs a combination of Microsoft's Silverlight media player and XNA managed runtime environment for graphics and media, with Windows CE 7 kernel. Windows CE was the brand of Windows Microsoft put on phones before Windows Phone 7. It was not the same code base as Windows running on the PC.
Mobile choices
To put the same Windows on phones, tablets, and PCs would mean Microsoft moving off of Windows CE. Also, there's the question of what happens to Silverlight. Microsoft's media player uses XAML, and this fits into the Windows 8 story, but Silverlight has now been demoted by Microsoft as the preferred interface for PCs and devices on the web in favor of HTML5.
Is Microsoft moving to one Windows? The company has been moving to a single set of development tools for Windows and its applications over the years. Also, it has dropped different versions of Internet Exploder for PC and mobile. There is now just one browser. With that in mind, one Windows looks likely. ®