Original URL: https://www.theregister.co.uk/2011/07/15/games_review_captain_america_super_soldier/
Captain America: Super Soldier
A tonic for the troops?
Posted in Personal Tech, 15th July 2011 12:08 GMT
Review Games based around movies have a reputation (most would say justly deserved) of seldom living up to their silver screen counterparts, while those timed to debut simultaneously with their movie counterparts have an even worse success to failure ratio.
It might not come as a massive shock to anyone out there then, that Captain America: Super Soldier is a release that continues in these traditions.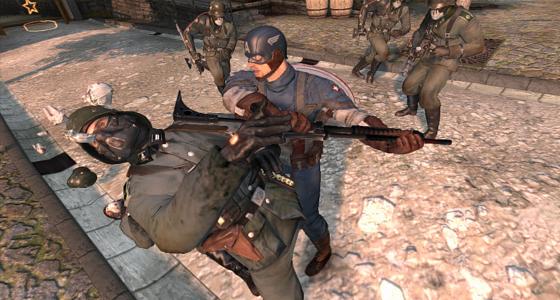 Butt in the face
Alas, to play it is to experience every wrong of game design, most objectionable of all being that it clearly just isn't quite finished. At least, I hope that's the case because if the product sincerely represents what developer Next Level Games envisioned in the design stages, then something has certainly gone awry.
The pressure to get this kind of time-dependent release onto store shelves to coincide with the movie's release is undoubtedly massive, but perhaps getting a saleable product out, even after the film has been and gone, is a better marketing strategy than releasing substandard ware to run with the current Captain America hype.
Before the autopsy begins, to set the scene, we're in the midst of a Marvel-tainted World War Two where Hitler's forces have been bolstered by the nefarious Red Skull, a scientist with a gift for technology.
By equipping his so-called Hydra forces with advanced weapons, the Nazis have slowly been gaining the initiative in their quest for world domination.
Enter one Steve Rogers, a formerly scrawny artistic type made rock hard by a clandestine US Military scientific process and rechristened Captain America.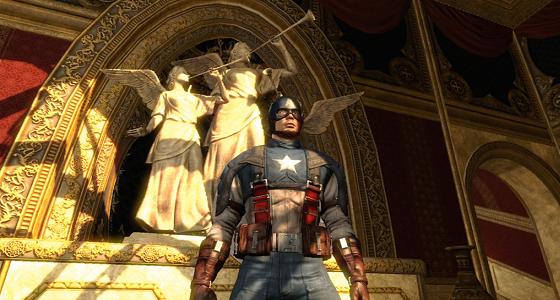 Winging in the ear
Cap's first action in the game is to save some of his fellow troops from Hydra troops and it's here that you will get your first taste of a combat system which borrows heavily from Batman: Arkham Asylum without ever reaching the heights of flexibility, variation and sheer oomph that Rocksteady made look so simple.
Theoretically, in Captain America, it's possible to link combinations and maintain a flow of moves as attentions are turned from one enemy to the next. In practice, however, the reality isn't quite so palatable.
With enemies seemingly hesitant to get involved in a fight, content to stand out of arm's reach and leave the combat to whichever of their colleagues is nearest, it becomes increasingly tedious to have the Captain move from one victim to the next, thus interrupting his flow.
Yes, it's possible to roll and leap to cover space quickly, but with the auto-targeting of such leaps slightly off, the free-flowing combat falls short of the system which made Batman so thrilling.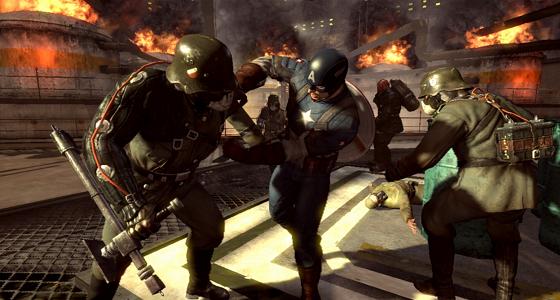 Hit the deck
Then there's his 'mighty' shield, Captain America's signature weapon and device to block incoming attacks, inevitably opening up the ability to counter if your timing is up to it.
It's a system seen a thousand times before and one not particularly well implemented here; blocks resulting in stop/start combat, rather than acting as a conduit to keep the fists flying.
At least it's satisfying to send snipers' bullets ricocheting back to their owners but after doing so for the hundredth time, even that tiny thrill wanes.
The shield can also be used as a projectile, allowing for long distance attacks either auto locking onto the nearest hostiles or aimed manually, albeit somewhat laboured this way.
Send in the troops
Enemy troops are largely of the predictable type too, a standard brigade of light (seriously, one punch downs them), medium and heavy varieties.
Admittedly, anything armoured will take a little bit of persuasion to fall down. But as Mr Stars and Stripes can vault over said heavies and so expose their bafflingly unarmoured backsides, this change in troop type is largely cosmetic.
And, once floored, all enemies (other than bosses) can be rendered unconscious anyway by administering the coups de grâce while they lie prone.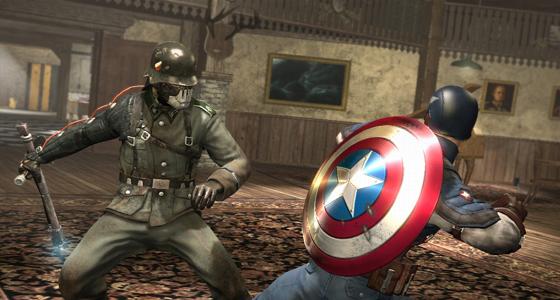 Let me pound that helmet for you
Then there's the attack bar, which slowly charges as Cap despatches yet more cronies with his flurries of tediously slowed down blows or successfully counter-attacks their best shots.
Broken into four sections, the bar works in similar style to a Street Fighter 4 or Mortal Kombat bar where sections can be spent on set moves.
Cap's 'crippling strike' attack for example, which will deck all but the robust evildoer with minimum effort can be yours, as can the ability to grab foes and use their weapons against their own men – fun but not particularly useful given how easily most troopers can be dealt with anyway.
So far, so standard and that's the theme which recurs throughout. Take the game's environments, which are predictably made up of overwhelmingly grey and brown interiors or the visuals, which are not only bereft of lustre, but poorly animated too (further damaging the already clunky combat).
Then there's the quite frankly ludicrous bonus objectives such as collecting dossiers, film reels and even Fabergé eggs – and believe me, those Nazis sure like to leave their secret dossiers and other trinkets scattered about some pretty strange places.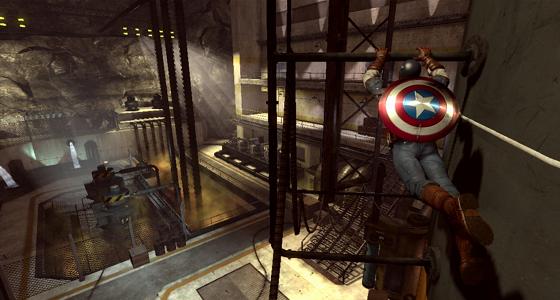 Heading for the bar
Not content with aping Arkham Asylum's combat, the developers also elected to copy the Dark Knight's 'detective mode' too; pressing up on the D-pad temporarily highlighting significant objects – usually of the sort that Captain America can swing from.
Indeed, Cap swings and climbs with the grace of a gymnast in a series of QTE platforming sections; hitting the action button at the proper moment maintaining his momentum (though don't despair, missing your timing merely slows him rather than sends him back to the beginning).
Meanwhile, if there's nothing to climb on, there's probably a nearby security terminal to hack by matching up like numbers; hardly revolutionary.
Verdict
Simply put, you know it's never good news when Amazon (and all good retailers) elect to slash fifty per cent off the suggested retail price of a game before it has so much as shipped.
By conforming to the long established rules of the movie tie-in – rushed, one-dimensional, uninspired and overwhelmingly lacklustre – Next Level Games has at least managed to avoid rocking the boat.
Quite how it managed to go so far wrong – especially given it was clearly designing the title with one eye on Batman's last outing – is another question but, whether down to budget, time or something else, Steve Rogers' adventure is one best avoided. ®
More Games Reviews

Transformers:
Dark of the Moon
Shadows of
the Damned
FEAR 3
Dungeon
Siege 3
Child of Eden