Original URL: http://www.theregister.co.uk/2011/07/13/review_videotree_videospa_bathroom_tv/
Videotree VideoSpa bathroom TV
Spray and display
Posted in Personal Tech, 13th July 2011 06:00 GMT
Review Forget 3D TV and Internet-connected sets, de rigueur this season is a waterproof TV for your bathroom. Admittedly, the Videospa is primarily intended for posh hotels and overly moist gyms, but developer Videotree is also making a bit of a push into what it refers to as 'innovative designer residential homes'.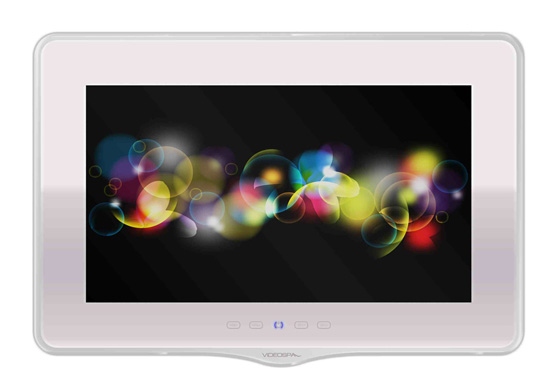 Wet set: Videotree's VideoSpa
That's the perfect description of Chez Reg, of course, so we were eager to take a look at this water-resistant wonder. Making a splash here is the 19in model, which is available in both black and white, and costs just under £1200. There's also a 27in model that's just been announced for around £2000.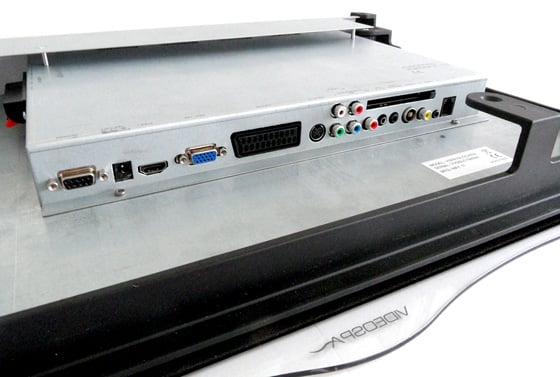 There's no built-in speaker, so ensure at the audio is plumbed in
Although it's designed to become a permanent fixture, this TV is surprisingly heavy, as the back of the unit is hemmed in by a sturdy metal frame that acts as a wall-mount and also covers up the various ports and connectors. Those connectors include a single HDMI interface, Scart, component and S-video input, Freeview tuner, headphone socket, and a VGA port for PC connectivity – for those moments when you absolutely must have a WoW leveling session in the bath.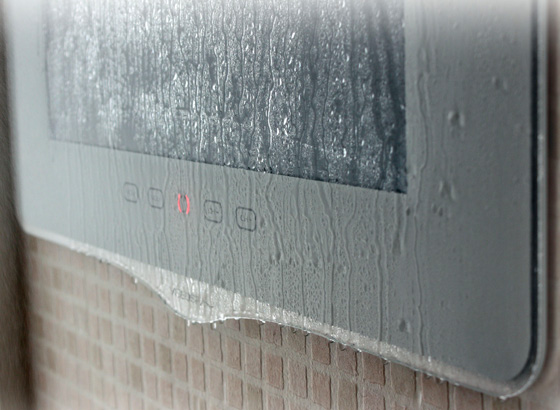 Rising damp
The single HDMI connector might seem a bit miserly, but is unlikely to be much of a problem unless you're absolutely desperate to have a DVR or games console in your bathroom as well. Just be aware that you'll still need to wire an aerial or set-top box of some sort into your bathroom in order to feed a signal to the Videospa.
Sound thinking
Videotree provides two remote controls with the VideoSpa – a 'master control' that you'll mainly use during the initial set-up, and a second waterproof remote for use once things start to get a bit soggy. There's also a touch-sensitive control panel just beneath the main screen, which you can prod it with any available body parts as well.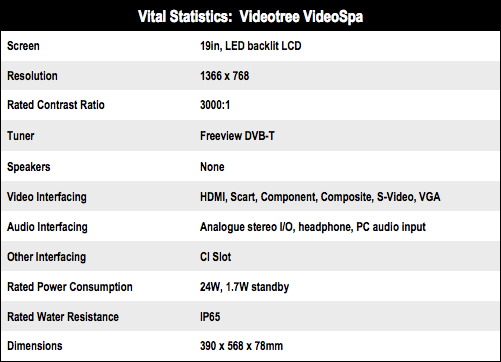 I gave the volume control a bit of a poke, and was surprised to discover that the VideoSpa doesn't actually include any built-in speakers at all. There is a set of connectors that allow you to hook up your own speakers, or you can fork out an extra £40 for Videotree's own pair of external speakers that can be mounted into holes in the wall or ceiling. That's not too expensive, but fitting those external speakers could involve some major remodelling work, so it seems rather unwise not to include even a modest internal speaker of some sort.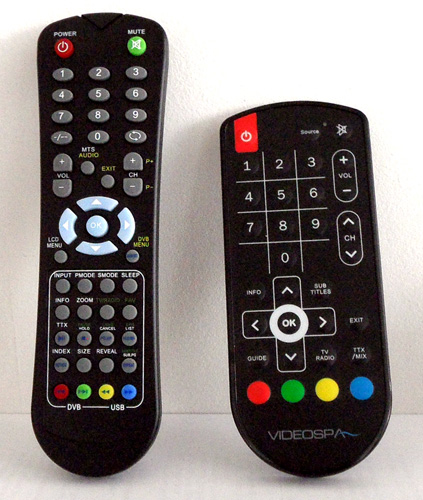 Two remotes: one for business, one for pleasure
In use, the picture quality is perfectly acceptable – the screen's 1366x768 resolution is 'HD Ready' rather than 'Full HD', but you're not likely to notice the difference on a screen this size, and the Sharp-manufactured LED display is bright and clear. The on-screen menu system is also straightforward, with cutesy icons that look like bubbles providing access to controls for picture and sound, and also a Sleep timer that you can set to turn the VideoSpa off automatically.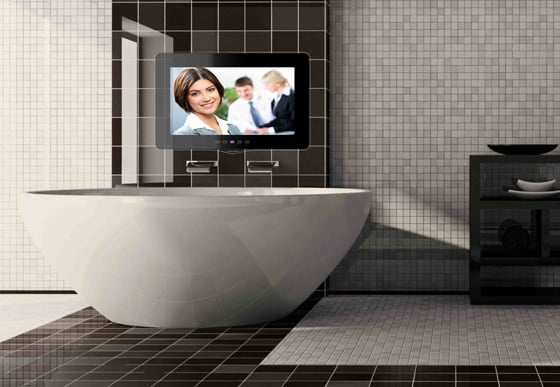 Full H2O support, but only HD ready
Verdict
The VideoSpa is obviously a niche product for people with luxurious bathrooms and a lot of time on their hands. And, on a more practical note, the lack of any internal speakers also seems like a rather bizarre omission. However, if you like the idea of lazing in a hot tub while you watch the latest episode of Britain's Got Talent, then the VideoSpa will be just what you're looking for. ®
More Water Resistant Gear Reviews

Ten…
Festival survival gadgets
Samsung
Solid Immerse
H2O
Shower powered radio
Pure
Oasis Flow
Motorola
Defy