Original URL: https://www.theregister.co.uk/2011/07/13/infosmack_deep_dive_3_podcast/
vSphere 5.0 – up close and virtual
The Infosmack on flagship VMware product
Posted in Virtualization, 13th July 2011 22:59 GMT
Yesterday VMware boss Paul Maritz launched vSphere 5.0 to an expectant world.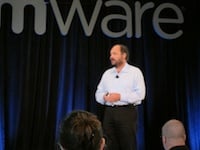 Maritz at vSphere 5.0 launch
El Reg covered the gig in San Francisco with the following stories:
Now it's the turn of Infosmack hosts Nigel Poulton and Rick Vanover to go vSphere 5 crazy.
Never happy with the scant technical information that is available on the first day of a product release, Nigel and Rick dive deep into the biggest and most important new features in VMware's flagship product, vSphere 5.
Listen using the Reg media player below, or download the MP3 here. ®
Subscription options
Subscribe through iTunes
Subscribe through Google
Subscribe through Stitcher