Original URL: https://www.theregister.co.uk/2011/07/13/igamer_marathon_ipad/
Marathon for iPad
'Frog blast the vent core!'
Posted in Personal Tech, 13th July 2011 06:00 GMT
iGamer To hear PC gamers talk about how first-person shooters don't work on consoles because the machines don't have mice, you'd think that's how it always was.
Not a bit of it. A lot of us playing in the early to mid-1990s on the first FPS games made do with just two handfuls of keys.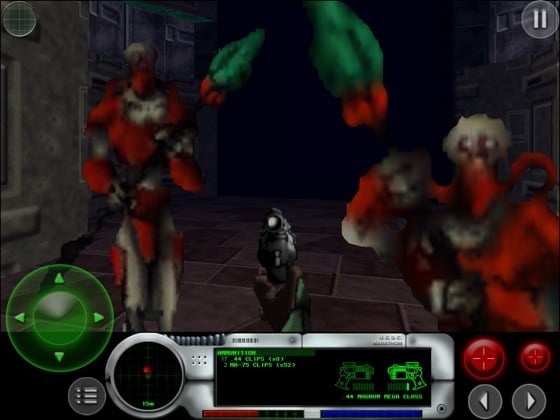 Marathon: back from the early 1990s in all its eight-bit graphics glory
I say this because the proof that FPSes are not at all dependent on a keyboard-and-mouse combo is the number of such games running on tablets; and if they can be played successfully there, they can be played on anything, console, PC or whatever.
The latest to do so is Marathon - doubly relevant here because, although little known now, it was one of the pioneers of the FPS genre. Its developer, Bungie, went on to create a title you may have heard of: Halo.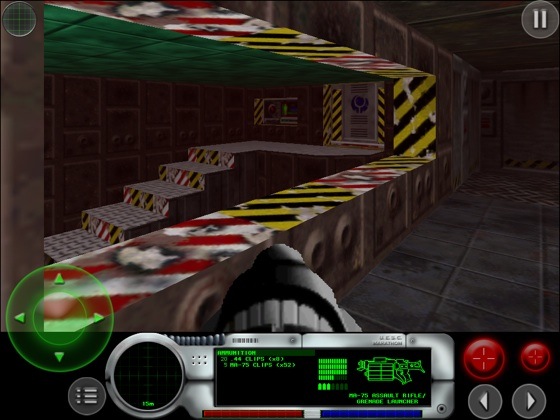 3D environments... 2D sprites
Marathon arrived in 1994 about six months after Doom hit the PC, and its lack of fame wasn't so much because it was under the shadow of its meatier, more visceral rival, but was rather a result of being released on the Mac.
Doom's real success lay in its multi-player mode. Marathon had that too, but it was really a single-player game, and one that lifted the genre right out of the 'kill monsters, find key, open door' gameplay with a developing storyline that was a worthy piece of sci-fi in its own right.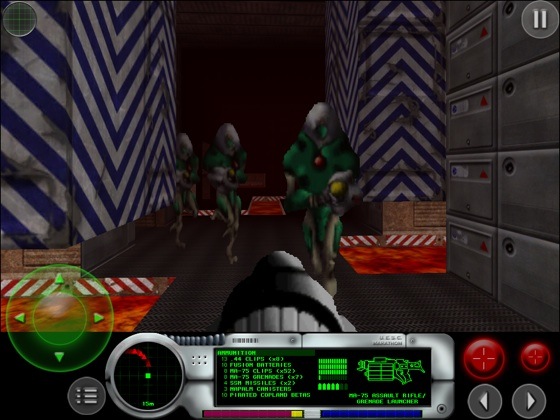 Pfhor whom the bell tolls
You start off fighting alien slavers who are out to plunder your colony ship - the eponymous Marathon - of its human crew, the born on board BOBs. But soon you discover, by tapping into the ship's many display terminals - no cut-scenes in those days - that they've been called in by one of the ship's computer, and gone "rampant" - become self-aware.
The cliché is confounded when it turns out said mech, Durandal, isn't bonkers but has been in communication with one of the slavers' pawn races, the fnarr-ly named S'pht, and has set the whole thing up to bring them there because they can free Durandal from his integrated circuit bondage.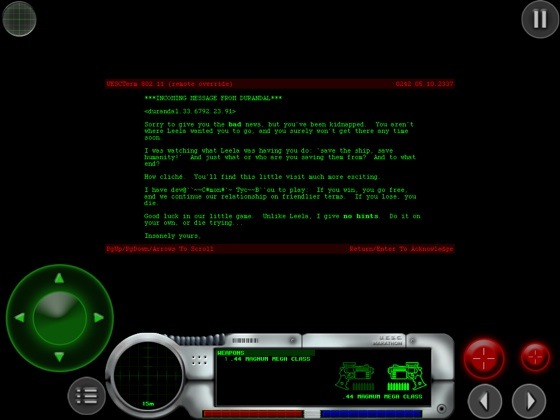 Terminal case: the story unfolds through computer screens
In return, the S'pht get freed from Pfhor subservience, and you, a proto-Spartan cybernetic construct built out of the body of a long dead man - hence your ability to reanimate when 'killed', a phenonomenological paradox ignore by most games - prove to be Durandal's pawn to keep the Pfor off his back.
Which involves much bloodshed, dispatching Pfhor warriors, various slave races, damage Marathon defence droids and more.
Terror on Tau Ceti
No health packs left lying around here, just the occasional shield-recharge point. Save the game whenever you like? No way - find a "pattern buffer terminal" or forget it.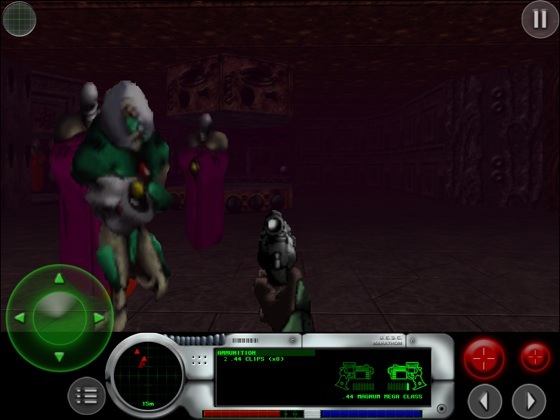 Claustrophobic combat
With very limited ammo - Marathon was the first FPS to hinder players with realistic clip capacities - combat evolved from Doom's scorched Earth to a more tactical endeavour as you lay down suppressing fire while constantly ducking back to a more defendable positions.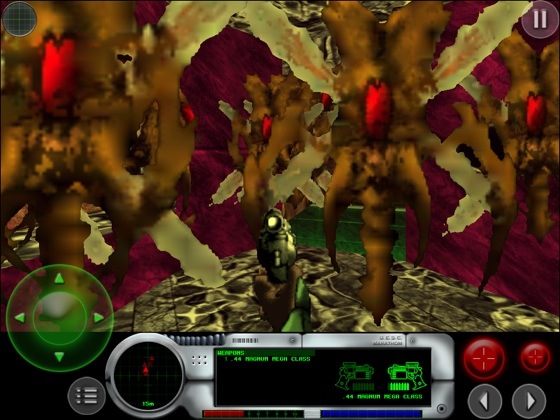 I hate wasps
Your average Mac didn't really have the graphical oomph, so the first game in the series windowed the action in a helmet HUD. That's gone from the new iPad version, which is based on the Marathon 2 code, open-sourced by Bungie during the development of Halo, and which sported a leaner, almost full-screen UI.
That means here there's room for the virtual joypad used in place of WASD keys. Most of Marathon's guns had two firing modes, so two keys, and they're replicated here too.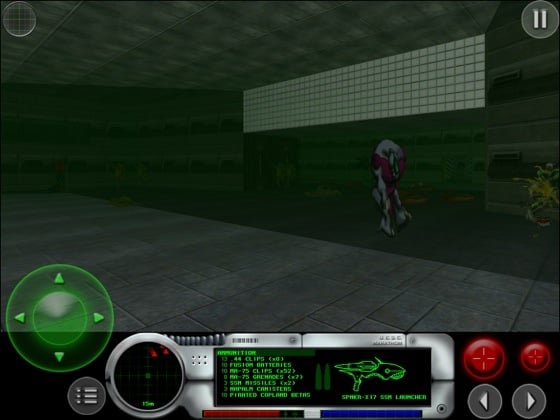 No meaner arena
What would later be called 'mouse look' when other games followed Marathon's lead and implemented the ability to look up and down - Bungie was the first to do parallax correction so vertical viewing didn't look wrong - is here controlled by moving a thumb around the screen.
The only downside: you can't fire and change your viewpoint simultaneously unless you move. You can with a mouse, and I hope this will be fixed in an update.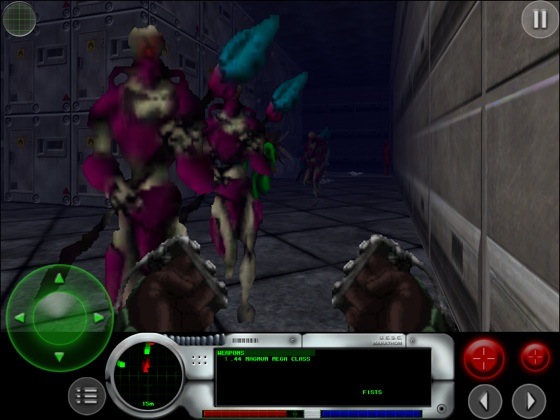 Fisticuffs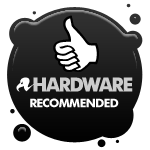 Coder Daniel Blezek who handled the iOS port got Bungie's support for the release, so it's not only free but uses original artwork. You can buy a hi-res textures upgrade through the app for £2.39, but the blocky retro look of the originals - candidates for Antique Code Show, no question - is no hindrance to a great game experience here.
And with all 27 original levels faithfully presented here - plus a trio of Easter Egg maps, including 'Grendel Lives' from an early 1993 beta release - you're in for a long play too. ®
Wield superior firepower
Dive into the melee
Endure
iGamer covers the best in mobile gaming, from Android to iPad, every other Wednesday. If you think there's a great game we really should cover, please let us know.