Original URL: http://www.theregister.co.uk/2011/07/12/review_hp_touchsmart_610_all_in_one_pc/
HP TouchSmart 610 touchscreen all-in-one PC
Quite literally, laid back
Posted in Personal Tech, 12th July 2011 12:00 GMT
Review This is going to be good. I reviewed the first TouchSmart 600 all-in-one home desktop computer in January 2010, and loved it, frankly. I fondly remember Reg Hardware readers expressing their admiration for my gushing praise at the time... That was sarcasm. Enough, I'm over it.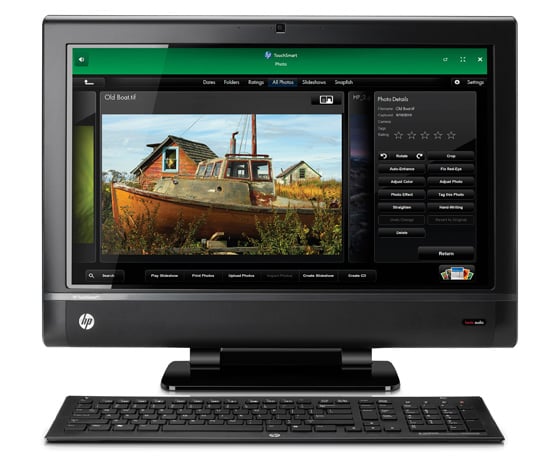 Finger friendly: HP's TouchSmart 610
The TouchSmart 600 was a shiny, black, all-round entertainment party box, jack of all trades and master of fun. HP seemed to have 'got' what a shared family computer is supposed to be all about: not so much home office as home video, less Portal 2 and more Club Penguin.
Now with the TouchSmart 610, HP is trying to help you get more out of the touchscreen by making it ergonomically better to use. More on that later.
As an all-in-one computer, the TouchSmart 610 mimics Apple's iMac series, with the meat of the machine built into the back of the display, accompanied by a matching black wireless keyboard and mouse. The keyboard has that soft-touch feel of a notebook keyboard that I happen to like, but those who enjoy hammering keys with big action might not. The mouse is unremarkable.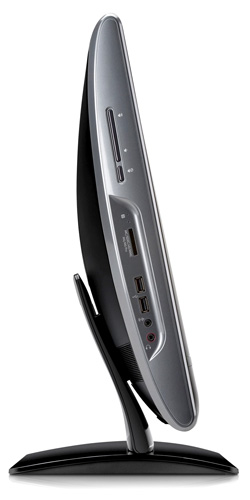 Convenient USB, audio and camera card connections are located on the left-hand side, along with audio volume controls
Also provided is a TV-style remote control handset, helping you operate the media playback functions of the computer from a sofa across the room. If you feel at ease with remote controls sporting dozens of little buttons labelled with partial words and arcane icons, you'll like this one. However, if you feel that the whole remote control design concept has lost its way and needs rethinking from scratch – this is my wife's opinion, by the way – then it's every bit as bad as any other.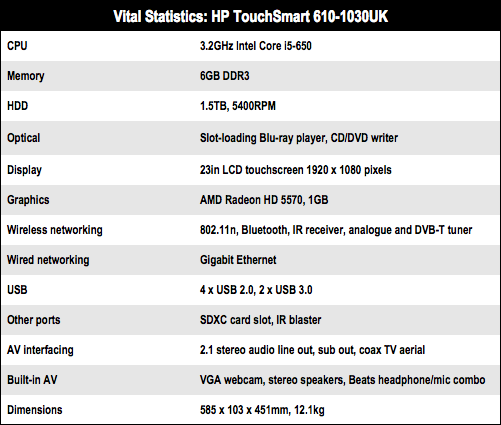 Pointing the finger
HP has chosen to distribute the I/O ports between the left-hand side and rear of the main unit. The left-hand side gives access to a pair of USB ports, a multi-format memory card slot and a pair of headphone/line-in sockets. The remaining ports are hidden behind a plastic cover at the rear, along with the power-in socket: another two USB 2.0 (one already used for the remote control handset), gigabit Ethernet, TV coaxial, two HDMI, and three sockets for Beats audio.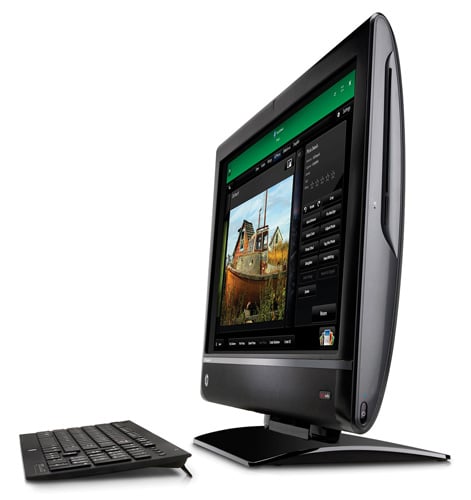 The slot-loading optical drive on the right-hand side plays Blu-ray discs and burns DVDs and CDs
You even get a pair of USB 3.0 ports. At a time when USB 3.0 devices are still rare and specialised, HP reckons an owner of a family computer may want to connect two of them. Gosh, I'm seriously behind the envelope compared with those bleeding-edge home users.
The touchscreen on the TouchSmart 610 is just right in terms of pressure and response, although like any touchscreen, it responds best to direct touches and confident sweeps rather than jabbing and flicking. You can stumble your way through most of the media software that make use of the touchscreen, but Windows 7's two-finger zoom and rotate requires a bit of practice to get right. The TouchSmart's sensitivity can work against you at first, leaving users baffled as they try to rotate a photo in one direction, only for it to swivel round in the opposite direction.
On this note, HP's Magic Canvas program is a little disappointing. Intended as a kind of live media pinboard where you can post messages, pictures and videos, it plays everything in situ rather than blow it up to full-screen when you tap on an item. Nor does Magic Canvas send an item to another program for more flexible playback.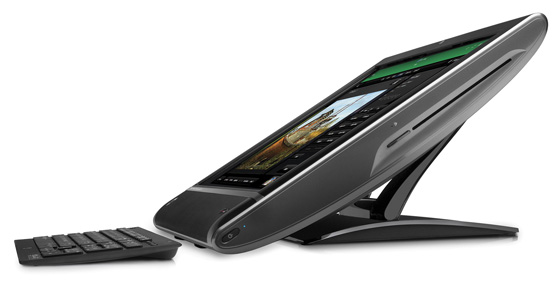 Yes, it looks silly, but this angle is absolutely ideal for touchscreen use
The most striking feature of the TouchSmart 610, though, is the central stand that allows the display to be slid-and-shuffled (rather than leant) backwards to a 30-degree angle. Despite what you think, this makes this TouchSmart even more fun to use because using the touchscreen is all the more comfortable this way. It is strongly reminiscent of using a Wacom Cintiq graphics tablet as you casually trace away on a gently angled digital drawing board.
PCMark Vantage Results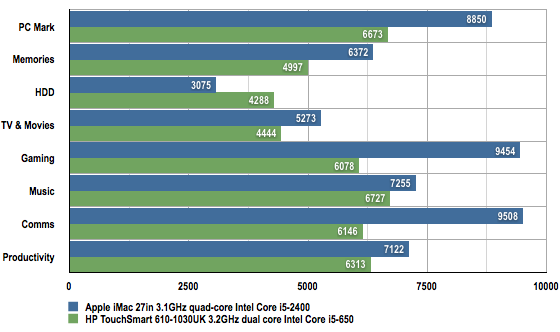 Rat trap
The only drawback is the fiddly action of pushing the display down. I would have loved the movement to be smooth and sexy, but it was more like grope and hump. Surely this will get easier with practice but I found myself standing up every time I wanted to angle the display, possibly to get better leverage, which in the Dabbs household is usually a good sign that I will eventually break it.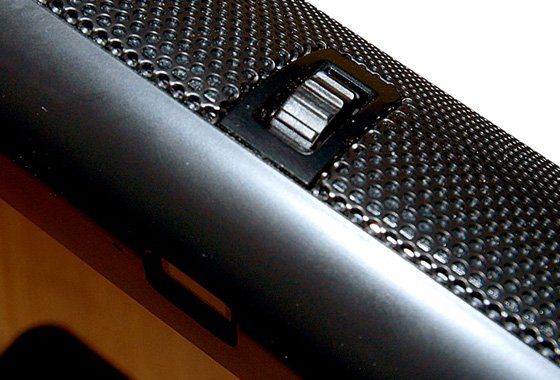 Change the angle of the webcam with this wheel. You'll need this if you keep changing the angle of the display
On a more positive note, the Beats audio (the bass-thumping technology from Dr Dre) works well, and the TouchSmart 610 sounds good through standard headphones and external speakers too. Even the built-in speakers are impressively beefy.
On a final word of warning, the TouchSmart is supplied with one of the biggest 'dead rat' transformer blocks I have seen on an external power supply in recent years, and the cable leading from the block to the computer is a little bit too short for my liking. Unless you place the computer right at the back of your desk, you may have to choose between having the huge power block also sitting on your desk or have it hanging underneath, not quite resting on the floor.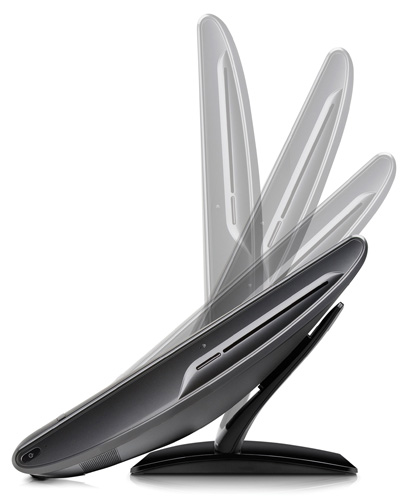 The display doesn't just lean back, it virtually prostrates itself
Verdict
By all rights, I ought to be singing my adoration of this updated HP TouchSmart. It is clearly an improvement on the original 600, with its extreme display angle adjustment, and good audio quality. The touchscreen is exceptional too. However, this time round, my enthusiasm is tempered by the benchmark results, which strike me as worryingly average for a £1200 computer, no matter how smart it is. ®
More Desktop PC Reviews

Sapphire
Edge HD
Dell
Inspiron
Zino HD 410
Apple
iMac 27in
Acer
Revo
RL 100
Apple
Mac Mini