Original URL: https://www.theregister.co.uk/2011/07/12/htc_responds_to_apple_patent_attack/
HTC 'dismayed' by Apple's bizarre patent allegations
Assertions only a lawyer could love
Posted in Networks, 12th July 2011 21:42 GMT
HTC has snapped back at Apple's second patent-infringement complaint over the Taiwanese manufacturer's Android-based smartphones and tablets.
"HTC is dismayed that Apple has resorted to competition in the courts rather than the market place," HTC general counsel Grace Lei said in a canned statement.
The statement notes that HTC introduced a touch-screen smartphone in June 2002 – a full five years before the iPhone made its debut. "As the smart phone market matured," the statement asserts, "Apple initiated litigation campaigns against many of its competitors, including HTC."
Apple's latest complaint against HTC was filed last Friday with the US International Trade Commission, and focuses on "Portable Electronic Devices and Related Software". The patents involved, as listed on the USITC website (account required), seem clearly aimed not only at HTC's smartphones, but also its nascent tablet line, which currently consists of but one product, the Flyer.
One of the patents Apple cites, curiously, is entitled "Portable computers". Though the patent describes a pen-shaped device with accelerometer-sensed writing, its summary refers to "a portable computer arranged to rest comfortably in the hand".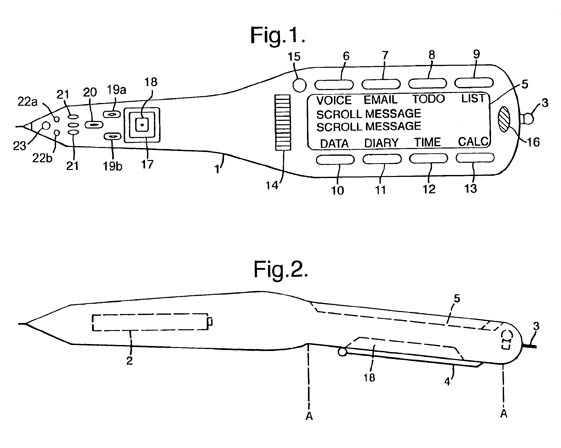 Apple's patented 'Portable computers' device is the spittin' image of an iPad, eh?
The device that the "Portable computers" patent describes, however, appears to relate to current tablets in ways best – or only – discernable by patent lawyers. Interestingly, that patent didn't originate at Apple, but was granted in 1999 to British Telecommunications, and subsequently purchased by Apple.
Speaking of patent purchases, HTC's statement also reminds readers of the company's acquisition of S3 Graphics last week – which included that company's portfolio of 235 patents, "including those related to graphics visualization technologies".
We can only assume that HTC's mention of its newly acquired S3 Graphics patent portfolio is a not-so-thinly veiled threat that the patent wars between Apple and HTC have quite a way to go before one or the other is vanquished, or before an armistice is reached.
As Lei concludes: "HTC continues to vehemently deny all of Apple's past and present claims against it and will continue to protect and defend it's [sic] own intellectual property as it has already done this year." ®