Original URL: https://www.theregister.co.uk/2011/07/12/air_bearing_heat_exchanger/
Heat sink breakthrough threatens ventblockers
Death to dust, curtains for crud
Posted in Personal Tech, 12th July 2011 18:51 GMT
A US government lab has opened for licensing a novel way of improving the cooling technology used in everything from CPU and GPU coolers to air-conditioning units: make the fan the heat sink, and the heat sink the fan.
"We describe breakthrough results obtained in a feasibility study of a fundamentally new architecture for air-cooled heat exchangers," wrote Jeffrey Koplow of the Sandia National Laboratories in Livermore, California, when he first unveiled the technique in a 2010 research paper entitled "A Fundamentally New Approach to Air-cooled Heat Exchangers".
Today's typical heat-exchange system involves blowing air across a collection of fins that dissipate the heat contained in that air. While this method works acceptably well, it has a few inherent problems: first, a boundary layer of air encases the fins, limiting their ability to dissipate the heat from the air flowing past them – an unavoidable aspect of fluid dynamics.
Second, fins get fouled with debris – as has been amply demonstrated by Reg readers again and again. When a heatsink's fins get clogged, their ability to dissipate heat is compromised, so fan speed needs to increase, which uses more power and creates more noise.
"The tension in the market place between the need for energy efficiency and logistical considerations such as equipment size, cost and operating noise has resulted in a compromise that is far from ideal," Koplow wrote.
His solution is elegance itself, and attacks the limitations of traditional designs on all levels: it effectively eliminates the boundary layer, prevents clogging from dust and debris, and allows for quiet, energy-efficient operation.
Koplow combined the heatsink and the fan, spun the resulting portmanteau, and voilà: the "Air Bearing Heat Exchanger" – which was rebranded by the Sandia National Laboratories' PR department as the "Sandia Cooler" before they opened it up for licensing last week.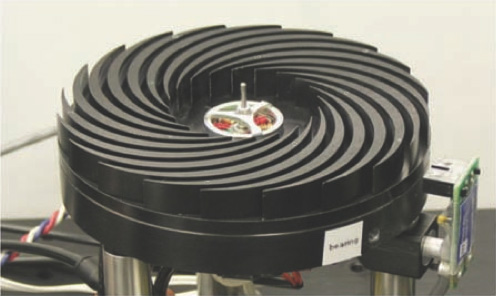 Koplow's prototype spinning heatsink, CPU-size
The 10-centimeter prototype that he developed in his lab consists of three basic parts: an aluminum base plate that is bonded to the surface to be cooled (a CPU package, for example); a finned "heat-sink-impeller", as he calls the rotating element; and a brushless motor to spin the impeller.
Cool air is drawn down into the center of the impeller, which is spinning at "several thousand rpm," Koplow wrote. The cool air comes in contact with the hot base plate, and is centrifugally flung out past the circumference of the device, drawing the heat with it.
In his prototype, the impeller floats on top of the base plate on a thin (~0.03mm) gap of air, "much like the bottom surface of an air hockey puck and the top surface of an air hockey table," he wrote, also adding the analogy of a hard drive's read/write head, "but with many orders of magnitude looser mechanical tolerances".
Koplow's 2010 prototype was just that – a first attempt. With further work, he expects to achieve closer tolerences and improved efficiencies.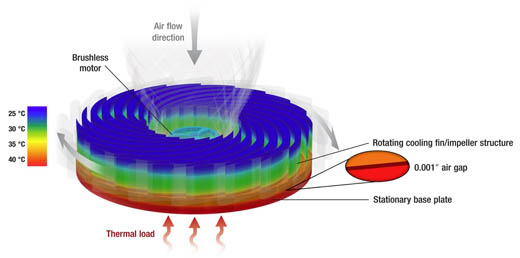 Top to bottom, cool to hot (click to enlarge)
He has high hopes for this "Fundamentally New Approach", envisioning a 30 per cent improvement in such energy-hungry devices as "air conditioners, heat pumps, and refrigeration equipment", which could result in what he estimates to be a five per cent reduction in overall electrical power consumption in some scenarios – a figure Sandia bumped to seven per cent in a recent release.
Such hefty reductions, Koplow wrote in his 2010 paper, could result in a "significantly increased grid operating margin, and significant reduction in heat-wave generated load spikes."
IT would benefit, as well, with more-efficient cooling allowing system designers to break through what Koplow refers to as the "Thermal Brick Wall" – the inability to run CPUs and GPUs at high clock rates due to temperature constraints. More-efficient heat-sink tech could also result in more-efficient data centers, which continually wrestle with the expensive problem of cooling.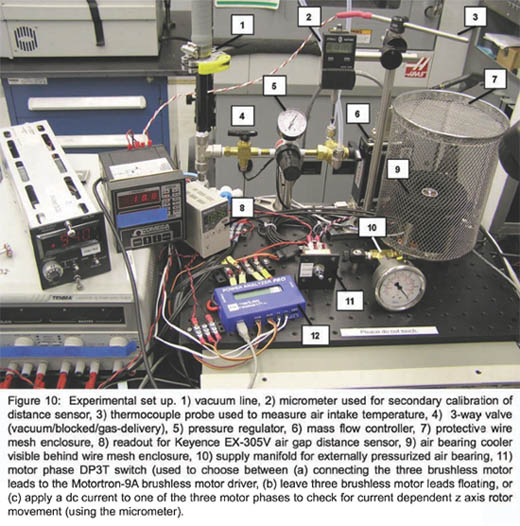 If you're going to test your breakthrough at all, you might as well test it thoroughly (click to enlarge)
Koplow's 48-page research paper is replete with charts, graphs, photos, and details of the prototype's fabrication and testing. And, understandably, it ends with a wrap-up that's traditionally penned by research scientists: a not-too-subtle request for funding.
"Limited resources have necessitated an extremely conservative approach to device development," he wrote, "and at this point it has become clear that a more aggressive approach to developing this breakthrough technology is warranted."
We're hoping that Koplow's efforts have been successful, seeing as how Sandia is now seeking "licensing opportunities in the field of electronics chip cooling" to earn a little cash from his work. If you're interested, you have until this Friday to get in on the ground floor.
If you'd like to apply the Air Bearing Heat Exchanger Sandia Cooler technology to air conditioning or other larger-scale projects, however, you'll need to wait – but hopefully not for long. The lab says it will be offering licensing opportunities in other areas "soon". ®