Original URL: http://www.theregister.co.uk/2011/07/08/review_samsung_bd_d8900_blu_ray_dvr_combo/
Samsung BD-D8900 Blu-ray player and DVR combo
Perfect combination?
Posted in Personal Tech, 8th July 2011 12:00 GMT
Review On the face of it, Samsung's BD-D8900 seems to be the ideal convergence product that will allow you to get rid of the stack of boxes that hide under your TV. Not only does this deck act as a 3D-compatible Blu-ray player, but it also has an integrated twin tuner Freeview HD DVR, along with support for Samsung's Smart Hub internet platform. As well as all this, you can use it to play back a range of media formats, either locally from its USB port or across a network with a PC or Nas drive.

Samsung's BD-D8900: a convincing case for convergence?
The BD-D8900 is a good looking piece of kit, as it's not much larger than a standard Blu-ray player and is finished in a classy combination of black and chrome. The Blu-ray portion of the player uses a slot loading mechanism and there's a large 3D Blu-ray logo that glows at the top when a disc is loaded. If you don't like this you can thankfully turn it off from the settings menu.
Behind a flip down panel at the front there's a CI slot that's handy if you want to access pay services such as Sky Sports over Freeview, and here you'll also find a USB port for digital media play back.
Around the rear there are two HDMI outputs, so you can send audio separately to AV receivers that don't support HDMI V1.4, when you're watching 3D Blu-ray discs. There are also component and composite video connectors, as well as analogue stereo and optical digital audio outs. The player has an Ethernet port, but as there's Wi-Fi built-in you don't actually have to run an Ethernet cable to the box to be able to use its networking features.

Essential ports on offer, Wi-Fi is built-in
The deck puts in a fine performance as a Blu-ray player. It's not the fastest player when it comes to loading titles – it took a minute and 16 seconds from putting the BD-live enabled X-Men Origins in the tray until it showed the Fox logo – but the controls are responsive and pictures over HDMI are crisp and clean.
File maintenance
It also plays 3D Blu-rays without any problems and there's a 2D to 3D conversion features, which works about as well as other systems I've tried. It does add depth to pictures, but it's nowhere near as convincing as real 3D content, and after a while the depth errors that creep in here and there start to jar. So, it's something that you'll try a couple of times, but aren't likely to come back to again and again.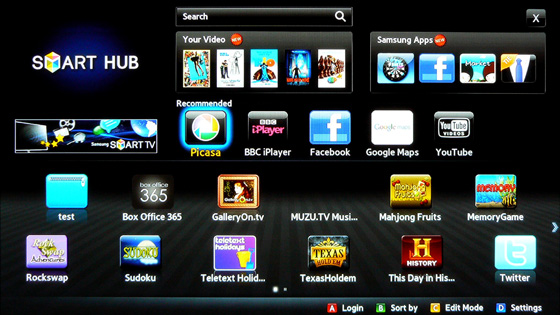 The Smart Hub home page is slick and colourful
Like most of today's Blu-ray players, this one can stream a range of formats across a network. However, this side of the device still needs work. While it played back Xvid and Dvix files without any problems from our PC and Iomega Nas drive, it refused to play any MKV files.
MKV files, do however, play if you use Samsung's own All Share software server on your computer. However, this seems to be very buggy and slowed the test PC to a crawl. The player also could only actually see the All Share server if it was running over Wi-Fi and not over Ethernet. Samsung clearly needs to sort these bugs out. Local playback from a hard drive from the front USB port was much better, though, as it played pretty much every format I threw at it including HD MKV files.
This model also supports Samsung's Smart Hub internet platform that the company has been heavily promoting in its recent TV ads. This gives you access to a range of on-line content from the colourful and stylishly presented Smart Hub home screen. The range of services on offer is among the best in the business and includes apps for Facebook and Twitter as well as Youtube, Picasa, and the AceTrax movie rental service.
However, what most people will probably use it for is accessing BBC iPlayer. The iPlayer app is very similar to those you'll find on TVs from LG, Sony and Samsung itself. However, the menus are a little bit sluggish and at the time of writing, there was a noticeable bug when using the iPlayer channel selector. Basically, the software wasn't highlighting the selected channel, so you kind of had to navigate blind. Hopefully Samsung will fix this soon with a software update.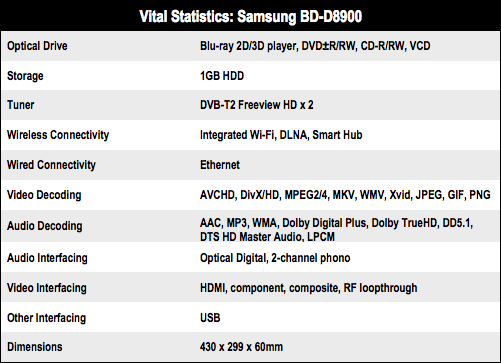 Channel hopping
Other than that, the app works well and even streamed BBC HD content without any problems over our ADSL link. You can add extra apps into the Smart Hub screen from the onboard app store, although at present the extras are most pretty simple puzzle games.

Versatile concept, but definitely needs refinement
On the DVR front, the BD-D8900 has a 1TB hard drive which is large enough to store around 240 hours of HD recordings. If you don't think you need as much hard disk space, you can opt for the slightly cheaper BD-D8500, which has a 500GB hard drive instead.
Unsurprisingly, this model supports most of the features that you'd expect to find on a standard DVR. You can pause and rewind live TV and, as it has twin tuners, it lets you record one channel while watching another. There's also chase play support, so you can start watching from the beginning of a programming while the end is still recording. Bizarrely, though, it doesn't let you record two channels at the same time, something which most other DVRs cater for.
Another major issue, and something which will be a deal breaker for many, is that when the device is recording a show you can't use the internet or media streaming features. It does give you a warning, rather than just stopping the recording, but it's still a hugely annoying limitation.
Verdict
Overall, the BD-D8900 is a mixed bag. On the one hand it has a beautifully designed user interface that makes its DVR and impressive internet features easy to use. It also offers good 3D Blu-ray play back and supports a wide range of media formats from USB storage devices. However, its network media streaming features need work – it's annoying that you can't use the internet features while recording TV, and its inability to record two channels at the same time is a bit baffling in this day and age. So what looks like the perfect convergence device on paper, unfortunately comes up a bit short in practice. ®
More AV Gear Reviews...

Panasonic
DMR-BWT700
Arcam
FMJ BDP100
Panasonic
SC-BTT775
Virgin Media TV
TiVo
Sony
BDV-E370