Original URL: https://www.theregister.co.uk/2011/07/07/review_lenovo_thinkpad_e420s/
Lenovo ThinkPad Edge E420s 14in Core i5 laptop
Suits more than suits
Posted in Personal Tech, 7th July 2011 12:45 GMT
Review I have always been a fan of ThinkPads, ever since my father brought home a beaten 560e featuring a 150MHz Pentium which was rejected from the corporate pool due to travel abuse. Even though half of its 1GB disk was bad sectors I ran it well into this century and with all the cheap tat that is flooding the market these days, I've not used anything that felt quite the same.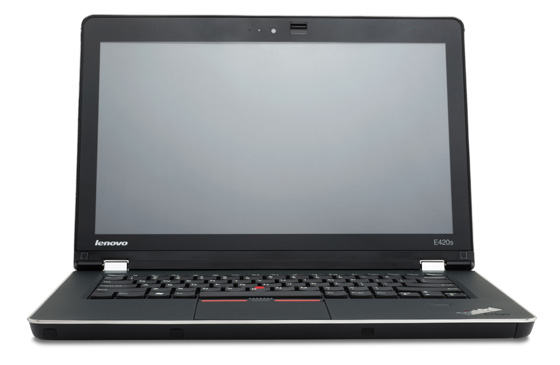 Business values with a consumer style: Lenovo's ThinkPad Edge E420s
Now though, I have my hands on the Lenovo-built ThinkPad Edge 420s which seems to hark back to the good old days of the IBM ThinkPad era. There are no gimmicky features to be found here, except perhaps the fingerprint reader. The TrackPoint 'nipple' is a comforting sight, yet now somewhat redundant with the multi-touch trackpad also fitted to the E420s.
Although this arrangement are effectively provides two mice, fortunately Lenovo hasn't tried to cram in a second keyboard. Instead, it has produced a very comfortable keyboard with ample-sized keys and great tactile response which, although it isn't backlit, does feature a keyboard light mounted above the screen.
The shell has a matte soft-touch finish and features actual chromed metal edge trim – a flourish to broaden its appeal beyond the boardroom. Indeed, the E420s certainly maintains the impression of quality that is associated with the brand. Even the sound is better than most, listenable rather than tinny and supporting Dolby Home Theatre.

Core i3 and i7 versions also available
The unit I have here is the almost-top-spec model equipped with an Intel 2.3GHz Core i5-2410M CPU, 4GB 1333MHz DDR3, 2GB ATI Radeon HD 6630M and 320GB 7200RPM Seagate HDD. All of this kit will set you back around £900 if the current sale on Lenovo's on-line store continues .
Core values
If you choose to customise your purchase, you can add an extra 4GB of RAM for £56.40 or a 128GB SSD for £240, not really a lot of options here. Of course, you could also opt to downgrade to a 2.1GHz 2310M i3 CPU which will also force you to ditch the Radeon card for Intel HD Graphics.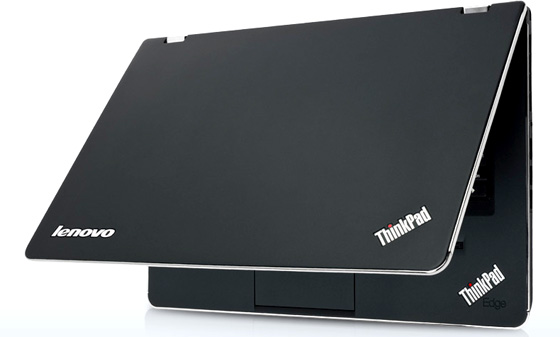 Sim card option available for mobile use
Also an option is an Ericsson F5521GW 3G modem, but this appears to only be available on the models with Intel HD Graphics, even though there is a (non-functional) Sim slot in this ATI Radeon model.
Adorning the sides of the ThinkPad you'll find two USB 2.0 ports, one USB/eSata hybrid port, HDMI, VGA, gigabit Ethernet, slot-loading DVD±RW and an SD reader. Certainly enough to satisfy most, but I would have liked to see the inclusion of USB 3.0.
While I'm quite impressed by the hardware Lenovo has packed into the E420s, I'm not overly thrilled with the 14in 1366 x 768 16:9 screen. Personally, I don't usually confine myself to such small displays, but I feel that the ThinkPad could benefit greatly from a 1440 x 900 16:10 panel. Don't despair though, if you can live with the limited screen real-estate then you'll be pleased to know that the picture quality is certainly good enough to justify the Radeon GPU.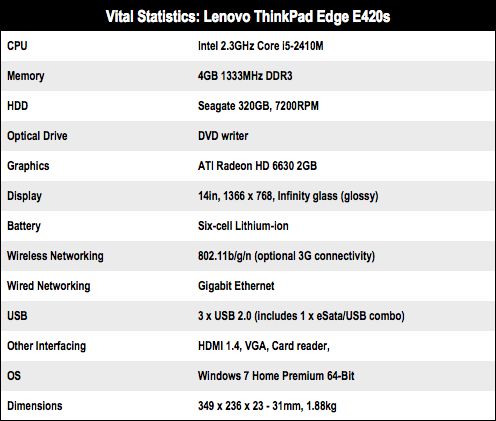 Benchmark Tests
PCMark Vantage Results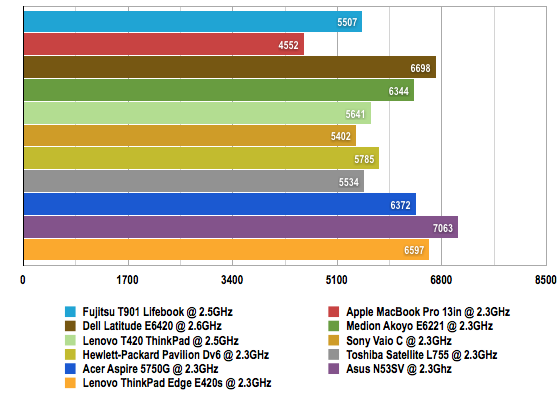 Longer bars are better
3DMark06 Results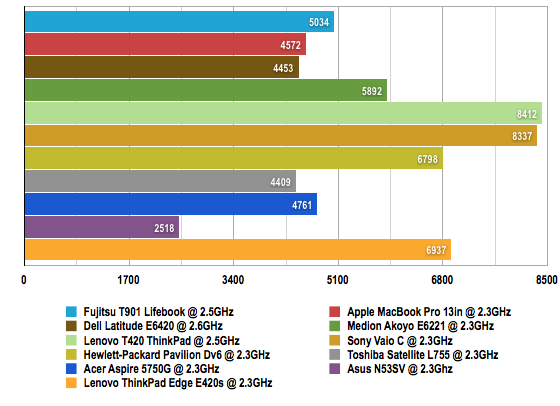 Longer bars are better
Battery Life Results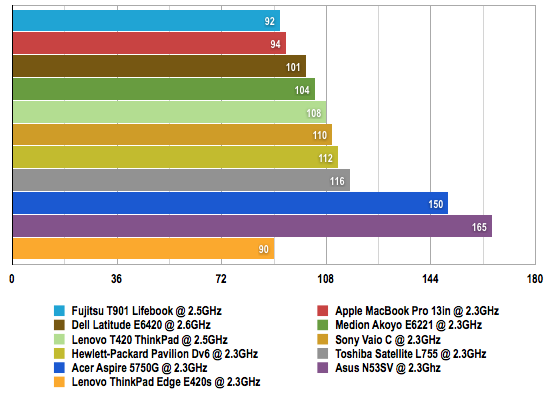 Battery life in Minutes
Longer bars are better
Purpose built
Now, Lenovo claims its 48.8W-hr lithium polymer battery is good for 7 hours of use and I'm inclined to believe that it is possible with limited use, but five hours is easily achievable. Running PCMark Vantage with the screen on full brightness the E420s soldiered on for ninety minutes.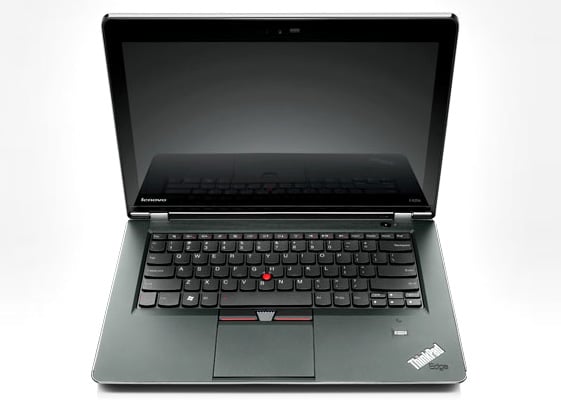 A decent spec, but the build quality is what impresses most
Along with PCMark Vantage, I also ran 3DMark06 and received a fairly decent score of 6937. Even with its good overall performance, this ThinkPad is still very much portable weighing in at a mere 2kg with a 348mm x 236mm footprint. At 30.5mm at its thickest, even the smallest of backpacks should be accommodating.
Verdict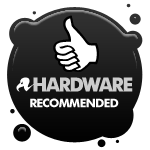 The ThinkPad range has been typically targeted at business users, however, I can certainly see more general users adopting the Edge series, especially as the price of the business class fare edges further below the £1000 mark. This Core i5 version is no number crunching beast and the battery life could be better, but this model would suit those who might want to dabble in the more graphically demanding tasks now and again. If you're looking to buy a mid-spec laptop for the longhaul and yet seek the build quality usually reserved for the top end, then the Lenovo E420s is easy to recommend. ®
More Notebooks Reviews...

Lenovo
Thinkpad
X220T
Acer
Aspire 5940G
Apple
MacBook Pro
17in
Asus
N73SV
Sony
Vaio
VPCF21Z1E