Original URL: https://www.theregister.co.uk/2011/07/06/review_philips_221te2l_monitor_and_tv_combo/
Philips 221TE2L 21.5in monitor and Freeview TV combo
Double vision?
Posted in Personal Tech, 6th July 2011 06:00 GMT
Review All modern TVs can function perfectly well as a computer monitor; however the same isn't true the other way round. To make a TV you'll of course need a tuner to pick up the transmitted signal, a decent remote control for all that armchair channel hopping and probably a few extra inputs for your Blu-ray player, games console and the like.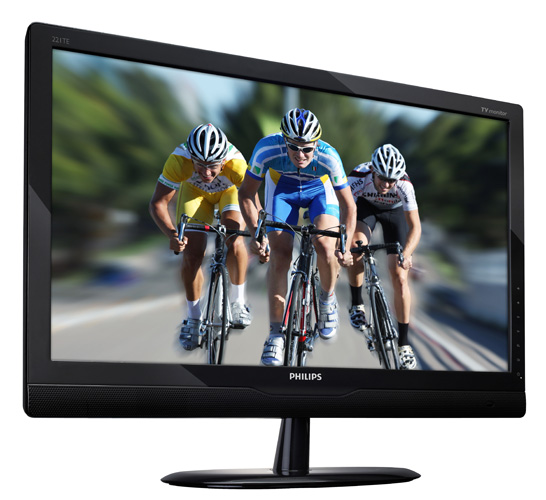 Dual function display: Philips' 221TE2L
Philips has taken all these extras and folded them into a 21.5in display to create the 221TE2L TV monitor. Sit up and work on your PC as normal or sit back with the remote and enjoy digital Freeview TV, the choice is yours.
Thanks to the use of a white LED backlight, it's a slim, lightweight display which also sports a glossy black finish adorned with sexy touch-sensitive controls built into the bezel. With TVs considered part of the furniture, a great deal of effort goes into creating their impressive living-room friendly looks.
The 221TE2L, however, is not one of these televisions. Despite its many design touches, it looks are utterly "monitory". Set it up away from a PC and it looks out of place – you'll be searching for a keyboard and mouse, rather than a remote.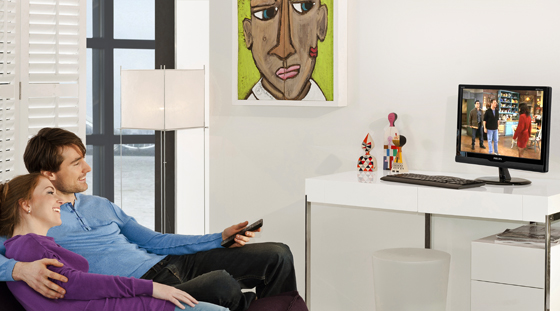 Part of the furniture?
Indeed, this monitor is ideally suited to use in a bedroom or study where this is already a PC installed and where it can function as a second TV without the need for a second space-hogging display. It supports full HD 1080p resolution – not normally required on a TV of this size, but great for PC use, although it does mean on-screen text and icons are rendered pretty small when used at this scale.
Image conscious
The supplied full-size remote control, provides all the usual buttons you'd want including access to the built-in Teletext functions and pseudo-surround modes delivered by a pair of 3W stereo speakers.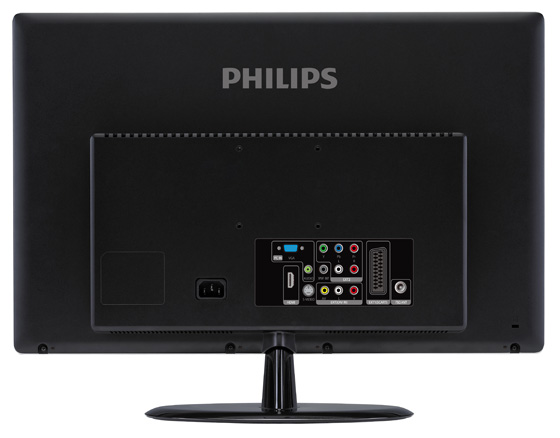 A good array of connectivity is provided but alas, no DVI input
To the rear, we find a good selection of inputs: Scart, component video, S-Video, HDMI and VGA ports are all provided. Notably absent is a standard DVI digital input, although an HDMI adapter will get you round this. If you're not providing your audio using HDMI, you can also use the separate analogue audio input and a headphone jack is provided for private listening.
Unfortunately, using HDMI from a PC was problematic – the picture was simply eye-stabbingly hideous, with ghosting and horrible graininess everywhere. Flicking through the various display modes didn't help: Movie, Natural, Vivid or any of the others produced the same results. In the end, manually reducing the sharpness setting from 82 to about 10 produced acceptable results. No such problems occurred when using the VGA input.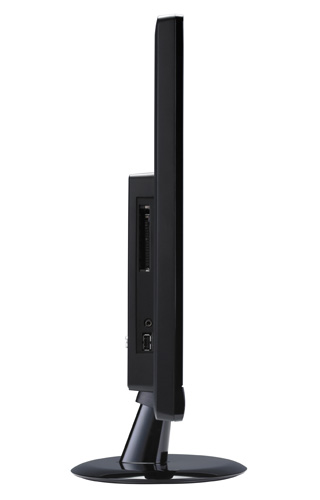 The solitary USB connector is for service use only
Once I'd achieved the best image quality I could, I set about testing the display with a Spyder 3 Elite calibrator. Unfortunately, this revealed a rather narrow colour gamut, resulting in muted colours which are less saturated and vivid than on some competing displays. Despite the LED backlight control and claimed dynamic contrast of 20,000,000:1 I found that without some tweaking, the black level was a little on the dark grey side.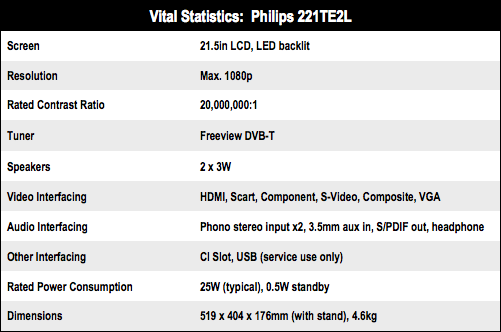 Visual display
Also, being based on TN panel technology, the display suffers somewhat from rather narrow viewing angles, especially in the vertically direction. This is something you may well notice if you're viewing the monitor from up close.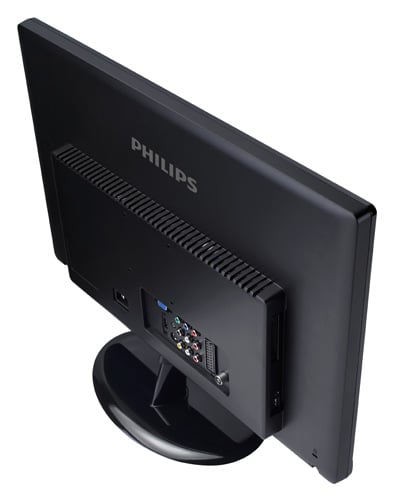 Appealing for its simplicity and size
Setting up as a TV is simple using the remote control, which gives you access to a large, clear menu system. Select 'Setup' and then 'Installation'. From here you can kick off the auto tuning procedure which takes a couple of minutes to find analogue, digital and radio channels for you.
Despite its less than brilliant results, the 221TE2L still a quite watchable and in fact rather likeable TV. It's certainly designed for convenience more than anything else and in this respect it definitely delivers.
Verdict
At £209, the 221TE2l costs around double what you'd pay for a similarly specified LED monitor without the built-in tuner. With the money you save, you could easily afford a superior set-top box or a plug-in TV tuner for your PC complete with extra goodies such as FreeviewHD support and the ability to record TV. Yet, despite its shortcomings, this display is a very convenient and effortlessly simple way to add digital TV capability to your PC or for use as a lightweight portable telly. ®
More TV Reviews

Panasonic
TX-P65VT30
Sony
Bravia
KDL-40EX724
LG
42 LW650T
Samsung
UE40D6530
LED 3D TV
Ten…
40-42in
net connected HD TVs