Original URL: https://www.theregister.co.uk/2011/07/05/games_review_transformers_dark_of_the_moon/
Transformers: Dark of the Moon
Robotic behaviour
Posted in Personal Tech, 5th July 2011 12:00 GMT
Review Last year's War for Cybertron salvaged Transformers from gaming's scrapyard. While still not fully realising the potential of the IP, High Moon Studios' game combined reverential treatment of the fiction with solid controls and decent gameplay to mark a high point for the franchise.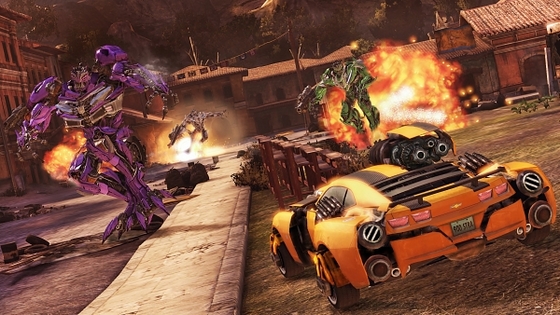 Step on it, or someone'll step on it
You'd think it would be easy for High Moon to build upon those foundations to make a half-decent and entertaining follow-up, especially one based on a movie constructed around giant transforming mechs and mesmerising CGI-set pieces. But you'd be wrong. Dark of the Moon falls foul of one of gaming's oldest curses: the movie tie-in.
On this occasion, the source material isn't at fault. Michael Bay's third Transformers film might be an unmitigated stinker, with computers seemingly generating the one-dimensional plot and dialogue as well as the three-dimensional effects, but the game is based on events leading up to the movie, rather than the egregious movie itself. You can't even blame Shouty LaBouef or double-barrelled knickers mannequin Rosie Huntington-Whiteley, neither of whom, thankfully, feature in the game.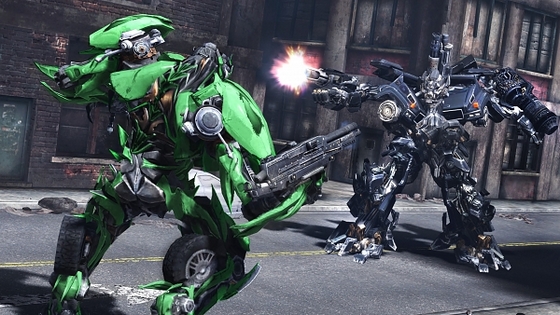 Gundamn MechWarriors
The only commonality, then, is one of vacuousness. A mindless emptiness fills Dark of the Moon. All War for Cybertron's good work in narrative and gameplay is undone. Its neatly weaved parallel Autobot and Decepticon story threading is replaced by disjointed chapters featuring the usual prominent Transformers in specific, thinly-connected missions.
Whether you're infiltrating a Decepticon hideout to eavesdrop on their communications or rescuing Shockwave from his cryogenic prison, missions are largely indistinguishable, save for their settings and threadbare expositions. The same repetitive combat and uninspired level design is repeated again and again throughout the woefully short five-hour campaign.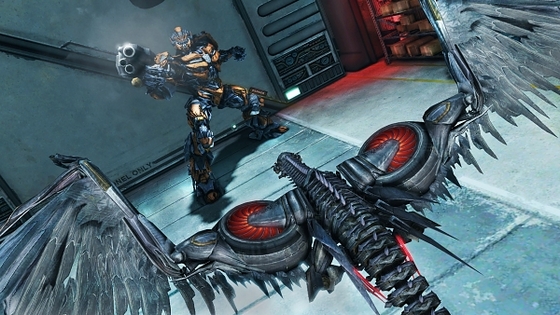 Clippin' wings
The Transformers themselves are also virtually indistinguishable. Bumblebee's sports car might be faster than Megatron's truck, and Soundwave's sonic gun more powerful than Warpath's Assault Rifle, but you'll hardly notice in a game that doesn't bother to explore those differences.
Huge-o boss
War for Cybertron's varied enemy types were ripped wholesale from Halo, but at least they were varied. Here enemies come in just two types, large or small, and differ only by the number of hits required to kill them. Displaying no intelligence whatsoever, they present a challenge as one-sided as Tin Can Alley. Outside of a handful of generic boss battles, the only tactic to complicate the relentlessly attritional gunplay is a simple use of cover to recharge your overshield.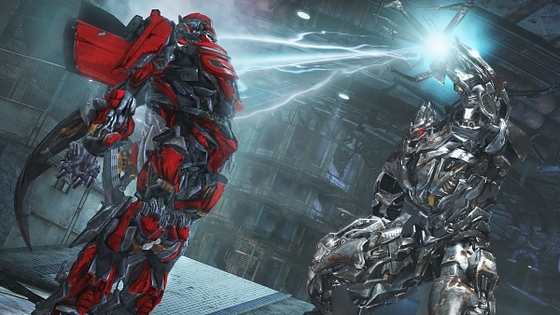 No, it's pronounced "Fronkensteen."
To add flesh to these skeleton mechanics, High Moon overcompensates by making wholesale changes to the Stealth Force mode. An intermediate form between robot and vehicle, Stealth Force controls like a hovercraft and carries a separate set of weapons and abilities. Transformers were already far more manoeuvrable in this form, but they're now able to soak up lots more damage and their weapons don't need reloading.
It's an imbalance the game constantly struggles with. There's rarely a compelling reason to venture away from the defensive safety and uninterrupted firepower by choosing the robot form. War for Cybertron failed to ingrain the central transforming conceit into gameplay and it's exacerbated here by the relative omnipotence of Stealth Force.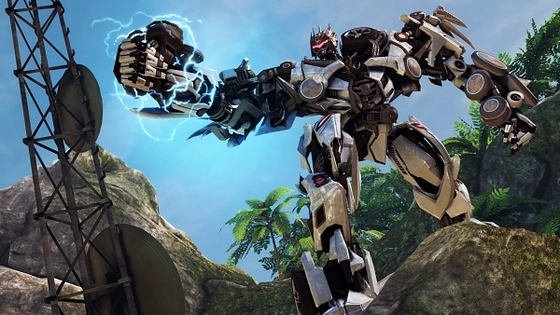 Feel it in my fingers
Gameplay also suffers from the change of setting. Transplanted from their vast homeworld of Cybertron to the relative confines of Earth, the Transformers undergo one final, undignified transformation into graceless, hulking behemoths. The architecture of campaign levels is just too claustrophobic for their size. While it's forgivable lumbering through nuclear bunkers and around the tall buildings of Chicago, it feels contrived when you're constantly hemmed in by cliff faces and invisible walls in the game's frequent jungle locales.
It's a welcome surprise, then, to play through the expansive maps of the on-line multiplayer. Although revisiting many of the campaign's locales, the areas are opened up to better accommodate the Transformers' size and mechanics. Verticality finally provides a reason to opt for robot form, as players jump up scenery to reach protected camping spots. And the weaponless vehicle form comes into its own, providing the speedy Scout classes with hit-and-run capabilities over the more powerful, but slower Warrior tanks.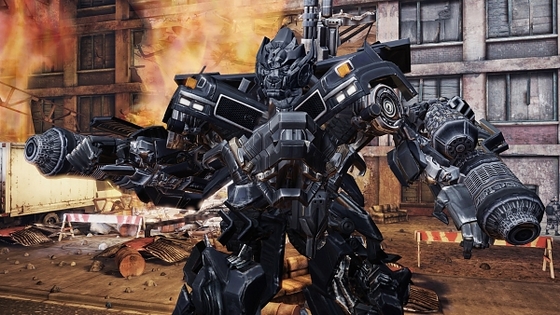 'Is it cos I is black?'
It's obvious High Moon directed most of its effort into multiplayer, but it's still a far cry from War for Cybertron's offering. It's fun while it lasts, thanks mainly to the improved mechanical balancing and a comprehensive, if familiar, set of loadouts, perks and killstreaks. But the movie tie-in curse of constrained development is once again all too apparent and its playset of just five maps and three modes all too slim to provide real appeal or longevity.
Verdict
Technologically an embarrassment, Dark of the Moon is flawed, perfunctory and utterly devoid of vitality or personality. While that's par for the course with movie tie-in games, it's no less disappointing that the golden future hinted at by War for Cyberton has been so quickly transformed by this lumpen, leaden mess. Finally, a game worse than Duke Nukem Forever. ®
More Games Reviews

Shadows of the Damned
FEAR 3
Dungeon
Siege 3
Child of Eden
Alice: The
Madness Returns