Original URL: http://www.theregister.co.uk/2011/07/04/review_samsung_ns310_netbook/
Samsung NS310 netbook
There's life in the old dog yet
Posted in Personal Tech, 4th July 2011 12:00 GMT
Review Will the tablet kill off the netbook? Probably not. Granted the netbook has never quite fulfilled its promise due to a combination of prices that went up with specifications that didn't. Even so, I've yet to find a fondleslab that can truly replace my Windows 7/Ubuntu dual-booting Samsung N140.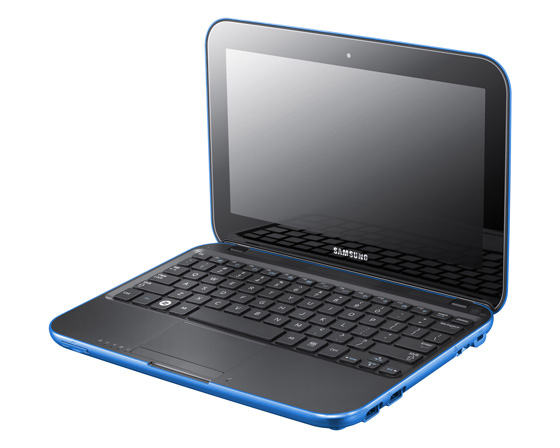 Lap it up: Samsung's NS310
The latest netbook from Samsung doesn't address any of the fundamental failings of the breed – at £350 it's still too expensive and even with a dual-core Intel Atom CPU, it remains a bit gutless. However, it has on-board some interesting new features compared to its predecessor the N310.
The most obvious change is the addition of a backlight to the chiclet keyboard, so it now glows a rather attractive shade of blue in low light. My netbook is usually used of an evening in the subdued light of my lounge or in darkened press conferences, so this is a feature I heartily welcome.
The keyboard itself is rock solid and rather pleasant to type on and I've no complaints about the multi-touch trackpad or single-piece click bar – both work a treat. Next up is what Samsung is calling a SuperBright screen. Apparently, it luminesces to the tune of 300nit or candelas per square metre (cd/m2) which sounds bright. It looks bright too.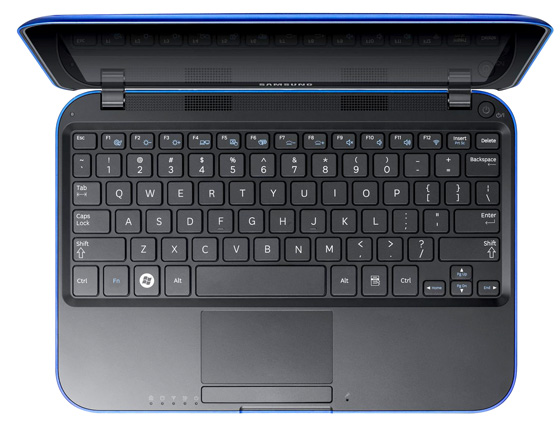 Lights up like an Xmas tree at night – the UK version has a proper Enter key
Turned it up to the maximum and the screen is significantly brighter than that of the N140. Sit in front of it for long enough and you will probably get a tan or become infertile. Sadly, there is nothing super about the rest of the screen's specification. It's still only 10.1in corner-to-corner and makes do with a 1024 x 600 resolution.
Soap box?
The NS follows the N's bar-of-soap styling and, so as not to interfere with the curves, the Ethernet port is partially enclosed by a flip-down cover. Thankfully, the N310's rubberised exterior has been ditched in favour of a metallic and much more attractive finish.

Thinner form factor has battery life implications
No matter where you measure it, the NS310 is only 25mm thick and weighs little more than 1kg thanks to a flush-fitting 2,250mAh three-cell battery. But what you gain on the size and weight swings, you loose on the battery life roundabout.
Looping a standard definition H.264 video at full screen using VLC drained the power pack in 175 minutes. That's nothing to shout about even if it does equate to around four hours of less demanding use. Of course, you can always opt for the fatter, heavier 4,4000mAh battery which should double that figure.
Ports and sockets are the netbook standard fare so you get 3 USB2, VGA and 10/100Mb/s Ethernet but no HDMI. Wireless and Bluetooth are up to spec though with 802.11n and 3.0 respectively though the wireless card is a 2.4GHz 1x1 affair.
The combination of Windows 7 Starter, 1GB of RAM and a 1.5GHz CPU, albeit with two cores, is never doing to set your hair on fire but everything chugs along at an acceptable, I'd even go as far as to say brisk, pace.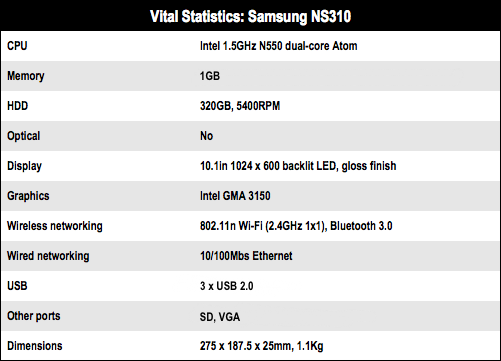 Benchmark Tests
PCMark05 Results
CPU

Longer bars are better
Memory

Longer bars are better
HDD

Longer bars are better
Battery Life Results

Battery life in Minutes
Longer bars are better
Getting the boot
Despite the low-res screen, folk will no doubt still want to play HD video so it's just as well that 1080p H.264 video plays smoothly at full screen using Windows Media Player while 720p MKV and QuickTime files did the same using VLC. The majority of 1080p YouTube streams ran smoothly at full screen too.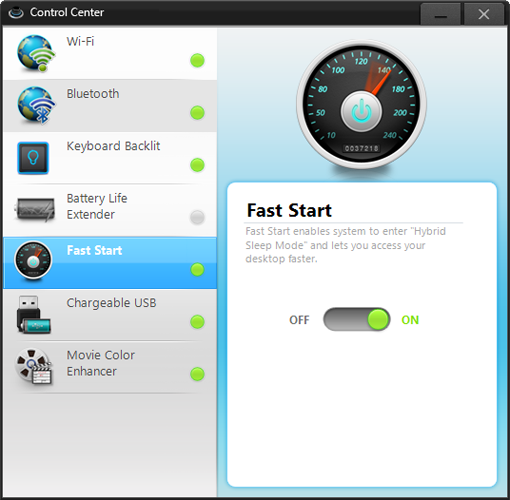 Control panel tweaks
Windows 7 Starter lacks anything in the way of a media server so Samsung has added its own DLNA package called Easy Media Share. Using this allowed me to access all the media files on the NS310 from my HTC Android phone without any messing about.
There are also some other handy Samsung bits and bobs, like a bespoke control panel to manage various peripheral features such as Fast Start - essentially the same as regular Windows Hibernate. With Movie Colour Enhancer, it monkeys about with the screen's colour saturation. There's also a charges-gadgets-when-switched-off USB port function.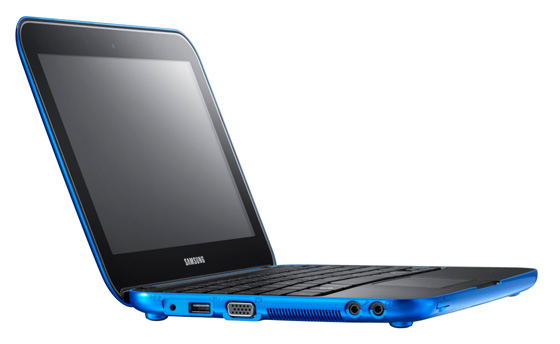 Expensive, but does the job with a touch of panache
If you want to give Windows 7 the old heave-ho, I have some good news because booted off an Ubuntu 11.04 USB stick. Everything worked perfectly, including the Broadcom Wi-Fi and Bluetooth radios. As with all Samsung netbooks, the memory slot is easily accessible so swapping out the 1GB module for one double the size is a piece of cake.
Verdict
Slim, light and solid, if not particularly cheap, the NS310 isn't a bad box of tricks for anyone wanting an ultra-portable mini laptop, but isn't too worried about battery life. The searchlight-bright screen and glowing keyboard are useful additions to the netbook armoury and the whole thing is nailed together with Samsung's customary thoroughness. ®
More Netbook Reviews

Samsung
NC110
Dell
Inspiron
Duo
Toshiba
NB500
Asus
Eee PC
1015PEM
Asus
Eee PC
1215N