Original URL: http://www.theregister.co.uk/2011/07/02/review_panasonic_tx_p65vt30_3d_tv/
Panasonic TX-P65VT30 65in plasma 3D TV
The elephant in the room
Posted in Personal Tech, 2nd July 2011 07:00 GMT
Review There was a much-used gag in Warner Bros' Road Runner cartoons, where Wile E. Coyote would paint a tunnel and road onto a cliff face – and then watch in confusion as a truck drove through it. This 65in Panasonic plasma creates a similar illusion. Its pictures are so large and sharp it's easy to be convinced of their reality.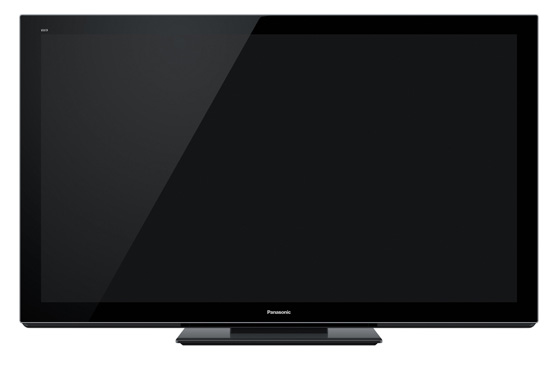 Flagship behemoth: the Panasonic TX-P65VT30 has 65in plasma panel
Like all VT30s model, the TV has both Freeview HD and Freesat tuners. For this audition I opted for Freeview HD – the set was just too large and heavy to drag to my satellite feed. Indeed, it was a three man lift just to get it out of the box and onto the pedestal stand. While super-large LED TVs tend to be unfeasibly light, this is an old school backbreaker, tipping the scales at 63kg when perched upon its stand.
Rear connectivity features four HDMIs, component, phono AV, Ethernet, three USB ports and Scart. Wi-Fi isn't built in, although Panasonic bundles a USB Wi-Fi adaptor in the box. Also included are two pairs of the brand's TY-EW3D2ME active shutter 3D spectacles.
 The hefty remote control is a step above the Panasonic norm, beautifully finished with red backlighting.


As befits a range leader, the TX-P65VT30 is equipped with all mod cons; every feature in the brand's TV feature arsenal gets a look in. 

Net connectivity comes in the shape of VIERA Connect; it's here you'll find BBC iPlayer, YouTube and other streaming IPTV content sources.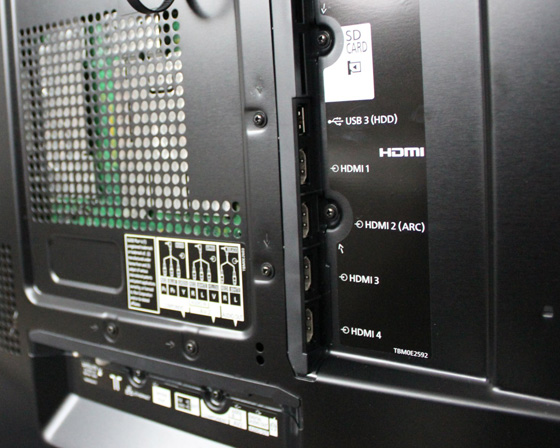 Back panel features four HDMI slots – no built-in Wi-Fi but a USB dongle is included
The set can also do light PVR work, recording to an attached external USB hard drive or inserted SD card, and there's a video implementation of Skype, for those with a dedicated Skype-cam.
The user interface is good enough. Panasonic appears to be conducting a rolling refurbishment of its UI: there're some nice, sharp menus and the multimedia playback presentation looks great, but the TV guide remains a throwback. Without a live TV window, it just looks tired. If this EPG survives through to another season of TVs, I'll eat my shoes – there has got to be something better on the drawing board in Osaka.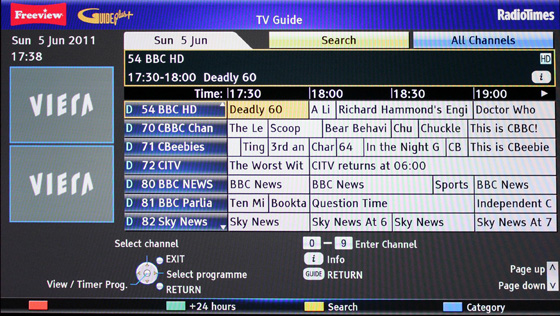 TV guide
On the plus side, streaming media support is top notch. The TV speaks fluent AVCHD, AVI, MOV and MKV to both local USB and networked devices. It will also pull and display album art and all relevant artist/album metadata when playing MP3 files.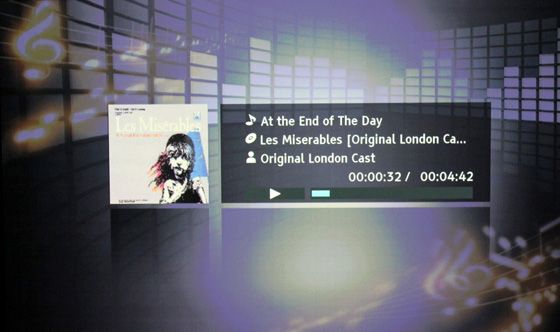 MP3 playback
This screen's raison d'être is visual impact. And when it comes to picture performance, the TX-P65VT30 stomps Godzilla-like over the competition. If you're looking for hi-def with cinematic depth and clarity, then you've found the right telly.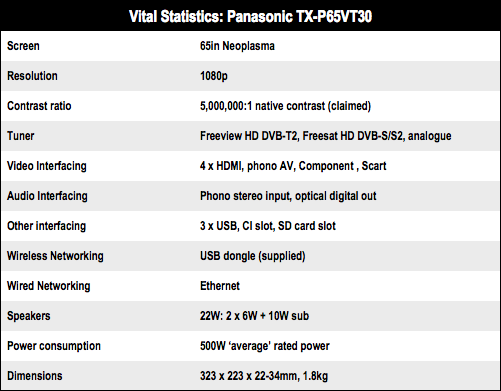 Filter feeder
While the Infinite Black Pro panel can be found elsewhere in Panasonic's plasma offerings, it's bolstered here by the self explanatory High Contrast Filter Pro – a turbo-charged version of the vanilla flavoured High Contrast Filter found in the step-down GT30 and other models. Black levels are suitably extreme.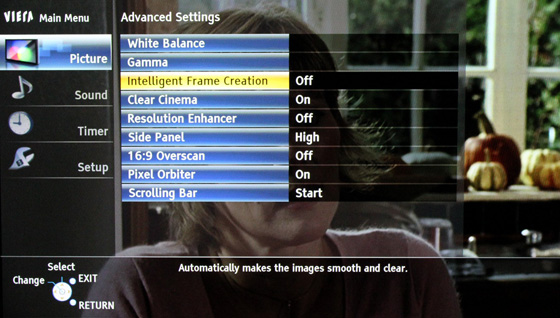 Advanced menu
The picture engine itself is built around Panasonic's IFC (Intelligent Frame Creation) 600Hz Pro sub-field drive. This isn't required to improve motion resolution, but it does do a powerful job curbing horizontal, diagonal and vertical picture judder. Unfortunately, it also bequeaths motion artefacts of its own and makes everything look kind of slippery. I tend to prefer IFC Off as the inherent panning judder is the lesser of two evils.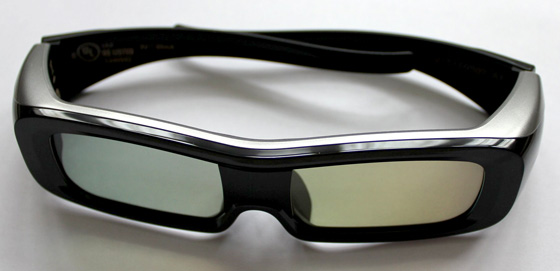 You get two pairs of active shutter glasses to view any 3D spectacle
Naturally, the sheer size of this panel can have a detrimental impact on viewing. Any 65in screen will be very intolerant of low bitrate channels, but this Panasonic relishes good sources like Sky HD and Blu-ray. 
Moving picture resolution, with or without IFC engaged, is a full 1080 lines. Colour gradations are smooth and hues are vibrant.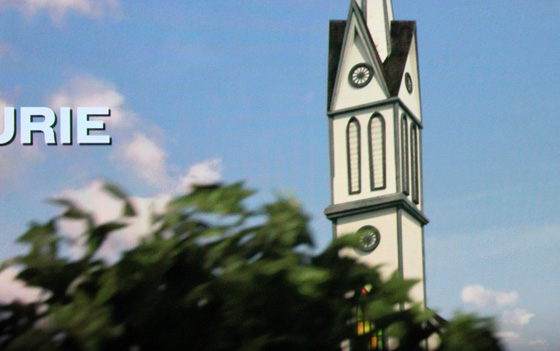 Crosstalk free 3D
Challenging Blu-ray test footage of an artfully lit violin and saxophone revealed rich wood textures alongside believable, glinting brass. 2D image clarity is sublime.

 The TX-P65VT30's 3D performance is also excellent. Despite its width, crosstalk double imaging is noticeable only by its absence.
Glasses case
A run though of Resident Evil: Afterlife proves both spectacular and immersive. However, at the end of the movie my ears and nose ached from wearing the active shutter specs. There's clearly more work to be done to get these goggles to acceptable levels of comfort.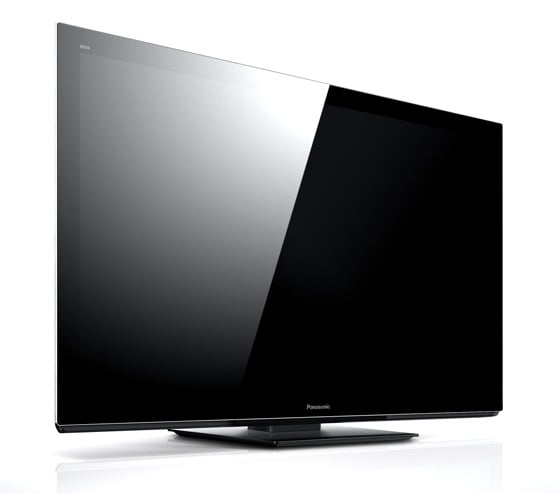 A lot of money, but you get a lot of telly
Sonically the set is fine for general viewing. There's a decent stereophonic spread to its output, while and a modest subwoofer adds welcome mid-bass.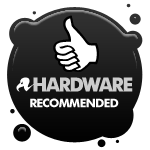 Verdict


The TX-P65VT30 is an imposing goliath of a gogglebox. If you're looking for a larger than life do-it-all TV with a price tag to match, then this monster is well worth tracking down. ®
More TV Reviews

Sony
Bravia
KDL-40EX724
LG
42 LW650T
Philips
21:9 Cinema
58in LED TV
Samsung
UE40D6530
LED 3D TV
Ten…
40-42in
net connected HD TVs