Original URL: https://www.theregister.co.uk/2011/07/01/mac_os_x_10_point_7_preview/
'Lion' Apple Mac OS X 10.7: Sneak Preview
El Reg lifts the new big cat's tail and has a poke
Posted in Software, 1st July 2011 10:00 GMT
Review The first major update to Apple's Mac operating system in some five years is nearly ready, and what has been removed is as significant as its improvements. Mac OS X 10.7, known informally as Lion, continues the trend of removing "legacy" components and technologies from OS X with a zeal that would leave Microsoft quivering in terror.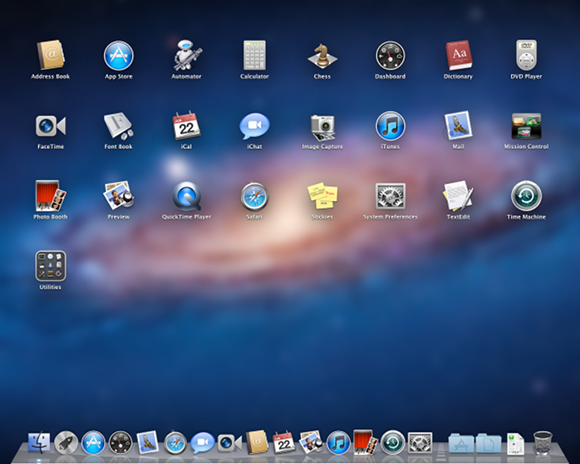 If you're a fondleslab addict and folders are too complicated, there's Launchpad (click to enlarge)
Mac OS X development has slowed markedly since the release of OS X 10.4 – "Tiger" – in 2004. Two years later, 10.5, "Leopard", was the most recent major update. 2008's "Snow Leopard", version 10.6, was as its name suggests a relatively minor release, which mainly just dropped support for PowerPC machines. This means that Lion is OS X's first big overhaul since 2006.
Hardware-wise, Lion flips the finger to early Intel adopters. 10.7 won't install or run on the original Core Duo and Core Solo Macs from 2006. The first Intel Macs – note the shorter name; they're not "Macintoshes" any more – were the Core Duo iMac, MacBook, MacBook Pro and Mac mini, together with the Core Solo Mac mini. All have 32-bit CPUs, while Lion requires a 64-bit capable chip – a Core 2 Duo or better. So if you were one of the first intrepid fanboys to move from a PowerPC Macintosh to a new Intel Mac, you're screwed. It is possible to replace the Core-1-series CPU in some Macintel models with a Core 2, but this still leaves you with 32-bit firmware, so it won't help.
You also need at least 2GB of RAM just to install Lion, but that's not such a big deal – it's a sensible and affordable upgrade. Speaking of upgrades, in our testing, only upgrading from Snow Leopard worked; trying to upgrade a 10.5 system yielded a "not supported" message and a bare-metal install started but failed at the first reboot. Lion's distribution is a little odd, too. It will only be available for download from the Mac App Store – not on physical media. It's a hefty 4GB disk image, too, so you'll need a fast, unmetered connection.
Even if you sensibly held out for one of the later, faster Intel Mac models, you're in trouble if you're still hanging on to any older PowerPC apps. Lion also drops Rosetta, the instruction-set-translation system from Transitive Technologies that hitherto allowed Intel-powered Macs to run PowerPC applications. This may not seem like a major drawback, but it means you can't run the last version of Microsoft Office with the classic interface – Office 2004, equivalent to Office 2003 for Windows. Office 2008 and 2011 are options, but many – your humble correspondent included – hate the "ribbon" interface. At least the permanent Mac OS menu bar means that, unlike hapless Windows users, Mac sufferers from Office's Fluent interface still have the familiar old-fashioned menus available.
(Another alternative would be to install CrossOver and run a classic version of Windows Office under that.)
Adobe Photoshop and Creative Suite users face a very pricey upgrade bill for Intel-native versions, too. The ancient OS-X-native Internet Explorer 5.5 will no longer run, either. Less visibly, Appletalk support is completely gone as well: it's TCP/IP or the highway with Lion.
Hope for Java users
Java has been dropped, too, but there is slightly more hope for Java users: the first time you try to run a Java app, the OS will offer to download and install one for you. This is helpful but not ideal – so, for instance, to offer an entirely hypothetical scenario, if you had just installed LibreOffice and written a few hundred words of copy, you wouldn't be able to save your work if no JVM had been installed when the program was launched. Apparently the file-saving functionality is one of the Java bits and LibreOffice needs a restart for saving to work. Who knew?
To be fair, it's not all bad news. There's a lot to like in Lion. Several components have received iOS-inspired makeovers: Mail and Address Book have new, very iPad-like user interfaces, while the Launchpad is an iOS-style easy app launcher that reminded us of the Dashboard in Ubuntu's controversial Unity desktop. Many apps now have a Full Screen view, hiding the Dock and menu bar – finally bringing something akin to Windows-style maximisation to the Mac. Similarly, windows can now be resized from any edge or corner, just like on Windows. Dashboard, Exposé and Spaces have merged into Mission Control, offering an instant overview of all running apps and applets on all desktops.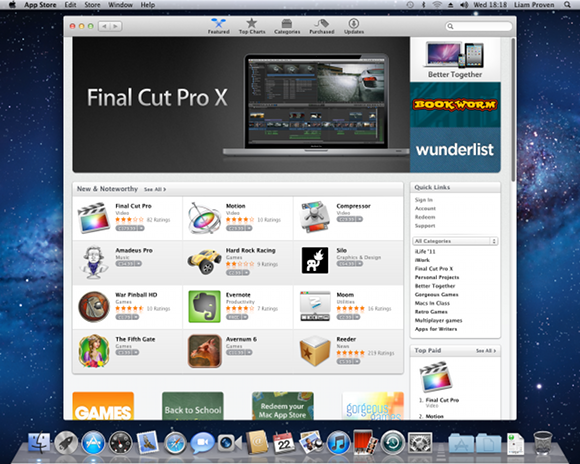 The App Store came to the Mac late in Snow Leopard's life, but now it's centre stage (click to enlarge)
Did you want to save that? Too bad, it's done!
Mac-using techies with very long memories – especially back to Apple's co-marketing agreement with DEC back in January 1988 – might find that the new Versions feature reminds them of VAX/VMS. Related to the Time Machine invisible background backup system that appeared in Leopard, Versions allows you to go back to any earlier version of any document. This will be a boon when coupled with Lion-compliant app's continuous file saving. This new feature means that you needn't keep interrupting your work to save – but we predict that it will cause much cursing the first time it overwrites a good file when you didn't actually want to save.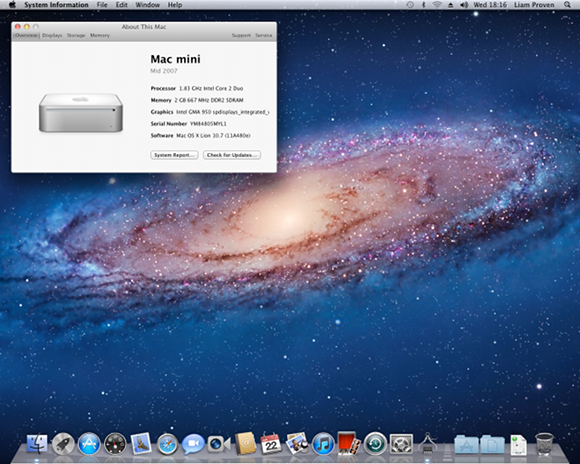 For the first time since 1991, your Mac knows what model it is. System 7 nostalgics rejoice (click to enlarge)
The last big-ticket item is Resume. This probably stems from development work on the early, non-multitasking iPhones, where apps had to save all state when you switched away from them so that they could pick up seamlessly when reopened. On the Mac, Resume means that when you shut down or reboot, the Mac reopens next time precisely where it was, with the same programs, windows and documents open in the same places.
From our quick look at Developer Preview 4, Lion offers improved integration, too. For instance, logging into Gmail with Safari popped-up a message offering to automatically link Mail, Address Book, iCal and iChat with our Google account. You don't get this if you use a third-party browser such as Firefox or Chrome, of course, although we tested these and they worked flawlessly – even with Java applets, once the JVM was installed.
Mac OS X 10.7 is an impressive upgrade, well worth the wait. For new users, it's a shoo-in – especially for Windows-based iOS users. Existing Mac users looking to upgrade face quite a few drawbacks, though.
Going completely legacy-free could be an expensive exercise – but it will be worth it if there are Intel-native or Universal versions of all your core applications.
If you can, though, it looks worth it. Leopard was good enough for us to surrender Classic Mode and give up our handful of Classic Mac software, but Snow Leopard didn't tempt us away from PowerPC. Lion looks to be the release that will.
Product name
Mac OS X 10.7
Vendor:
Apple
Price:
£20.99
Availability:
From July only online
from the Mac App Store
®