Original URL: https://www.theregister.co.uk/2011/06/30/oracle_pillar_earn_out/
How that Oracle and Pillar earn-out really works
Losses need reversing
Posted in The Channel, 30th June 2011 09:25 GMT
Comment Pillar investors will only receive cash from Oracle for the Pillar acquisition if Pillar revenues in 2014 exceed net losses from 2011 to 2014.
The acquisition is structured so Oracle boss Larry Ellison's half billion dollar loan to Pillar is turned into preferred stock with other investors holding common stock. Larry gets 1.5 per cent dividend interest a year on his preferred stock. He will also own directly and indirectly 55 per cent of the fully diluted common stock.
Investors will receive a cash payment on or before November 30, 2014, if Pillar revenues perform in a particular way during a three-year earn-out period before that.
This period runs from the acquisition close to the end of July 2014. The investors will receive cash if Pillar's Axiom product-related net revenues in the third and final year of the earn-out period exceed Pillar's net losses, if any, in the full three-year earn-out period. Any cash payment will be three times the difference between these two numbers.
Specifically the earn-out will only be paid to Larry, his affiliates and, if applicable, to the other Pillar Data stockholders and option holders if the net revenues during year three of the earn-out period exceed the net losses, if any, during the entire earn-out period.
If Pillar earns $200m net in the last four quarters of the earn-out period and its net losses in the 3-year earn-out period are $100m then Larry and the other investors get 3 X ($200m - $100m) = $300m.
Larry gets paid first too, since he owns preferred stock.
Pillar needs a turnaround
Oracle is not formally bound to pay the Pillar investors anything. Pillar CEO Mike Workman – we assume he is an investor – and others will only get cash if they manage things, bearing in mind that "the operation and management of the Pillar Data business during the Earn-Out Period will be in the sole and absolute discretion of Oracle" – so that Pillar earn-out year-three net revenues are greater than the net losses in all three years of the earn-out period.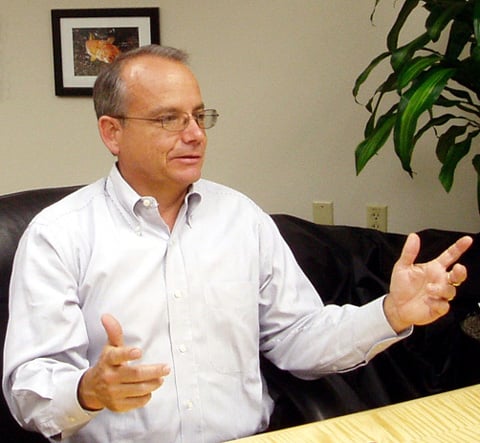 Pillar CEO Mike Workman
The Pillar business unit management, in effect Pillar's current executive management, has to turn the company around. It has two years to get the product line into a position where it can sell the hell out of it the following year and earn big bucks.
There's a balance to be struck between the costs of developing, improving and extending the Axiom product line and the sales revenues from doing so. Just throwing money at Axiom research and development won't cut it.
Oracle itself is not duty-bound to pay anything to Pillar stock holders; everything depends on Pillar's executive management, now reporting, we assume, to Oracle EVP John Fowler, taking advantage of Oracle's resources and channels to fashion HP EVA, NetApp FAS, Dell Compellent and EMC VNX-beating product.
Can they do this against a background of Pillar not yet being profitable because not enough customers have bought Axiom systems? Will PIllar's executive management stick around for the three years needed to turn Pillar around, or, putting it another way, complete the start-up work and get PIllar standing on its own and profitable feet.
Pillar's supposed demise
Plenty of people are ready to write Pillar off. Its competitors are eager to push out their views on the acquisition by Oracle.
Nexenta CEO Evan Powell said: "Pillar's demise is due to a legacy business model that is so wasteful of capital investment that it threatened to put a dent in the enormous fortune of their brilliant primary investor, Larry Ellison. In approximately half the time and with less than one-tenth the capital invested, Nexenta has achieved twice the number of commercial deployments as Pillar ever did. Pillar may be the last of the big bets on do-it-all, vertically integrated, proprietary storage start-ups. The model has been trumped by more open approaches."
Data Robotics CEO Tom Buiocchi said: "The Pillar acquisition reflects the end of the Storage 2.0 era which featured groundbreaking innovations in storage designed for the largest of enterprises in terms of features and price. The next wave of storage innovation will be about bringing similar innovation, but coupled with supreme ease of use and unprecedented affordability, to the small and mid-size market. The Storage 3.0 wave is gathering pace ... We believe that legacy storage systems in particular, the likes of which are often rooted in 25-year-old technology, face a very limited future in the Storage 3.0 wave."
Phil Jones, Shoden Systems' chief technology officer and acting CEO, points out that a restriction in supplier choice results from the acquisition: "For end users and reseller this acquisition will mean less choice, one fewer emerging technology provider and more power concentrated in fewer vendors. Apart from EMC (who have the Joker, VMware), all the acquisitive storage companies are also serious server manufacturers. Will customers be buying stove-pipe single vendor solutions soon, rather than individual best-of-breed technologies?"
Xiotech chief technology officer Steve Sicola said: "I don't believe this comes as a surprise to anyone. In the end, Pillar didn't have much differentiation from Compellent and 3PAR. They could never clearly carve out a space for themselves and their direct competitors did a far better job at executing their go-to-market strategies."
"At the end of the day, this acquisition is about another larger vendor shoring up the legacy system side of their business."
Looking at the way Oracle has managed to make its Sun business profitable then no-one should write Pillar off. Oracle is not closing the business down. Au contraire it's incented Pillar's stock-holding executive management to make a concerted 3-year push to get Axiom flying and use Oracle's resources to do so.
Costs could be cut by using common components with other Oracle storage products. Oracle's channel must be an attractive proposition. The prospects are actually quite bright. The Pillar investors could conceivably make no money at all but, equally, they could become seriously rich if they get the Axiom product feature set right. Then Mike Workman could crack open a bottle from his own Weeners Leap winery and arrange his own celebratory fireworks display. ®