Original URL: http://www.theregister.co.uk/2011/06/29/storsimple_technology/
StorSimple stares down EMC and NetApp
Disruption afoot
Posted in The Channel, 29th June 2011 11:09 GMT
Comment StorSimple's cloud front-end appliance technology is a massive disruptive threat to mainstream enterprise storage array providers.
At a briefing in Sunnyvale we found out that StorSimple is about separating off the top two tiers from an enterprise storage array, the SSD and fast SAS disk drives and putting them in a 3U appliance, with the rest of the array - the bulk data storage part - replaced by the cloud.
It's not suited to applications needing high transaction rates and/or high throughput from their storage resources. StorSimple's chief scientist Joel Christner says the technology is a great fit for applications with data that's highly dedupable and has a clearly delineated working set ie Exchange Servers, SharePoint, collaboration, content management, shared drives (CIFS, NFS), libraries and archives, and virtual machines.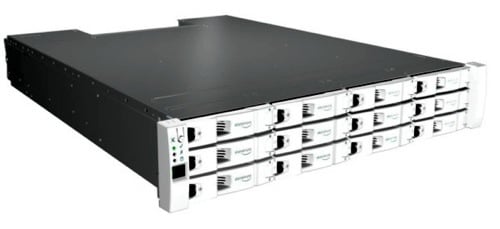 StorSimple 7010 appliance
A technology called Weighted Storage Layout figures out what data is relevant to an application over a period of time and makes sure it's in the StorSimple appliance while colder data goes out to the cloud. It's dynamic and operates in real time.
WSL works at block level and uses the "block rank" to order blocks in terms of their use frequency, age, reference counts and so on, with some cutoff determining which blocks stay in the appliance and which are banished to the cloud.
The appliance, built by Xyratex, is natively thin-provisioned and has inline deduplication. There are two models. The 5010 has 100TB of usable capacity while the larger 7010 has 200TB, The actual raw capacity of the 7010 is roughly 12TB of 10K, 3.5-inch SAS disk and about a terabyte of Samsung SLC flash, a 2.5-inch SSD in a 3.5-inch carrier; this is not over-generous with flash. The usable to raw capacity ratio is around 8:1.
Customers' servers access the StorSimple appliance using iSCSI. It would be simple to add Fibre Channel over Ethernet but there is little or no customer demand for that.
There are four storage tiers in the StorSimple world:
- SSD - linear (raw tier 1)
- SSD - deduplicated (tier 2) Concurrent inline block-level dedupe
- SAS - deduped and compressed
- Cloud - deduplicated, compressed, and encrypted
Having deduped data on the SSDs is helpful to the flash's endurance.
If it carries on gaining traction with customers then mainstream disk-based storage array vendors have a problem; essentially StorSimple kills their array business.
The uplink to the cloud uses WAN optimisation technology to reduce bandwidth needs and shorten transmission time. When a restore is needed the meta data comes down first - very quickly according to Christner - and applications can start accessing data immediately, with the actual data being fetched as needed.
StorSimple supports Amazon's S3 cloud storage and Microsoft's Azure. Microsoft is so smitten with the company that it gained an award as 2011 partner of the year and is in the special BizSpark One program. StorSimple also supports AT&T Synaptic and EMC Atmos cloud systems. It says it also supports local cloud storage services in various countries around the globe if their service levels are high enough.
Protection is by snapshot and data in the cloud can be protected in the same cloud geography using cloud snapshot, and sent to a different cloud geography, for cloud DR, using cloud clones. How is that done? Christner said: "We use Amazon S3 buckets for example, and can specify the region the buckets are stored in."
A cloud snap or clone can be mounted from anywhere in the world and that supports application mobility. StorSimple thinks putting data in the cloud is a precursor to putting applications in the cloud.
The company is not a cloud service provider, or even a virtual one, and the customer has to arrange and manage contracts with cloud storage providers.
Roadmap
The next release of the appliance technology will be focussed on enterprise scalability with the one after that focussed on portability. We might imagine that, should 3-bit multi-level cell (MLC) flash become both affordable and reliable than a future appliance could replace the SAS disk with MLC flash and become a lot more powerful.
StorSimple says its appliance is simple to install and operate, and customers receive it via Fedex. They get a single page of installation instructions and can have the appliance up and running in a claimed 7 minutes.
The company recently gained additional funding and is going to use that to expand its sales and marketing capabilities. If it carries on gaining traction with customers then mainstream disk-based storage array vendors have a problem; essentially StorSimple kills their array business. How will they respond to that?
You can download 6MB of StorSimple presentation here (pdf). The 5010 and 7010 cost $30,000 and $50,000 respectively, and there are fees to pay once data stored up in the cloud passes certain levels. ®