Original URL: http://www.theregister.co.uk/2011/06/29/review_smartphone_lg_optimus_black/
LG Optimus Black
No, not a new Harry Potter villain...
Posted in Personal Tech, 29th June 2011 06:00 GMT
Review LG distinguished itself recently by releasing the UK's first smartphone with a dual-core processor. But while the Optimus 2X grabbed all the headlines, LG also delivered another high-end handset - single-core, this time - the Optimus Black.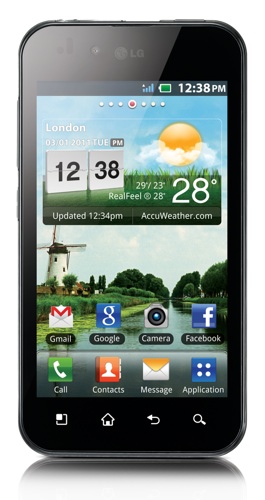 Optimus Black: are LG bosses JK Rowling wannabes?
The name Black hardly distinguishes it, since it's a colour it shares with 90 per cent of its rivals. The entire front is covered by a single sheet of glass, with a touch-sensitive strip beneath the screen for the four standard Android buttons.
On the sides are a volume rocker and gesture button - more on that later - with a power/sleep button, micro USB port and a 3.5mm headphone jack.
The back is made of lightly rubberised plastic that curves sharply at the sides and is home to a 5Mp camera, LED flash and a loudspeaker. There are none of the metallic flourishes you'll find on the most expensive handsets these days, but it still looks and feels like a classy device. It's impressively thin and light too: 9.2mm and 111g. LG has been making a lot of noise about its Nova screen technology, and so it should. This 4in panel is startlingly bright - the snaps really don't do it justice - though fortunately you can turn it down to save the battery and your burning eyes.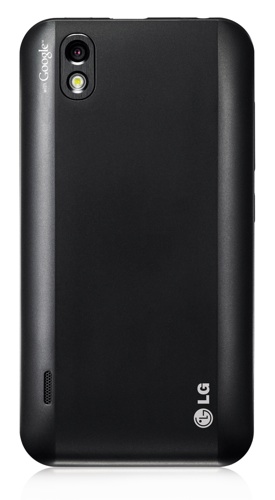 The 5Mp camera may not be top spec, but it takes a decent snap
The brightness comes in handy on sunny days, cutting through reflection and making the screen easy to read. It's also very sharp and admirably clear, rendering text on web pages especially well. Colours are thrillingly bright and vivid, with an almost Technicolor intensity.
Super Nova
But while the display looks great, it's not quite as sensitive as most of its rivals, sometimes requiring a few presses to register a command.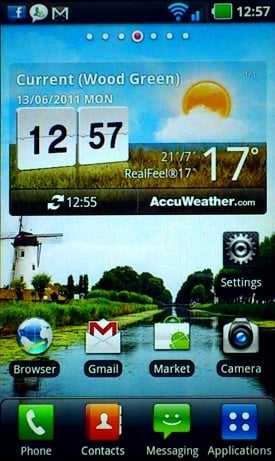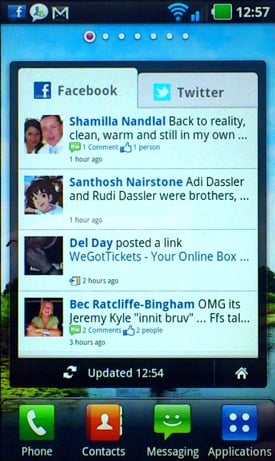 LG has dropped its own S-class UI on top of Android
The gesture button allows you control your phone with motion. When you press it, you can scroll through the seven home screens by tilting the handset. You can also tilt the phone up or down while browsing to scroll through a web page, and if you press it while viewing a picture, it will zoom in, and you can tilt to move your way around the picture. It's no more efficient that brushing your fingers across the screen, but a fun gimmick nonetheless.
The Black ships with Android 2.2 Froyo rather than the more up-to-date 2.3 Gingerbread, but you won't be missing too much while you wait for the inevitable upgrade. The latest version focuses on future-proofing, with support for SIP VoIP and NFC (Near Field Communication), both of which are really still waiting to take off.
LG's S-Class UI uses its own icons rather than Android's. They're neither better nor worse, but there are a few useful widgets, including Social Feed, which pulls together your social networking updates.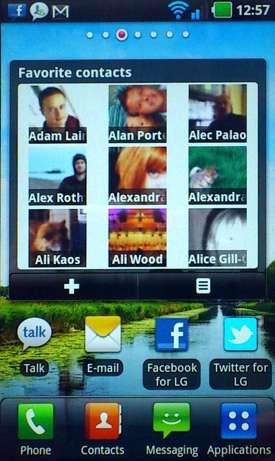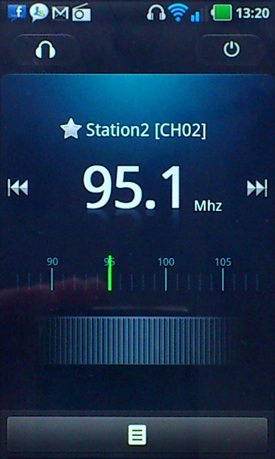 LG also offers its own keyboard designs, useful because they include handy keys like '@' and '.com' right up front. The apps menu can also be sorted into different categories to help you find your favourites.
Single cor!
LG World is the company's rather bizarre app store that only allows you to download apps if you've earned enough activity points, which you get from rating, reviewing and sharing other LG World apps. There's not a huge amount on offer, and I'm not sure that there ever will be with an approach like that.
Sample Shots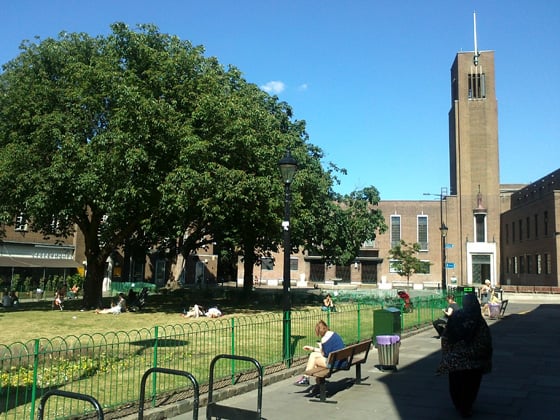 Click for full-size image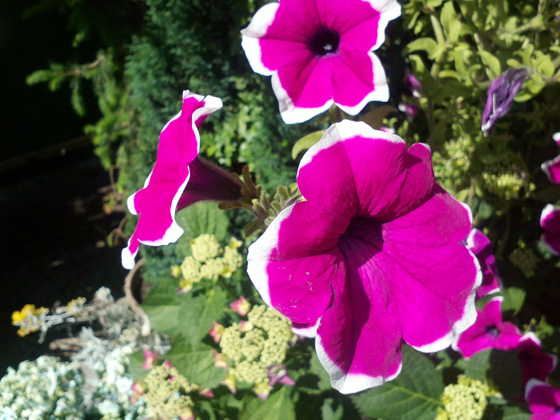 Click for full-size image
The 1GHz processor - single-core, don't forget - is backed by 512MB of RAM, and while it seems quick enough in general use, the Quadrant benchmark test rated it below other 1GHz devices like the Sony Ericsson Xperia Arc and HTC Incredible S.
Call quality's not the best if you use the Black's speaker, which is a bit on the tinny side. The 5Mp camera is a step down from the Optimus 2X's 8Mp but is still capable of producing some decent snaps, with sharp edges and bright colours. Then again, everything looks bright on that screen. Features-wise there's a face tracking feature, digital zoom, macro mode and a manual focusing function.
It can record in 720p HD video with fairly good results and is joined by a 2Mp camera on the front for video chat, which should be available with the Gingerbread update, or for self-portraits.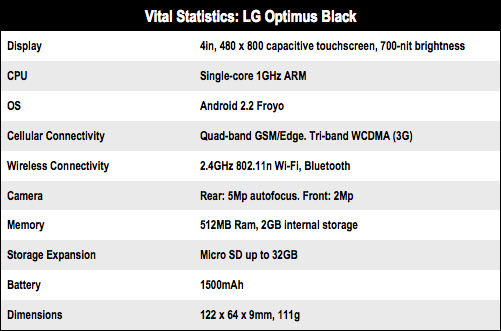 Media friendly
Video plays smoothly too for the most part. There are a couple of options for stretching the ratio to fit the screen, which is handy if you have a low tolerance for distorting the image. There's also the option of Dolby Mobile surround sound, which unfortunately seems to muffle the sound slightly, even as it opens out the soundstage. You can view subtitles where available, and stream films to a networked TV using LG's SmartShare DLNA facility.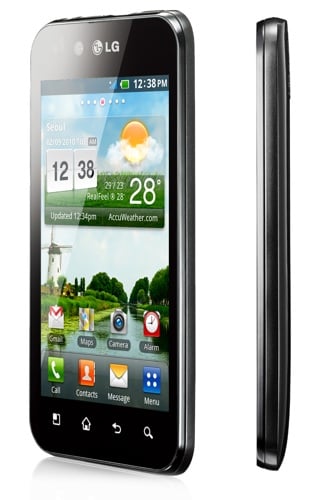 Pleasantly thin
The music player has a 21-setting equaliser with a fair difference between each, though the bass boost could have done with a bit more oomph. The sound is pretty good through the supplied headphones too, which are small enough to fit deep in the ear and are surrounded by noise-isolating flexible grommets. The Black has an FM radio with RDS, though it seemed quite shockingly bad at auto scanning for available stations – it needed several attempts just to find five.
The 1500mAh battery delivers the standard day or so of fairly heavy use – the intense screen wasn't an obvious drain, even though I had it cranked to the max the whole time.
Verdict
The Optimus Black's single-core processor may not be in the top rank but it's still plenty fast, all the better to power that terrifically bright and clear screen. But while the screen's great to look at, it still suffers from the lack of sensitivity that's common to too many LG handsets. ®
More Android Smartphone Reviews

Motorola
Atrix
HTC
Sensation
Samsung
Galaxy S II
LG
Optimus 2X
Sony Ericsson
Xperia Arc