Original URL: https://www.theregister.co.uk/2011/06/29/games_review_shadow_of_the_damned/
Shadows of the Damned
Resident devil
Posted in Personal Tech, 29th June 2011 12:00 GMT
Review The old saying goes that if you go to hell, you'll be far too busy shaking hands with friends to care. Well, not in Shadows of the Damned's hell, you won't. Your finger's never off the trigger long enough to shake with fear, let alone shake hands with anyone.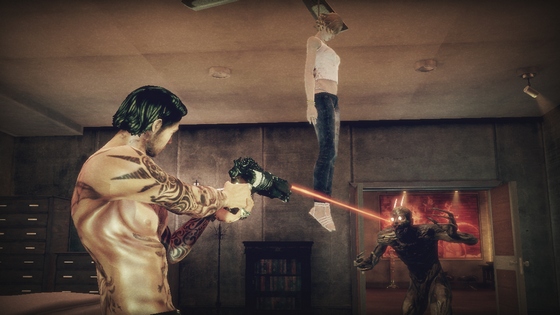 Lighten up, mate
Developed under the banner of Grasshopper Manufacture, Shadows of the Damned is the demonic love child of two of gaming's most twisted minds, Shinji Mikami (Resident Evil) and Suda 51 (Killer 7, No More Heroes). A relentless shooter-puzzler, it marries Resident Evil 5's over-the-shoulder gunplay with the outlandish pulp-couture of Suda's games, this time drawing inspiration from grindhouse flicks such as From Dusk till Dawn and Evil Dead to present an hyper-violent, sleazy and sweary experience as bizarre as it is disturbing.
You play as Garcia Hotspur, a Mexican demon hunter descended into hell to save his girlfriend Paula from the clutches of a six-eyed, high demon called Fleming. For reasons left largely unexplained, you're accompanied on your odyssey by Johnson, an English-accented skull sidekick who acts like a Swiss army knife of weapons, transforming between mêlée torch, pistol, machine gun and shotgun at the press of a button.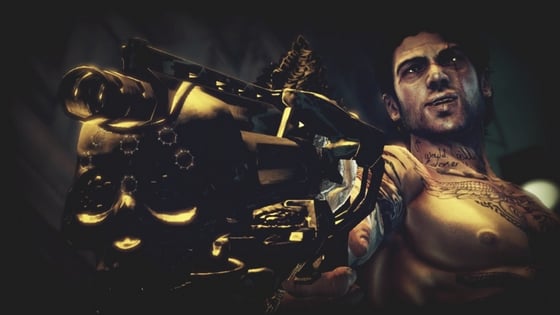 Looking down the barrel of a Swiss army knife
Johnsons' ability to purge demons is matched only by a propensity to spew knob gags at every turn. Initially cringe-worthy, his lewd innuendos might make Duke Nukem seem priestly, but they improve throughout to become strangely amusing. In fact, his tongue-in-cheek vulgarity typifies Shadows of the Damned's knowingly puerile sensibilities.
Alcohol-fuelled violence?
Its depiction of hell blends the traditional iconography of Dante with a splash of the more sexual, visceral imagery of Lovecraft and Clive Barker. You'll come across rooms filled with mutilated cadavers hanging from meat hooks and walls constructed from amorphous body parts, but you'll also venture through hell's seedy, neon-drenched strip club district and open gates by feeding deranged cherubim-faced locks with brains, eyeballs and, oddly, strawberries.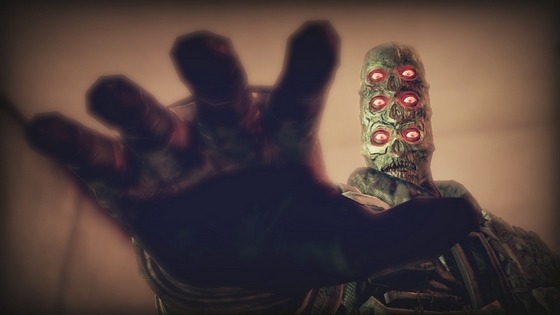 Should have gone to Specsavers
For all its thematic subversion, Shadows' gameplay is surprisingly conventional. Ammunition is found in glowing boxes scattered about the place. Health is replenished by drinking alcohol – with Sake replenishing a little, Tequila a bit more, and the devil's own tipple Absinthe fully restoring you. And there's a generic system of currency in the form of collectible crystals, used to augment attributes, upgrade weapons and purchase supplies.
Gunplay is also largely conventional, with mechanics revolving around your weapon set and an Alan Wake-style concept of light and dark. Like Alan Wake, enemies are invincible in the darkness - a blue-tinted enveloping mist that eats away at your health bar. To dispel the darkness, you need to find and light a golden wall-mounted goat's head using your light shot, fired with a tap of RB. But enemies retain an impenetrable darkness around them until hit by a further light shot, only then becoming vulnerable to regular ordnance, with certain demons more susceptible to particular weapons.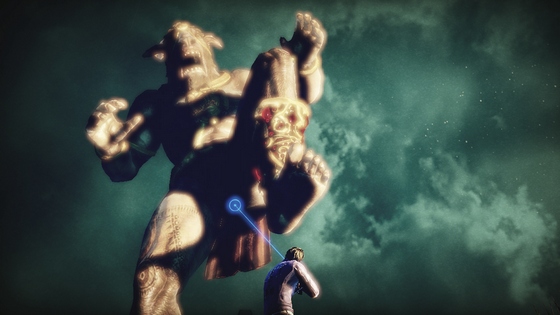 Shooting balls
Light and dark also informs many of the game's puzzles and boss battles. At times, giant hands pop up to spew darkness into combat arenas. As you inch forwards to switch them off, you must balance fending off demons with the need to prime firework boxes to temporarily lift the gloom and preserve health.
Getting crotchety
At other times, you need to pass through demon pube gates – yes, you read that right - unlocked by destroying power sources revealed when submerged in darkness. And each of the game's memorable boss battles cleverly employs light and dark to complicate the standard glowing weak-spot formula.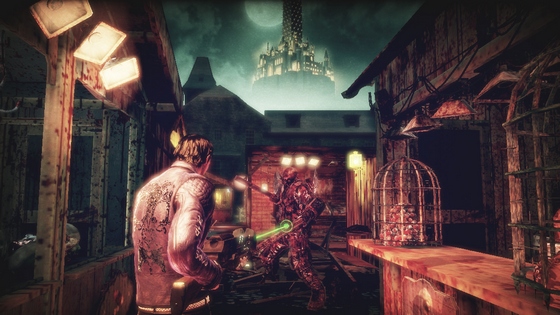 Reddy, aim...
In isolation, there's nothing novel about these mechanics. But Shadows' coup de theatre is the convoluted mayhem of combat, where pulling off headshots is of secondary importance to your ability to respond to ever changing dynamics by chopping and changing tactics at breakneck speeds.
It's ironic, then, that for all this diversity, the game's latter half descends into monotony, despite the introduction of a couple of mini-games to break the incessant combat. The first is a simple sniping section where you shoot giant demons lurching towards you along restricted paths. And the second is a quaint 2D side-scrolling shoot-em-up in a wood-cut animation style. There's also a one-off spatial puzzle that involves revolving bridges to navigate an intelligently designed room. But these additions arrive too late, and are all too brief and rudimentary to alleviate the game's primary focus on combat.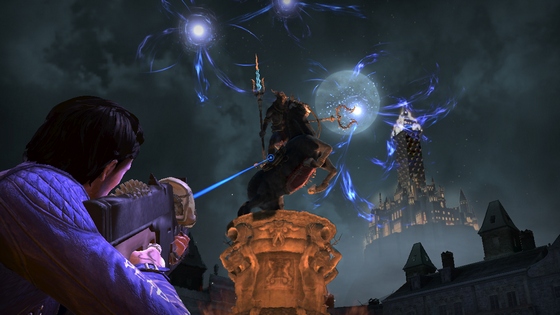 Blue moon
Verdict
Shadows' strengths and weaknesses both lie in its preoccupation with combat. There are few games able to rival the intensity and intelligence of its gunplay, but there will also be few gamers, I suspect, satisfied with its punishing relentlessness. And with no multiplayer, co-op or additional difficulty levels to extend the experience, the real horror lurking in Shadows' hell is that it doesn't quite live up to its devilish flashes of imagination. ®
More Games Reviews

FEAR 3
Dungeon
Siege 3
Child of Eden
Alice: The
Madness Returns
Infamous 2