Original URL: https://www.theregister.co.uk/2011/06/28/review_media_player_popcorn_hour_popbox/
PopBox 3D set-top media player
Goggle box
Posted in Personal Tech, 28th June 2011 06:00 GMT
Review Now that playing digital files from USB keys, or streaming them over a network, is a feature built into many TVs and almost every new gadget that plugs into one, it's inevitable that standalone players will become cheaper. The PopBox sits at the bottom of Syabas Technology's Popcorn Hour range of media players.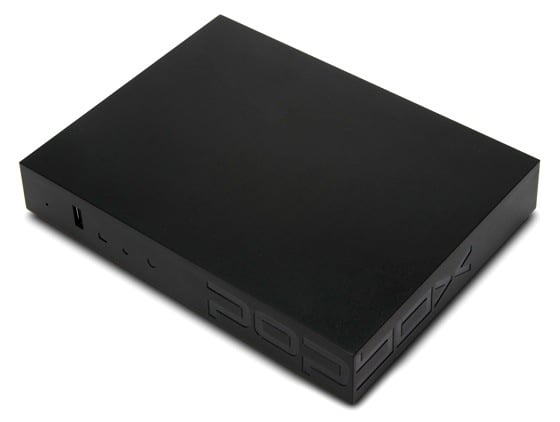 PopBox 3D: a nondescript black slab of a box only 2001 fans would love
Launched in the US late last year – to a less than enthusiastic reception – it's now available in the UK, but here revamped with firmware fixes and the addition of BBC iPlayer to the on-board apps.
The PopBox is a compact and rather nondescript black slab, about the size of a chunky paperback. While the remote control is friendly enough – and brightly backlit in case you're using it in the dark – the box is a mixed affair when it comes to setting up.
Unlike some of its Popcorn Hour stablemates, it doesn't have a built-in hard disk, though you can attach hard drives or Flash memory sticks to its two USB ports, including drives formatted in NTFS. Any content stored on these is indexed and categorised so you can find things quickly in the library menu. It matches movies and TV shows against IMDb data to show a poster graphic alongside the name and a brief description for each title.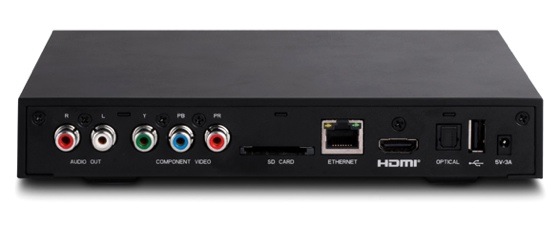 Plenty of ports - but the SD slot is for the box's personal usage
It can get confused, though. I had a bunch of saved QuickTime trailers which the PopBox's index thought were the actual movies, so it's only matching key words in filenames, even if the name goes on to contain the word "trailer" or the running time is a couple of minutes rather than hours. It can also get categories wrong, using Home Movies as a dumping ground for what it can't identify.
Disconnected
There is an SD card slot, but as its location at the back of the box suggests, it's not for conventional use. Instead it holds the box's index and thumbnail images for your library - a 2GB card is supplied. If you want to use an SD card straight out of your camera to show photos or home movies, you have to attach a card reader to either of the USB ports.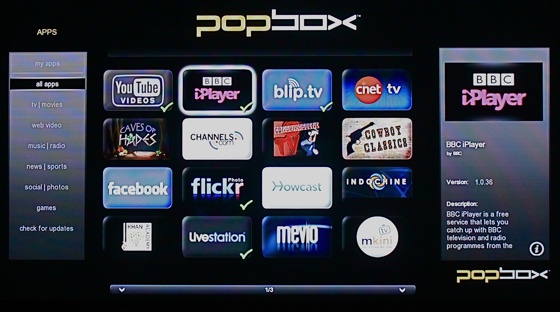 Services and features are presented as apps
You can also view files in a simple folder and list form through the Network/USB menu, which works for attached storage and shared network folders. If your PC's library is big, it can take the PopBox several hours to fully scan and index everything for its cover-art-based browsing menus, so often this list is the fastest way to find things. Just make sure your stuff is neatly organised on your hard drive.
For networking, the PopBox supports uPnP, Samba/SMB, NFS and Bonjour, as well as Windows' shared folders and workgroups.
That said, it's not slick when browsing a network - if it even connects. Despite the highly variable performance of media server software, which has always been something of a dark and mysterious art, I usually have no trouble getting UPnP devices to play ball. With the PopBox, this was touch and go. It also slows down or hangs inexplicably from time to time, completely crashing quite often.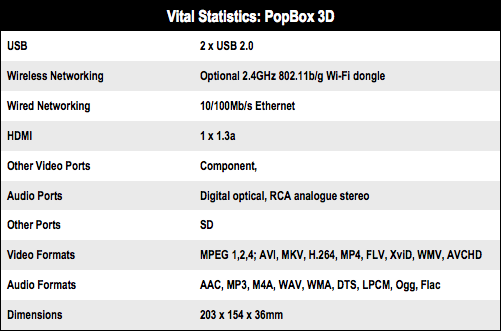 App my box up
Any disks linked directly to the PopBox appear as a shared drive on your computer, but unlike some media streamers you can't drop media onto it over a network - creating a Nas-like experience from a normal external disk drive - which is a shame.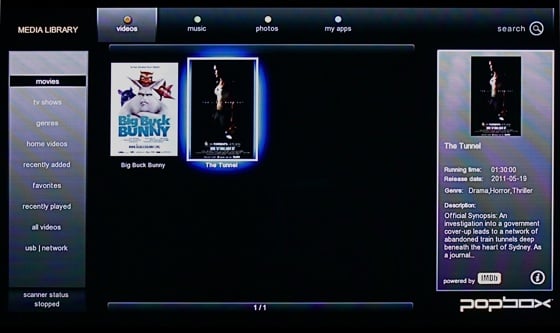 PopBox populates its movie listings with film posters and IMDB info
There's no built-in Wi-Fi but you can attach the £20 WN-150 wireless dongle, though it uses up a USB port.
About 40 apps are available for the PopBox, including YouTube, Blip TV, Shoutcast, Picasa, Photobucket, Flickr, Weatherbug, Twitter, Facebook and the aforementioned iPlayer in the UK, which is fast and effective. As yet there are no premium movie rental services like Lovefilm.
There's an auto video output mode for the HDMI port, or it can be forced into 720p, 1080i or 1080p. However, the frame rate is fixed at the US-oriented 60Hz, so PAL (50Hz) material is adjusted during playback. Although this isn't ideal, it nevertheless does a relatively good job. The general picture quality is fine and it has an option to output at 24 frames per second when compatible source material is detected.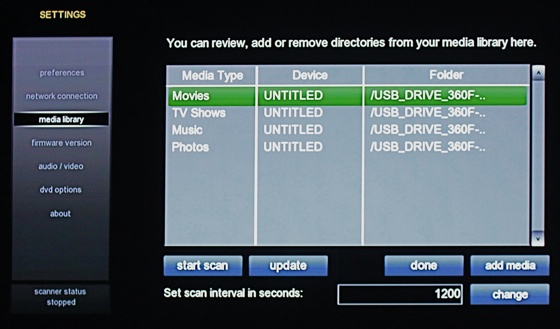 Access you shares, which the PopBox will index
I wanted to check its component video output too, but this was faulty, which is not a good sign.
Font of formats
The player is compatible with the usual media formats and even some less common ones such as APE audio and the new MKV3D standard. Other 3D videos play if they use the side-by-side or top-and-bottom format, but according to the small print, it won't deal with 3D Blu-ray rips or perform 2D-to-3D conversion.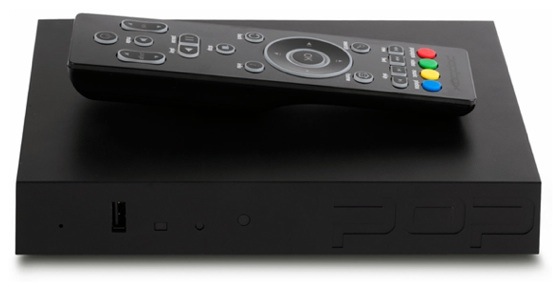 The remote, at least, is user friendly
Various subtitle and alternative audio tracks can be accessed too. It passes DTS 5.1, Dolby Digital and TrueHD through HDMI or downmixes to stereo if needed, with an alternative optical output for 5.1 audio.
As expected, it won't play copy-protected files, including iPlayer programmes downloaded to PCs, or protected WMVs – such as Blinkbox movies – and purchased MP4 films from iTunes, including digital copies that you can download after buying a DVD or Blu-ray. Of course, if media files are unencumbered by DRM protection, the PopBox will have no trouble handling them. As a piece of hardware, it doesn't care where your music and movies have come from.
Verdict
Media streaming is never going to be a straightforward process but the products that succeed are the ones that hide the complexities and 'just work'. The PopBox is simple enough when using an attached hard drive but as soon as you start poking about with network sharing and large libraries, this box isn't so clever.
It's expensive compared to its most similar rivals - especially when supplier Advanced MP3 Players wants more (£139) than the US equivalent ($130), even allowing for VAT and import duty - and often too finicky to get on with.
Perhaps a couple more firmware updates will make it a better proposition, but with its current recipe, this bite-sized taste of Popcorn is more sour than sweet. ®
Thanks to Advanced MP3 Players for the review sample
More Set-top Box Reviews

Virgin Media TV
Powered by TiVo
Echostar
HDS-600RS
TVonics
DTR-Z500HD
Icecrypt
T2400
Humax
HDR-Fox
T2