Original URL: https://www.theregister.co.uk/2011/06/28/games_review_fear_3/
FEAR 3
Fright or flight?
Posted in Personal Tech, 28th June 2011 13:00 GMT
Review If you've not followed developments in the FEAR franchise of late then you might be left somewhat puzzled by FEAR 3's initial goings-on – the game plunging the player into a set-up which is never particularly embellished or explained. Waking in a prison, series protagonist 'Point Man' must not only put up with his rather mundane moniker, but also once more set out in pursuit of his apparitional mother Alma – she being the root of all evil, cause for the end of days and so forth.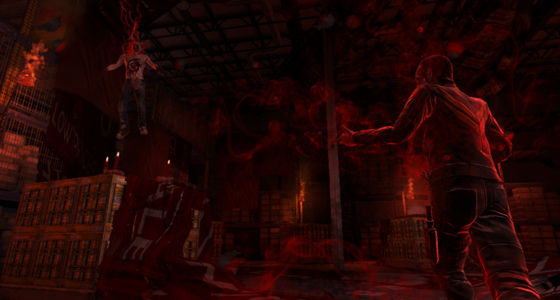 Hang in there
Luckily – though perhaps unluckily might be a better description – Point Man also has the malevolent spirit of his dearly departed psychotic brother, Paxton Fettel, in tow. Fettel, like Point Man, is also apparently on a preordained path to meet their mother, but as a raving lunatic, has a rather different view of the end of the world. Despite their differences (Point Man did after all fire the shot that killed his corporeal body) the two set off in begrudging tandem on their way to the inevitable showdown with mummy dearest.
Players will initially begin in Point Man's shoes, he being of the standard FPS mould. Expect him to soak up damage before magically regenerating, be able to instantly wield any and all weapons, sprint in short bursts and mêlée at close range.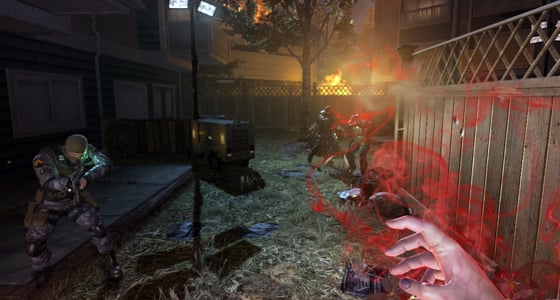 Blood curdling?
He's also able to take advantage of his super-fast reflexes to see the world in slow motion (albeit in short bursts) which helps when taking out groups of hostiles. What's more, clearing any stage will unlock the ability to play through the same section as Fettel, adding a little longevity to proceedings.
Sequel you say?
Fettel handles a little bit differently – given his predilection for the macabre over the machine gun – and so fells foes with a mixture of telekinesis, energy blasts and possession; assuming he's consumed enough souls of the dead to power his psychic conflagration. The two can also co-operate in FEAR 3's most publicised feature, the local or on-line two-player mode, but here's where it begins to become obvious that a new developer has taken over the franchise, the baton having been passed from Monolith to Day 1 Studios.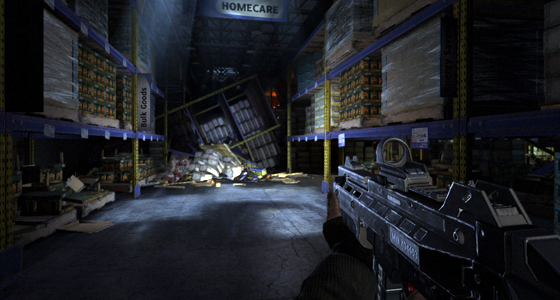 Drop in the stock market
Up until now FEAR as a franchise has always been about atmosphere, often eschewing fire fights in favour of taut explorations of lonely buildings, complete with tricks of the light and sound effects to make even the bravest feel uneasy in their skin. It has been akin to the videogame version of The Ring, a subtle but terrifying exercise in, for want of a better description, fear.
By putting emphasis on co-op play, thereby feeling obliged to keep players moving from encounter to encounter, Day 1 has lost any sense of mounting tension, losing FEAR's unique selling point simultaneously. In fact, the scares are so diminished that the only links between this and previous games in the series are the names of the characters and the story arc which, having finished the game, is neither rewarding nor particularly revelatory.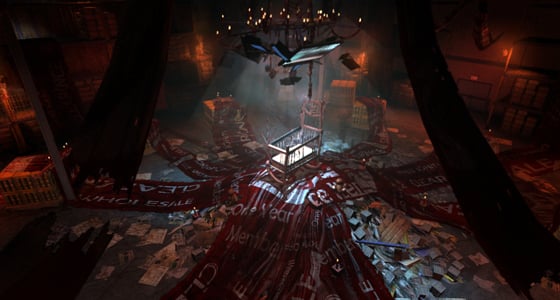 Messy crib
Even in single player the atmosphere is similarly lacking – a real shame as the few scant sections where the ambience reverts to type are enough to hint at what might have been. Instead, what we're presented with is ostensibly an inferior Call of Duty clone, sporting second rate visuals, the worst AI yet seen in the series and featuring some particularly irksome set pieces.
Screening content
Take, for instance, an encounter in the last third of the game by which point metaphysical fiends have become the cannon fodder of choice. Having fought my way into a garage, my only choice is to hit an enticingly glowing green button to open some shutters. As the shutter grinds slowly upwards, I'm attacked by infinitely spawning fiends, all of which can absorb serious punishment before succumbing – and that's when you manage to shoot them, so fast are their movements.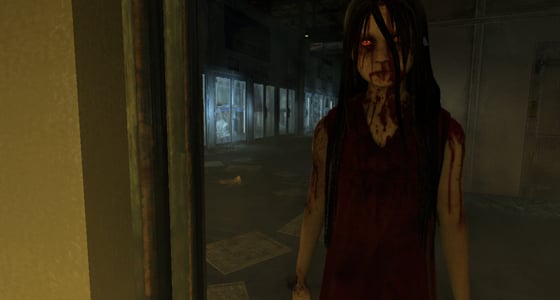 The lady in red
To progress, you'll have to wait until the shutter is up fully, hit the button on the other side and wait for it to close again, and all while under attack by multiple enemies capable of felling you in three swipes. I might never have screamed out of fright while trudging my way through the game, but I wasn't far from it due to sheer frustration – and that was on medium difficulty.
I'm all for a challenge, but upon finally emerging victorious it wasn't so much exhilaration I was feeling, as overwhelming apathy for the whole experience.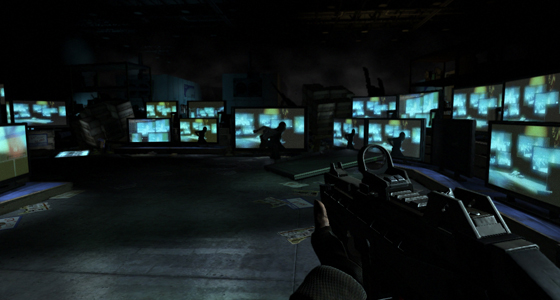 Full of screens, not screams
Co-op play does take some of the sting out of these more frustrating scenarios, not least because fallen comrades can be resuscitated, but really that's scant excuse for the inclusion of such exasperating level design.
Soul searching
Even more baffling is, that at the end of each section, your exploits will be graded on the game's score system, with the better player winning the 'favourite son' tag. Theoretically, this adds longevity to the game – not least because the ending differs depending on whether Point Man or Fettel are the dominant party – but even the rocket-blasting mech sections fail to elicit much desire to go through them a second time.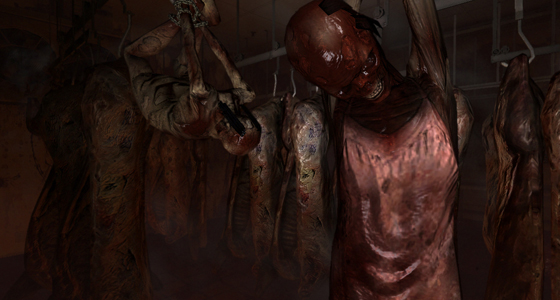 Nice to meat you
Other multiplayer sections do at least offer some kind of different experience, the best of which being 'Fucking Run!' which sees players dashing to the next checkpoint as an encroaching wall of death threatens to engulf them. It's tense and enjoyable – particularly when your team makes it by the skin of their teeth – and, while hardly enough to justify purchase on its own, could have made a cool download-only experience.
Other, less revolutionary modes of play include 'Contractions' where you'll fend off waves of enemies, 'Soul Survivor' which bids a corrupted player to pick off his allies and 'Soul King' where you collect souls from downed enemies.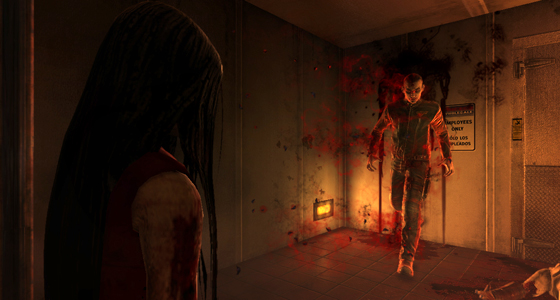 Watch your step
Verdict
If you just have to know how the fates of Point Man, Fettel and Alma pan out, then there's (just about) enough of a game here to warrant your time – particularly if you have a friend up for the challenge. Alas, if you are that invested in the story it might suggest you're also a fan of the previous games and FEAR 3 is so different from them that you might come away disappointed, regardless. If on the other hand, you are considering FEAR 3 as a series starting point then you'll be equally disenchanted by the lack of clear narrative and seen-it-all-before gameplay – scary stuff indeed. ®
More Games Reviews

Dungeon
Siege 3
Child of Eden
Alice: The
Madness Returns
Infamous 2
Duke Nukem
Forever