Original URL: http://www.theregister.co.uk/2011/06/27/review_netbooks_samsung_nc110/
Samsung NC110 matte-screen netbook
Innovation, we've heard of it
Posted in Personal Tech, 27th June 2011 11:00 GMT
Review Tight spots don't come much trickier than the one netbook makers find themselves in. Squeezed from above by prettier, more interesting tablets, netbooks such as Samsung's £350 N350 are barely appealing alternatives to Apple's glossy view of the future.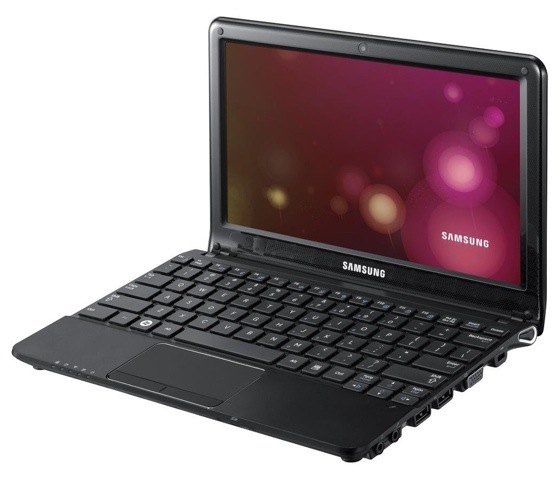 Samsung's NC110: more of the same, but with a gloss-less screen
And take the new NC110 out of the box and it looks, depressingly, like business as usual. There's a 10.1in screen, a dual-core Atom processor and 1GB of RAM, all of which adds up to just enough to run Windows 7 Starter edition, assuming you're brave enough to remove the processor-crushing irritation that is Norton Internet Security.
Its specifications are actually almost identical to those of the four-month-old N350, with the only significant difference a slight dip in price, from the N350's nicely symmetrical £350, to £329. The price drop brings with it a larger battery: six cells to the N350's three.
Build quality is good. Like Samsung's previous netbooks, such as the NF210, the keyboard is solid, and while there's a degree of flex in the chassis it's nothing to suggest the NC110 won't survive a fairly hard travelling life.
The screen offers a little more wiggle, but doesn't show up bruising when the back is pressed. Speaking of which, the NC110's lid is available in various different colours, with my review unit finished in a particularly repulsive dark purple. Go for the black one.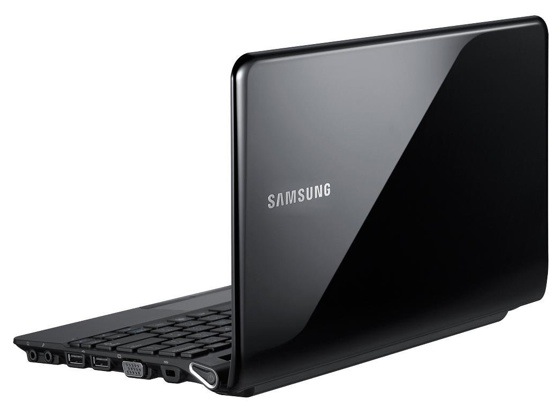 The port array is blocky - and basic
Powered by a dual-core 1.5GHz Atom N550, the Samsung should be capable of most tasks, but it's the 1GB of 533MHz Ram that holds things back. Alt-Tabbing between open applications is sluggish, and common applications such as Google Docs run appallingly slowly.
Thanks for the memory - not
A fresh stick of Ram should be your first purchase but, irritatingly, there's only one SO-DIMM socket in the underside of the NC110. It's easily accessed, but upgrading the memory means either eBaying or binning a perfectly good stick of Ram or, even more annoyingly, engaging with eBay to get rid of it. Ordinary punters will probably just put up with an arguably underperforming machine.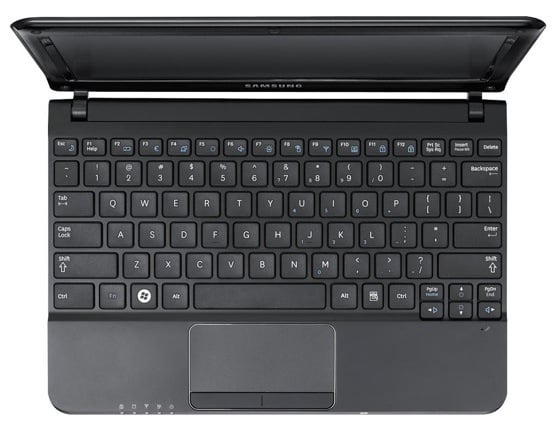 The small chiclet keyboard is pleasant for rattling out emails
The NC110 turned in a set of unsurprising results under testing: 1642 in PCMark Vantage Pro is roughly par for the course for an NC110 netbook, and compares favourably to Samsung's other recent machines - again, not a surprise given they share a basic specification.
Storage is provided by a mechanical, 250GB hard drive, and given the NC110's underwhelming performance an SSD should be near the top of your wishlist, although you'll have to unscrew and unclip the entire bottom plastic panel in order to access the existing disk. Still, 250GB is a decent amount of space, while one powered and two un-powered USB ports give options to those who need more.
The mechanical hard disk doesn't seem to hurt the NC110's battery life too much. The NC110's battery is an extended, six-cell block that barely disrupts the machine's smooth lines, other than providing the laptop's angled poise when on a flat desk.
Tasked with running PCMark Vantage until death, the NC110 soldiered on for an impressive four hours 46 minutes, while simply leaving it alone with the screen on and nothing else happening produced a lifespan of just over nine hours.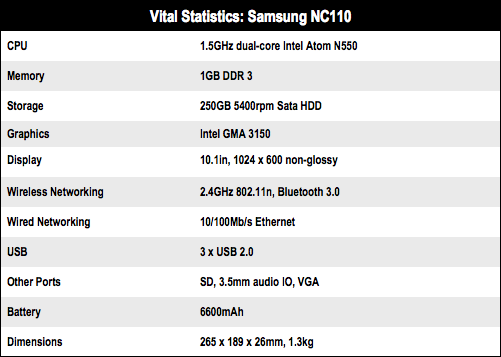 Benchmark Results
PCMark 05
CPU

Longer bars are better
Memory

Longer bars are better
HDD

Longer bars are better
Battery Life

Battery life in Minutes
Longer bars are better
Innovation deficit
The 10.1in, 1024 x 600 screen is a good one. It's bright and neutral, and in these days of irritating, glossy panels it's refreshing to note a matte finish, which means you can comfortably work without being distracted by what's going on behind you or the glare of reflected light.
A slight irritation is that it doesn't open very far: only to around 100°, which felt too shallow on the desks I tried it on. Being able to tilt it back further would allow for more comfortable viewing.

The lids come in many colours
It's otherwise a comfortable laptop. The price might be bargain basement but there's a solid feel to the base, which in turn makes the small chiclet keyboard pleasant for rattling out emails. The small keys take a little getting used to, but they're raised prominently from the base and you'll forget about them after a few hours.
Elsewhere, Samsung keeps life simple, which is fair enough on such a cheap machine. Gigabit Ethernet is eschewed in favour of a mere 10/100Mb/s port, while VGA gets the nod over an arguably more useful digital standards such as DVI, HDMI or DisplayPort. There's a handy SD card slot in the front of the machine, but no hardware switch for turning wireless on and off.
Verdict
It's easy to see the NC110 as indicative of the netbook's path over the next few years. The amount of power on tap has slowly increased, the price has gently declined, but neither is really moving fast enough, to say nothing of the dire lack of innovation.
The NC110's battery is a definite high-point, and for those who simply want an all-day machine that will handle gentle tasks reasonably well, it's a decent deal, particularly at its current street price of £280. But would it kill netbook designers to come up with something inspired? ®
More Netbook Reviews

Dell
Inspiron
Duo
Toshiba
NB500
Samsung
N350
Asus
Eee PC
1015PEM
Asus
Eee PC
1215N