Original URL: https://www.theregister.co.uk/2011/06/25/review_panasonic_dmr_bwt700_hdd_blu_ray_recorder_combo/
Panasonic DMR-BWT700 HDD and Blu-ray recorder combo
Unspoilt by progress
Posted in Personal Tech, 25th June 2011 07:00 GMT
Review Panasonic has a reputation for building digital TV recorders that have impressive features, but are about as user friendly as an angry dominatrix. Maintaining at least one tradition here, the DMR-BWT700 certainly doesn't skimp on the feature front. It has a 350GB hard drive on board, packs a Blu-ray recorder and can burn discs of both HD and SD broadcasts from its integrated Freeview HD tuner.

Recording industry: Panasonic's DMR-BWT700
On top of this it also acts as an entertainment hub, by offering internet TV support and digital media playback either from USB devices or across a network from a PC or NAS drive. The question is, has Panasonic managed to wrap this all up in a user interface that doesn't require you to have a Nasa engineer at hand to help you operate it?
At its most basic level, the BWT700 is essentially a Freeview digital recorder. It has two Freeview HD tuners on board so you can use it to pause and rewind live TV or schedule recordings from its EPG. As with most twin tuner PVRs, you can record one channel while watching another, or if you're really greedy you can have two recordings running at the same time.
It also supports chase play, so if you arrive home from the pub to find its recording the darts, you can start watching the program from the beginning while the box is still recording the end.

The usual suspects
When the box is recording Freeview channels, whether SD or HD ones, it's really just saving the raw digital transport stream to to the hard disk, so recordings are identical to the original broadcast. And while the 350GB hard drive isn't exactly massive, it does allow you to record around 80 hours of HD programming or just over 150 hours of standard definition broadcasts.
Indirect to disc
Unfortunately, you can't actually record directly to Blu-ray discs. Instead, shows have to be recorded to the hard drive first and then archived to Blu-ray later. Still, when you're archiving shows you have more control over the recording quality, as there are a variety of bit rates available to allow you to fit more content on a single disc.

The remote layout is easy to read and there's an iPhone app control option too
These options range from pretty acceptable trade offs of size versus quality, to really quite rough looking options that take up minimal space.
And while the BWT700 is generally quite quiet in operation, when it's burning shows to Blu-ray discs, the whirr from the drive becomes pretty noisy. Nevertheless, recorded discs seemed to play fine on a range of players including a PS3 and Sony BDP-S570, but unfortunately they didn't agree with a Samsung HT-BD1252, which refused to play them.
Naturally, the BWT700 can be used as a Blu-ray player as well as a recorder and it supports 3D Blu-ray discs too. The overall play back quality is generally excellent, and loading is fairly quick. For example, it took 59 seconds from putting X-Men Origins in the tray until it showed the Fox logo, which compares pretty favourable against most of today's players. The deck also has a 2D to 3D conversion feature, but while it's fun to try out, the results are generally mixed and not all that great. Personally, I doubt if this feature would get much use over the long term ownership.
On the media streaming front, I had expected the BWT700 to be pretty impressive, as Panasonic's latest TV's will work with pretty much any file format and connect to most Nas drives. However, that's sadly not the case with this model. It'll only stream JPEGs and AVCHD files across a network, but it flat out refused to connect to my Nas, even though I could select it in the player's menu. Things work out better when it comes to local storage, as the BWT700 played back HD MKV and Divx files without any problems, although folder navigation can be a bit of a nightmare.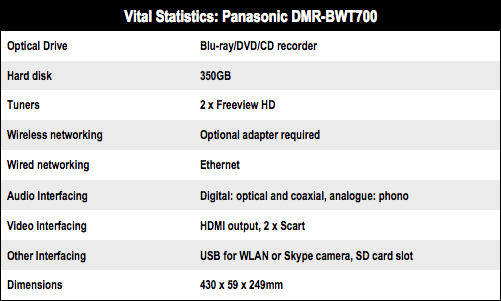 Ageing Cast
It's also a bit disappointing when it comes to the line up of internet services. The player uses the older Viera Cast IP TV system rather than the newer Viera Connect one found on Panasonic's latest TVs. As a result, you miss out on some key services, not least of which is BBC iPlayer support. Nevertheless, there are still some useful services here including support for Skype alongside YouTube and the Acetrax movie rental service.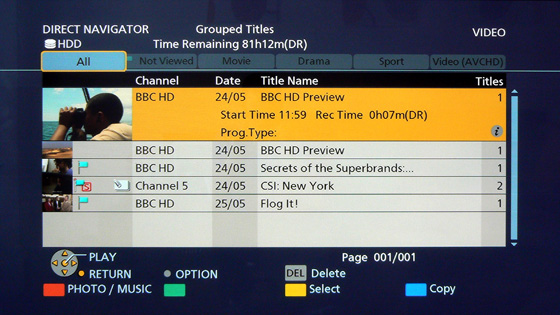 Navigation isn't the most intuitive aspect of this recorder
So the BWT700 is certainly not lacking when it comes to functionality. However, products are not purely about features, they're about usability too and unfortunately this is where the BWT700 comes a bit unstuck. Although some operations are pretty simple and straightforward, there are times when the recorder is downright obtuse and you'll likely to find yourself deep in the manual in the first couple of weeks of ownership.
Verdict
Indeed, it's a shame Panasonic hasn't made made any significant changes to the user experience, including those godforsaken EPG ads. Given what you get on the company's tellies the internet services and digital media streaming support should be better too. In other areas, the Panasonic DMR-BWT700 performs well, the recording and playback quality is top notch and it's packed with features which techie-minded folk will get on fine with it, but others will find it a bit of pig to use. ®
More AV Gear Reviews...

Samsung
HT-C6930
Arcam
FMJ BDP100
Panasonic
SC-BTT775
Virgin Media TV
TiVo
Sony
BDV-E370