Original URL: https://www.theregister.co.uk/2011/06/24/review_ssd_samsung_series_470/
Samsung Series 470 250GB 2.5in SSD
Solid-state stunner
Posted in Personal Tech, 24th June 2011 06:00 GMT
Review Reg Hardware first reviewed a Samsung SSD - the South Korean giant's first, and a device aimed at computer makers rather than upgrade-hungry punters - way back in March 2009. Rather keen we were on it too.
But that was two years ago - how has Samsung managed to improve matters in the meantime?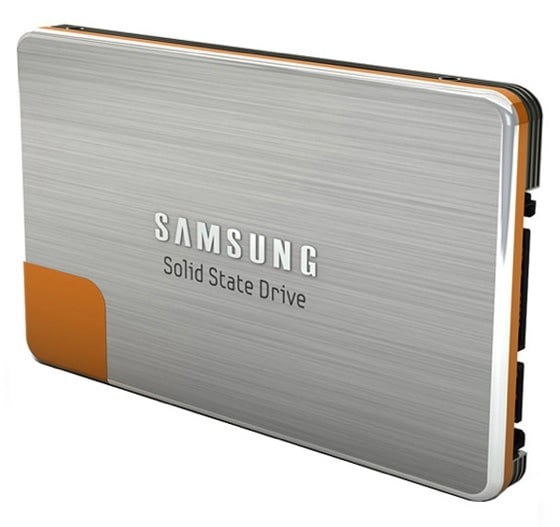 Samsung's Series 470: cornering the market?
Currently available in the usual 64GB (£110), 128GB (£180) and 256GB (£400) capacities, Samsung isn't going too wild with this one, except for perhaps the chrome and orange finish.
Despite the casual capacities and reasonable pricing, Samsung has sunk a considerable amount into R&D on this one by designing its own controller rather than doing the usual and buying in a SandForce or Marvell part.
It's called the S3C29RBB01-YK40, and Samsung claims it will allow the 256GB model I have here to read at 250MB/s and write at 220MB/s through its 3Gb/s Sata interface.
The closest rival to Samsung's new toy is Intel's 320 series, which is very similarly priced and also features a 3Gb/s Sata interface. Before I get technical with this one, here's a quick real-world time comparison between the two: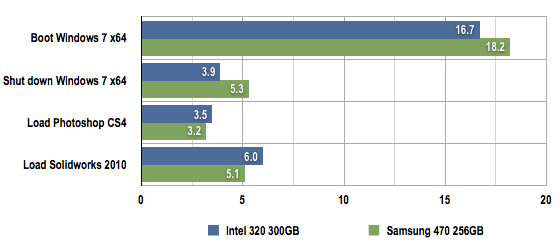 Times in Seconds
Shorter bars are better
As you can see, the Intel drive seems to have a slight edge in booting and shutting down, but the Samsung drive claws back some glory in being quicker on the application front.
Smart on Sata II
To be honest, both of these drives feel identical to use on a fresh Windows 7 Professional x64 install, so let's pull them apart (figuratively):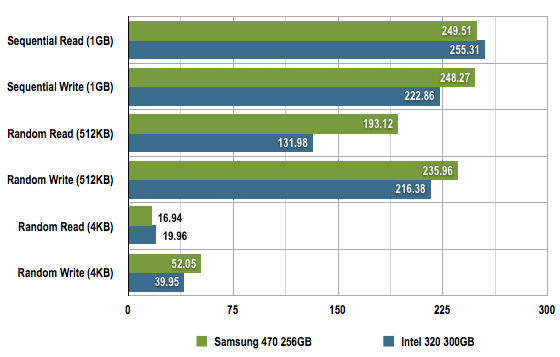 Throughput in Megabytes per Second (MB/s)
Longer bars are better
Crystal DiskMark brings good news, with the 470 effectively hitting 250MB/s for sequential read , and although I wasn't able to see the claimed 220MB/s writes, it did blow past the Intel drive in most of the other tests, most notably the 512KB random read.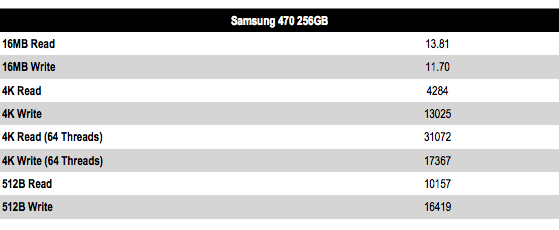 IOPS
The AS SSD numbers are equally impressive, demonstrating the huge advantage SSDs have over magnetic media. With peak read IOPS at 31K and writes topping out at around 17K, the Samsung 470 is very much similar to Intel's 320.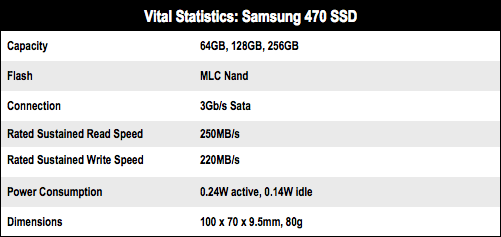 Crunching the numbers
And to round it off, ATTO confirms the same results as seen in the previous tests. This drive is really pushing the limits of its 3Gb/s Sata controller.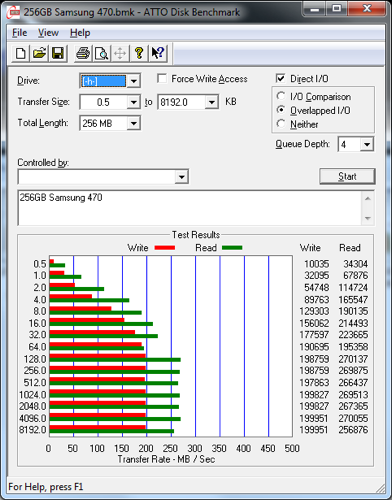 I must say I rather like this drive. It's priced almost identically to Intel's 320 drives, but does seem to have a slight performance edge over them. It may not be available in such large capacities, but it you're looking for a drive on a budget you won't be opting for 500GB or more, anyway.
Verdict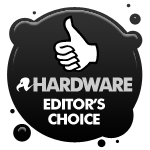 No matter if you just want a 64GB boot drive or you reckon your whole system will fit on 256GB, Samsung's latest delivers what it promises and as such, is deserving of a large chunk of your attention.
Even if the current Sata limitations cramp your style, this is certainly a line of drives worth watching, even if you don't grab one this generation. I for one am looking forward to 6Gb/s Sata offerings from Samsung in the future. ®
More SSD Reviews

Intel
510 300GB
Crucial
M4 256GB
Iomega
128GB USB 3.0
SSD
How I learned
to stop worrying
and love SSDs
Seven...
SSD Sizzlers