Original URL: http://www.theregister.co.uk/2011/06/24/games_review_dungeon_siege/
Dungeon Siege III
Crawl through the clichés
Posted in Personal Tech, 24th June 2011 11:30 GMT
Review Recently, I battled through Dragon Age 2, Two Worlds II and spent some serious time immersed in Witcher 2. Now here comes Dragon Siege III. All these sequels - summer must have come early, I thought.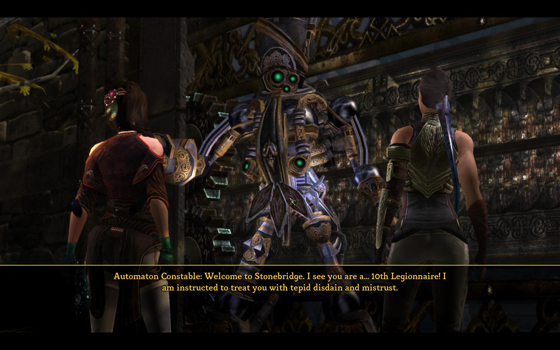 Learn the mechanics
As back-stories go this is run-of-the-mill stuff with more than a few of the customary unpronounceable names thrown in. Thirty years ago, the Tenth Legion was almost completely destroyed by power-hungry Jeyne Kassynder, a real nasty witch bitch. Now, it's time to rebuild the legion, defeat Jeyne Kassynder and save the Kingdom of Ehb from civil war. This initial stage is where the game's dull production quality and boring narrative assures I that won't go back and run through it again with a different single-player character.
The strange choice of sepia montage for the intro and the cut scenes left me initially unimpressed with the look and feel of this game. Everything so far yells 'cheap!' But that's until I cast some spells - lucky it runs DirectX 11!
Once it appeared, I did like the look of the player menu, which seemed much more polished, pretty and clearly showed my inventory and stats. Along with the usual stats there is some new stuff - for me - I had to get my head around: Doom and Retribution had me trawling the help menus.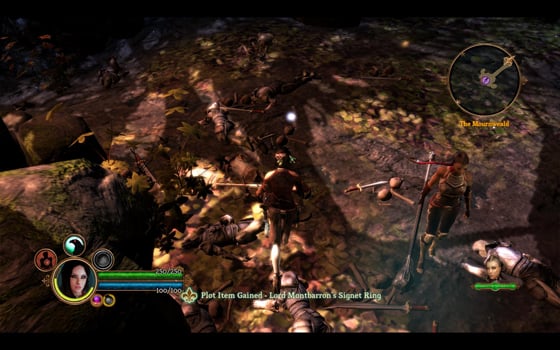 No place like bone
As I got further into the game, the graphics got a little better, and I warmed to the environments in Dungeon Siege III, which mostly looked detailed and textured but nothing I hadn't seen before. The dark and brooding forests in my starting zone quickly made way for towns, forges and even the odd haunted mansion. But there's nothing new here and you could say this gaming environment looks as antiquated as the narrative.
But attention to detail isn't something to be sniffed at and it's here in abundance.
Choose your shoes
Dungeon Siege III starts by giving me a choice of four characters. Of course, I chose Katarina with the guns. Who wouldn't want to be a hot chick descended from a witch and a legion commander, and whose specialties are warfare and magic? Shall I break out the bullets or the black hound? Trouble is, that's my limit. Customisation here is minimal at best.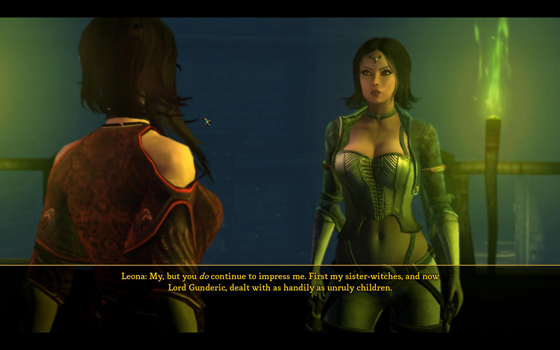 Red and green should always be seen
Each character is vastly different in style, attacks and equipment. Firstly, there is Anjali - this chick is basically all about torching those baddies or sticking them with her spear. Then Lucas Montbarron, all chop-chop, hack-and-slash swordsmanship. And finally Reinhart Manx who combines logic with mage skills and some nifty traps. You always work as a team with one of the other characters as an AI - and not a very bright one, at that - over whom you have no control apart from picking their abilities.
The combat is very action focused, and I spent at lot of time dodging swordsmen and tiny white spiders so I could keep out of range. I always pulled out my pistols when confronted by multiple opponents. In pistols mode, I could summon and attack with my mutt. My first block ability, confusingly accessed by the space bar (jump, jump) gave Katarina health regeneration. Controls on the PC are generally poorly thought out, I should say - a sign that it's a console port, or what?
Even though the combat is the best thing about this game and is, admittedly, fun, it's not up there with the latest RPGs, like those listed above.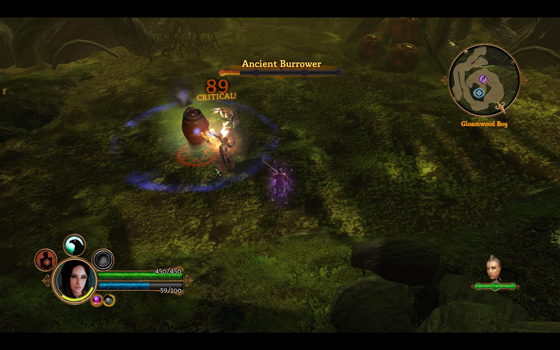 Am I being too critical?
Leveling up, I got points towards purchasing proficiencies, talents, and with points for putting into your abilities for stronger attacks, draining my enemies' attacks and buffing my health. Unfortunately, I felt that all the characters would become generic by the end of their narrative because there was a talent twig rather than a talent tree. I was impressed at how my character's armor upgrades all looked detailed and this is followed through to the end of the game where I had taken on a whole new visual persona.
The line is drawn
Dungeon Siege III is very linear. I didn't have much choice about which areas I visited in which order, but I got rewarded for poking about enough to stumble across some goodies. Just like World of Warcraft, I have several quests going on at the same time but can choose which I want to complete first. Pressing R to follow the yellow-dot breadcrumbs to the active quest saved me a lot of time.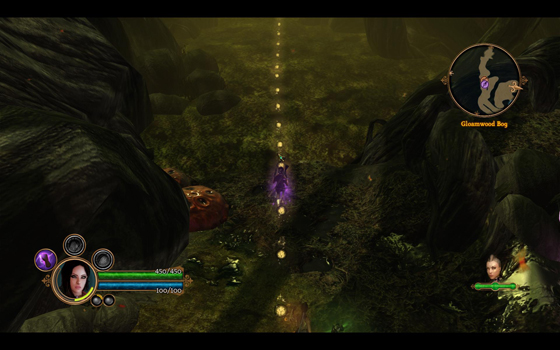 Follow the yellow dot road
The cut scenes are too long, though they do embellish the narrative, such as it is. I have to admit to skipping some of the especially bad dialogue. There's way too much of it in this game. Unlike the dialogue in LA Noire, the story's not good enough to make you wait around.
Dungeon Siege III has a lot of loot. Who doesn't like loot? Not only could I pick up treasure for myself but for other characters too in co-op mode. Trading it to friends will definitely improve your chances and it was easy to identify which piece of equipment belonged to which character.
Apart from gold drops there are four classes of loot: white for common items, green items are uncommon, and blue are rare. There are also Artifacts, which only pop up in special locations. But the amount of treasure couldn't make up for the fact that I often felt like I was raiding an overflowing rubbish bin as none of it really felt that special and it hardly felt worthwhile pressing a key to collect such junk.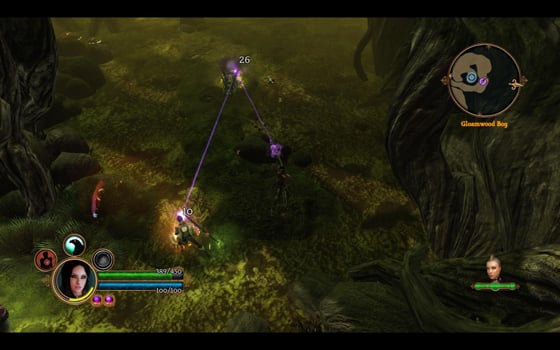 Team purple
Verdict
There is no denying this game has fun combat, but where developer Obsidian really dropped the ball is the multiplayer mode, which gives you almost no control - all the characters have to stay on the same screen at once - leaving feeling like your very much along for the ride rather than an active participant. You can't even import your own character or export any of your loot.
If a noob brought this for my birthday, I wouldn't be too ungrateful - after all, I always wore that tasteless lingerie my ex bought me. In short, Dungeon Siege III is a bit pants. ®
More Games Reviews

Child of Eden
Alice: The
Madness Returns
Infamous 2
Duke Nukem
Forever
Red Faction:
Armageddon