Original URL: https://www.theregister.co.uk/2011/06/23/ten_festival_gadgets/
Ten... festival survival gadgets
Happy camping
Posted in Personal Tech, 23rd June 2011 12:00 GMT
Product Round-up With Beyonce's bouncy appearance at Glastonbury just days away, the festival season is well and truly underway and unless you sell wellies, you're probably praying for sunny skies. It can't hurt to be prepared for the worst, though.
So as you don those prosthetic horse-heads and gallop off for another weekend of hedonism, we sit in our office trying not to be bitter about being left behind, while putting together this fitting roundup for your benefit.
Here's ten of the handiest gadgets to help you out - to improve your festie experience and prevent you from being robbed, drenched or left without friends.
Doberman Perimeter Alarm

Call me paranoid, but we've all had valuables go missing at festivals and it's common for thieves to enter tents when nobody is around. The Doberman Perimeter Alarm is an infra-red security system bound to keep single brain cell criminals in check.
The Doberman spreads an IR perimeter in a 90° sweep reaching 15 feet and turns any tent into mesh of invisible tripwires. If the perimeter is breached, assailants are met with a 100dB alarm sound and will be too busy holding their ears to escape.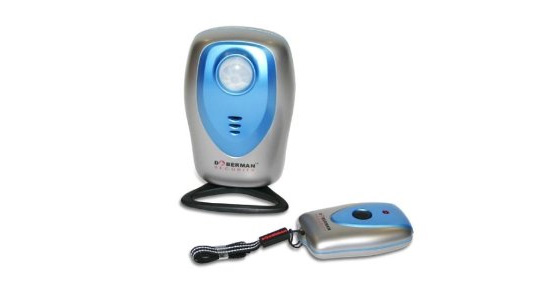 Price
£17
More Info
Doberman
Etón Scorpion

Eco-friendly products are always good at festivals, not simply due to getting kudos from the surrounding tree-hugger community, but because carrying spare batteries is a 20th Century burden that should be redundant.
Green-tech specialist Etón, which previously brought us the solar-powered iPod dock, also offers this little jack-of-all-trades.
The Scorpion is a splashproof multitasking machine that features a built-in LED lamp and USB charging ports for mobile devices. It's quite the musical companion too, with an FM tuner and line-in, so campers can connect up their MP3 players and annoy any neighbouring Keiths and Candice-Maries.
While the Scorpion can be charged by the mains, it comes with both a solar panel and a handle for crank-power, with an indicator to let you know how replenished the juice is.
If that isn't enough, there's a bottle opener as well. A steal for under £50, surely?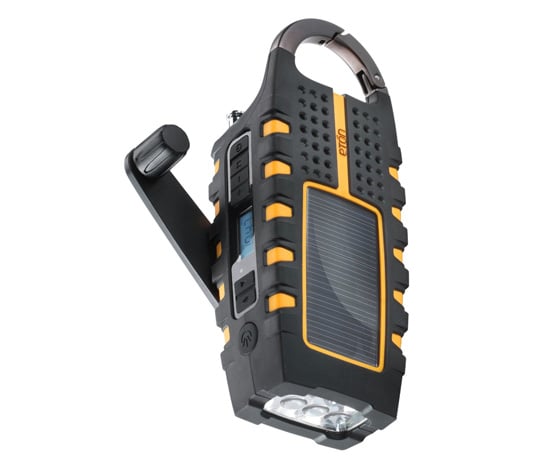 Price
£40
More Info
Eton
Loc8tor Lite

At Bestival a few year's back, I was led around the site's entire circumference while helping a certain lady try finding her tent. "It's near a teepee," she said. "There's toilets in the distance," she cried. As you can imagine, the effort was fruitless and she eventually came back to my camp. Pity.
If only we had modern technology to fall back on. The Loc8tor Lite is a credit card-sized device for finding lost possessions. Simply leave one of the supplied mini-homing tags in your tent and, using radio frequency tech, the Loc8tor handheld beeps you in the necessary direction.
With support for up to to four tags, you could even stamp your valuables in case they go walkabout.
There is a maximum distance of roughly 400ft, so if you're trying to find your tent from afar, you may still stumble. After over-indulging on the local produce, it may be a tricky ask to even remember which field you're in. The Loc8tor Lite could be the guiding hand you need.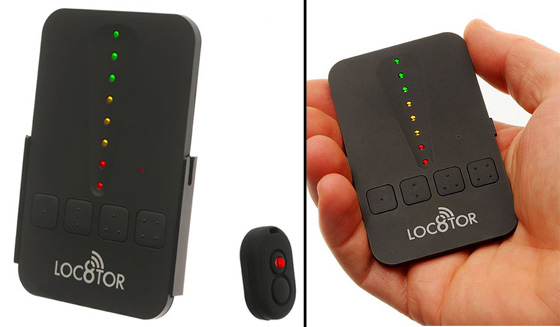 Price
£50
More Info
Loc8tor
Motorola TLKR T8

We all know how dodgy phone signals can get at Glastonbury and keeping in contact with the entourage is seldom easy. Not only do walkie-talkies help in the circumstances, but for added fun, you can hack into other camper's broadcasts, winding them up with immature messages and false instructions. Pathetic I know, but it never ceases to entertain.
I once brought a set to Glasto a few years back, only for them to completely die after cooking in my tent under extreme midday sun. Unlike those cheapo models, the Motorola TLKR T8s are built to last. They're also splashproof, so while they probably wouldn't enjoy a Glasto-onslaught such as the floods of 2005, they should survive the average torrential downpour.
The T8s pack an LED torch, the ability to group call multiple handsets and a decent battery life of 16 hours. While there are alternate options with a longer range, 10km should be sufficient and there are plenty of channels to connect through.
With a set of these, at least you know you'll get 'rogered' at the next festival, no matter how filthy or starry-eyed you look. Over and out.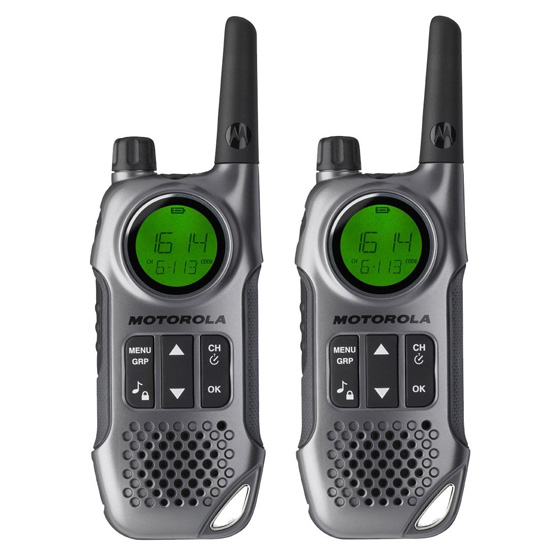 Price
£90
More Info
Motorola
Olympus Tough TG-810

Everyone wants to remember their time at a festie and many of us have to rely on photographs in order to do so. When being stuck in a few feet of mud is often the only reason we remain balanced, bringing an expensive micro four thirds is asking for trouble. Likewise, do you really want to see your expensive smartphone sink into the ooze to be lost forever?
The Olympus Tough TG-810 is a 14Mp camera that withstands the elements. It's waterproof to 10m, can be dropped from 2m, survive the cold down to -10°C and even a crush of up to 10kg in force. Getting those snaps home in one piece should be easily achievable. Getting them in focus on the other hand is a different prospect entirely.
Of course, rugged photography comes at a cost and if you've already got a decent camera, you probably don't want to fork out for another. Dozens of waterproof cases are available too, should you wish to stick to your trusted model. More on that later.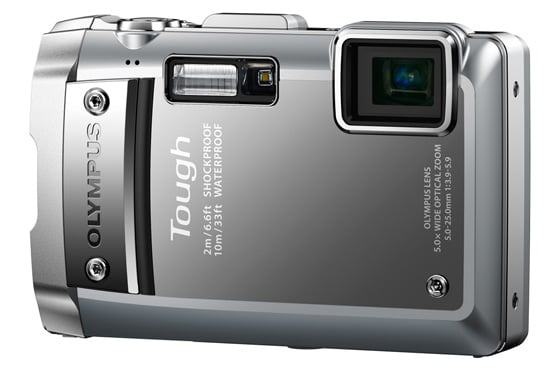 Price
£270
More Info
Olympus
Salewa Sigma Hot Flex

Comfort may not be the first thing on your mind at a festie, although the subject will certainly arise at some point. Struggling to squeeze into a spot alongside the fire can always leave campers craving a warm bed.
Instead of jumping on the bandwagon with a full-body sleeping bag though, why not look at getting a heated one?
Salewa manufactures the world's first heatable sleeping bags in co-operation with Therm-ic. An external heating box connects to the bag at foot level and can be removed for an easy wash. Depending on the battery, campers can heat feet for up to 1.5 hours a day over three levels of intensity.
Nothing quite says 'come back to my tent' like a heated sleeping bag. Even if only one of you will fit into it.
Regretfully, the Sigma Hot Flex is on the expensive side of things, but can you put a price on being as warm as a teepee dweller?


Price
£160
More Info
Salewa
Scosche goBat II

If you and yours bring tablets to a festival - the electronics type, natch - you're probably going to be faced with a dead battery at some stage. And unless you've ingeniously packed an old brick, your mobile phone is likely to hit rock bottom too.
When cranking a handle for hours is an daunting option, a backup charger provides a less strenuous alternative. If you're at Glastonbury you could always venture down to the Orange tent and give its Sound Charge T-shirt a whirl, although we suspect you won't get very far with it.
So how about a Scosche goBat II? It features a 5000mAh battery which can be used to recharge multiple devices at once. Featuring two charging ports - a 10W connection specifically designed for tablet use, and a 5W option for everything else - the goBat could be just what the doctor ordered in dry times.
Of course, when the charging station is dead, you're doubly screwed and have even more to carry, but at least it'll make your precious pad last that little bit longer.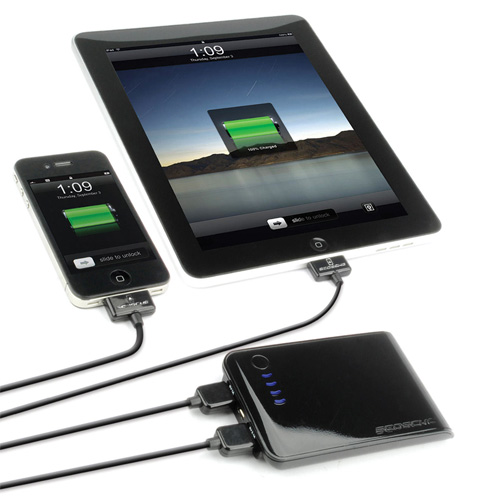 Price
£60
More Info
Scosche
Solar Powered Sonic Mosquito Repellent

It's all about the buzz at festivals, as long as we're not talking mozzies. Nothing is worse than waking up after a night of naked debauchery to find yourself fending off hordes of tiny flying vuvezuelas and scratching open any of their landing successes.
Turn your camping area into a no fly zone with this solar-powered sonic mosquito repellent. The plastic handbag-like device emits a low hum which is suposed to detract pesky blood suckers. There's also the odd inclusion of a compass.
Being sonic, the loud environment of a festival may not be the most effective of places, nor is there any scientific evidence to show such devices even work, so don't bug me if you do get bitten.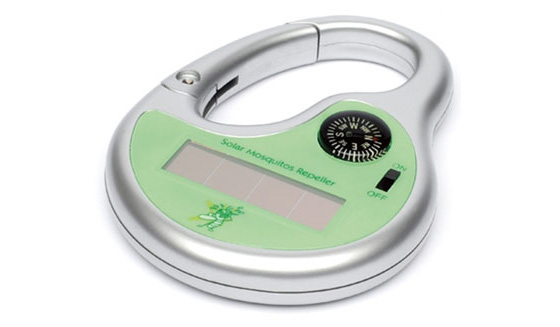 Price
£6
More Info
eBay
Waterproof cases

Stocking up on festival tech can be a costly affair, especially after selling your house to buy your Glasto ticket. Sometimes the more affordable and sensible solution is to invest in a few waterproof cases.
Whether it's a splashproof iPhone skin or protective camera bag, there's always a cheap fix out there somewhere.
Overboard offers a range of simple cases to slip into, from iPads and iPhones to zoom lens cameras. Although they seem like sandwich bags on steroids, the cases all float if dropped in water and will successfully prevent your valuables, as well as any important papers, from getting soggy.
Obviously buying a stack of cases can also add up financially, so why not just keep most of it in one safe place? While there are plenty of other sized options available, the Waterproof Backpack Dry Tube is a 60 litre floatable bag that'll keep your gaggle of gear protected.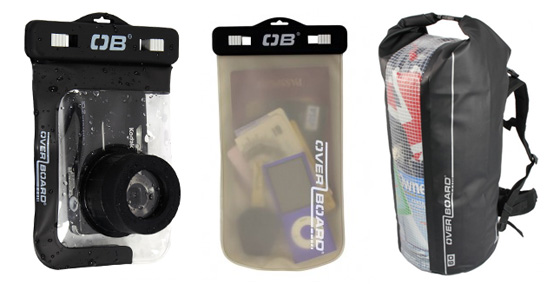 Price £30-£65 (rucksacks) £15-£35 (cases)
More Info Overboard
X-Mini Happy

After a long day of trenching from stage to stage and joining circles of bongo bashers, a tent can feel eerily quiet. The overpowering sound of morning bird calls can easily get on your nerves too, and the last thing you want to do is start winding up a crank-powered radio.
The X-Mini Happy may not survive a monsoon, but an all-in-one MP3/speaker combo is ideal for the campsite. I've taken the X-Mini to festivals in the past and the convenient size and booming sound makes it an ideal musical companion.
Although there's no display, the X-Mini Happy comes with a removable 2GB SD card for direct music playback, but can also be used a powerful speaker, maximising battery life.
If like me, all of your friends bought one after reading my MP3 player roundup, you can join forces connecting a group of X-Minis in a daisy chain. Boom biddy bye bye. ®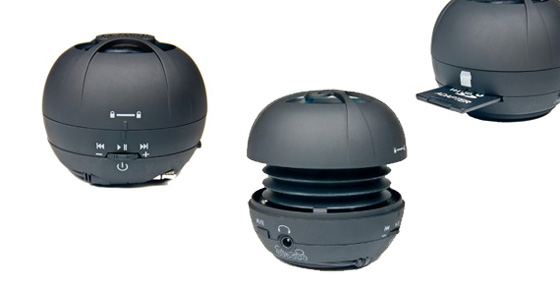 Price
£50
More Info
Advanced MP3 Players