Original URL: https://www.theregister.co.uk/2011/06/23/review_headphones_tritton_ax_pro/
Tritton AX Pro 5.1-channel gaming headphones
Four speakers per cup, anyone?
Posted in Personal Tech, 23rd June 2011 06:00 GMT
Review Gaming headset outfit Tritton may not be a household name, but you can expect its profile to grow in the UK now that Mad Catz is handling the brand. The peripherals giant picked up the specialist headphone maker a year ago, pledging to bring this distinctive marque to a wider audience.
As a consequence, it's giving a fresh push to Tritton's range-topping £150 AX Pro, one of the few genuine Dolby Digital 5.1 headsets available for console gamers.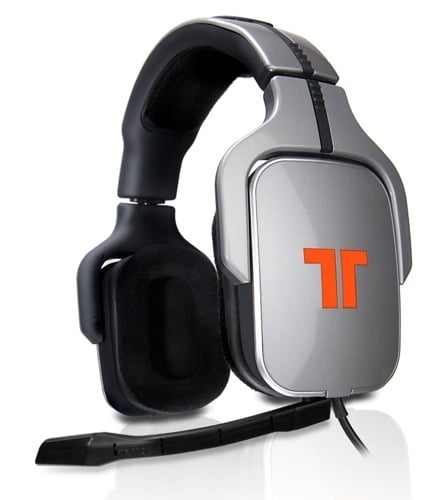 Tritton's AX Pro: top-of-the-range gaming audio?
What makes the AX Pro interesting, both from gaming and home entertainment perspectives, is that each earcup conceals four separate drivers. One is assigned to the centre channel, another to the front channel and a third to the surrounds. Low-frequency effects are delivered by a larger, fourth speaker. The idea is basically to cram a downsized sub/sat system into each ear.
The AX Pro can be used with either the Xbox 360 or PlayStation 3. Set up is straightforward for both. I used an Xbox 360, running a digital optical audio lead into the small decoder module, which in turn feeds the headphones with surround sound. The cable length is 4m. Once the kit was powered up, I was swiftly engulfed in audio. A bendy mic can be snapped in and out as you need it.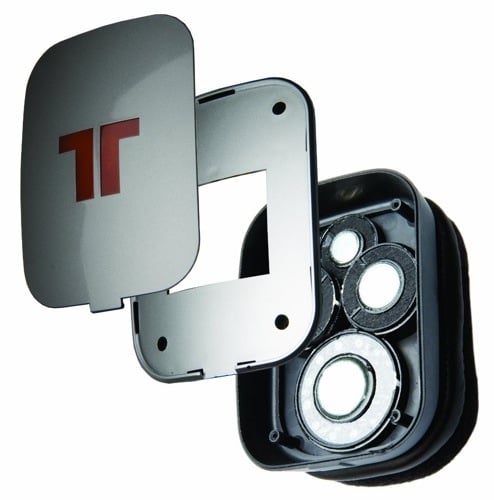 One cup, four drivers
The 'phones themselves are substantial. Build quality is high but you'll not forget you're wearing them in a hurry. The standard earpads and headrail are firm and felty. If you'd prefer something a little softer, cushiony alternatives – plus a pad removal tool – are included in the box.
Audio dynamite
Given that any kind of surround sound headphone experience is going to involve a level of compromise, the AX Pro does a surprisingly job of keeping things real. The benefit of using individual drivers for each channel, rather than rely on DSP processing, quickly becomes apparent.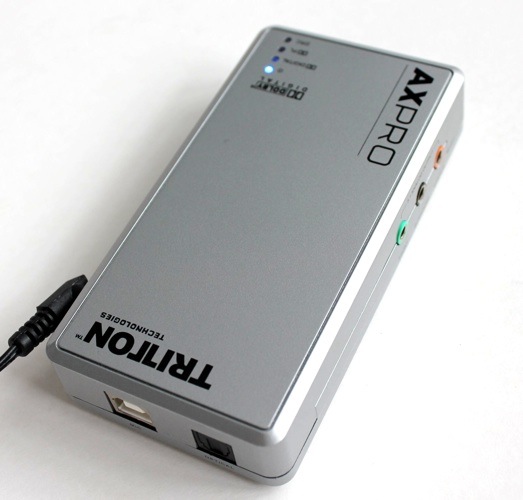 The Dolby Digital 5.1 routes the console's digital audio feed to the 'phones
Battlefield: Bad Company 2 is a standout example of surround-sound game audio. It skillfully throws everything into the mix, from watery submersion and firefights, to heavy artillery and strafing runs – and the the XP Pros rejoice in the confluence. The result is an undeniably intense sonic experience.
An illuminated in-line remote controller allows you to easily adjust the level of each channel: you can raise the dialogue, bump up the rears or goose the bass, using a simple colour-coded system. It's tempting to over-egg the LFE, simply because you can – with the result that things can get a little concussive.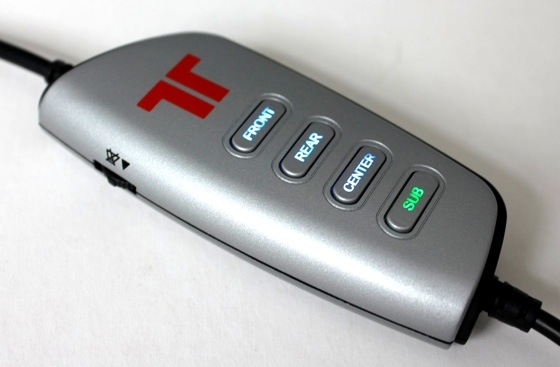 There's an in-cable volume control too
However, while the headset does a great job of steering 5.1 channels, overall fidelity is not a strength. The phones have a tendency to sound unrefined and thuddy. Music-only listening certainly suffers – I ran through a selection of albums and concluded that I'd never use these for anything other than gaming.
Verdict
If you're looking for a genuine multi-channel gaming headset, then give the AX Pro an audition - the authenticity of the 5.1 experience is compelling. However, the drivers could stand a quality upgrade. These 'phones won't begin to satisfy anyone with audiophile aspirations. ®
More Headphone Reviews

Creative
Sound Blaster
Tactic 3D Sigma
Razer
StarCraft II
Creative
World of Warcraft
Ten...
over-ear
headphones
Marshall
Major