Original URL: https://www.theregister.co.uk/2011/06/22/meego_and_betrayal_myths/
MeeGo and the Great Betrayal Myths of tech history
Twitter fanbois demand resurrection of burned-out platform
Posted in Networks, 22nd June 2011 11:41 GMT
Nokia's first MeeGo phone is amazing - why did they chuck MeeGo away?
So say Linux fanbois distraught after Stephen Elop turned Nokia's future platform into a rolling skunkworks project. They've started a petition. It's got 287 signatories. "Reality denial" doesn't even begin to sum it up.
The N9 does look quite slick, admittedly, and I won't bet against more MeeGo devices trickling out here and there - maybe even from Nokia. It may even capitalise on that enthusiast market, which may or may not be there for years. But don't look for Nokia to return to it - as Elop said recently, the company's "Plan B" is making sure "Plan A" works.
MeeGo isn't coming back, and to me, looks to have all the makings of a betrayal myth. These are popular with idealistic political groups, usually (but not always) on the Left, for whom Being Right is more important than Winning. I suppose it's been around since Marx's false consciousness (although he never used the phrase); and eventually Being Right becomes the whole point.
It's not about taking power, or making it work, but demonstrating one's splendid ideological purity. Betrayal myths are also popular with technology enthusiasts too - I know, because I've seen several.
In this narrative, a bold and brilliant piece of technology is thwarted not because it isn't good enough, or has failed in the marketplace, but because of (delete where applicable) marketing incompetence, or nefarious interference. If that interference comes from Microsoft, so much the better.
A great example is Digital Equipment Corporation's Shark network computer. I have it on impeccable authority that the Shark was killed off because Compaq had acquired DEC, and feared losing its Windows license. Microsoft played hardball tactics with OEMs on pricing all the time, even IBM found itself on the end of this. Redmond was at its most paranoid and somehow thought a cronky Java terminal was a mortal threat to its entire business. The Shark never even launched.
But the greatest Betrayal Myth of all belongs to OS/2. IBM developed this OS with Microsoft and then decided to go it alone, hoping that a vague strategy built on microkernel buzzword marchitecture - that embraced Apple, Unix and OS/2 - would be unstoppable. It wasn't even coherent.
The GUI version of OS/2 had already been on the market for almost four years by the time the first competitive version of OS/2 2.0, IBM's 32bit version, began to ship - and the opportunity to conquer the desktop had already gone.
By 1992 Microsoft had succeeded in replacing almost half of the PCs running DOS with Windows, a GUI that nobody was ecstatic about but most IT buyers thought would eventually improve enough to pass muster. They wanted a GUI to reduce training costs, run the basics, and build Noddy forms-based applications so departments and branch offices could query a database.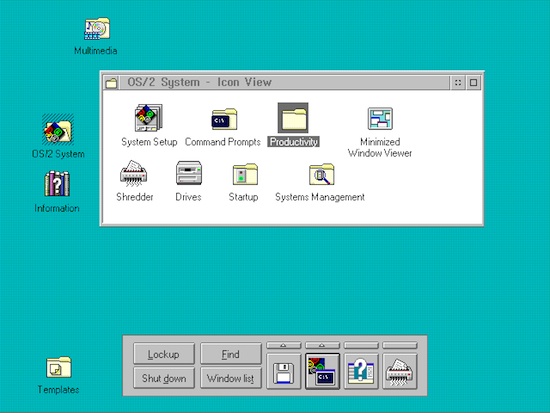 OS/2 was better than Windows - but the best doesn't always win
OS/2 succumbed to the inevitable because it didn't have enough OS/2 developers - it juggled DOS and Windows 3.1 quite well, but the OS/2 applications either weren't there, or weren't very good. Once Windows had slithered onto the enterprise desktop, it would take something an order of magnitude better and cheaper to replace it - something a "bit better" wouldn't be enough. The business world outside the IBM camp quite liked where they were, too, and weren't in a hurry to go back and limit their future choices.
After two more versions, OS/2 limped on into 1996, but IBM knew the game was up: OS/2 just wasn't popular enough. And flogging the dead horse was bad for the rest of IBM's business.
"'IBM Only' solutions have caused client/server customers to lose confidence," an internal memo later reported.
If there was the slightest chance that OS/2 had captured, say even 20 per cent desktop share, Big Blue might have kept on investing in it. But it really was too late. Yet to this day there are people who insist it was a terrible betrayal, and if only IBM had marketed it better, the users would have seen the light, and Microsoft's ascent would have been checked.
Schisms in the Church of Unix™
Linux comes with its own betrayal myth, for quite different reasons.
Unlike say the Amiga, or OS/2 or BeOS, it's seen as a political movement rather than just a neat bit of technology. This means there's a moral dimension to the evangelism. So it inevitably attracts some noisy people who are naturally disposed to Being Right, And Morally Superior.
Some of us might use Linux because (say) Ubuntu is (or was) faster and more reliable on a cheapo ULV-processor laptop than any version of Windows. Using it is not a statement of identity or political beliefs.
Alternative diets and currencies provide a similar attraction here - it isn't unusual for someone to embrace several.
Eventually being vindicated becomes more important than Winning or pleasing your users, and it becomes an end in itself. Unix has always provided an umbrella for this kind of evangelist, a place where people can subdivide into endlessly squabbling factions.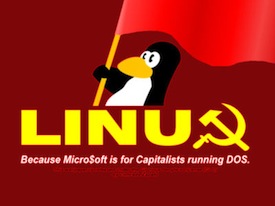 The Linux Betrayal Myth is usually deployed pre-emptively. Linux would take over the world if it only wasn't for false consciousness of Windows - just wait and see, next year there'll be a billion or a trillion desktops.
Why MeeGo isn't coming back
MeeGo isn't going to return because Nokia can't, on its own, persuade media companies and developers to back it. That's all Elop means by "ecosystem" - markets of content, and developers. Most analysts are doubtful the Microsoft-Nokia combination will even be able to squeeze home into third place, let alone fourth. And if Android (as I expect) forks, those runners-up places in the market will be taken by flavours of Android.
By the end of the year, Nomura predicts, Nokia will be the third largest mobile phone company in the world, with (still) the weakest smartphone portfolio. Be realistic: that's not going to attract developers en masse.
The petition has overnight amassed 734 Twittering signatories. That's 25 an hour.
It must only be a matter of time. You must be worried, Mr Elop... ®