Original URL: https://www.theregister.co.uk/2011/06/22/hp_oems_quantum_i6000/
Tape lives! Quantum books library deal with HP
HP to OEM midsize, 8 petabyte data fridge
Posted in The Channel, 22nd June 2011 13:32 GMT
Tape lives - Quantum has won HP as an OEM for its high-end Scalar i6000 tape library.
The i6000 isn't as high-end as IBM's TS3500, Oracle's StreamLine 8500 or Spectra's T-Finity, only having 5,332 tape cartridge slots. If you think that's a lot, contrast it with the 8500's 10,088 in a single system and the T-Finity's 30,000 plus in a single frame.
The i6000 is a mid-range enterprise tape library by these standards, and has up to 96 drives, an almost 8PB native capacity, and it supports LTO-format tapes, HP and Quantum both being in the LTO consortium, as well as Quantum's old DLT and SDLT formats.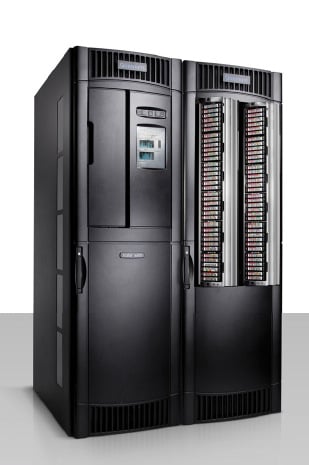 Quantum Scalar i6000 tape library
It has dual robotics coming and improved tape media quality and contents checking, bulk cartridge load, WORM, encryption support and other enterprise features.
This deal is a sweet one for Quantum CEO Jon Gacek, who only recently announced Quantum's first acquisition in many a long year, Pancetera. The company's business health and sentiment is turning positive very fast. Seemingly a tipping point has been reached, and all of former CEO Rick Belluzzo's hard work is paying off.
Yesterday Quantum announced its first StorNext M330 appliance, StorNext being its file management suite supporting software file sharing and heterogeneous archiving, and popular in the multi-media word. Apple is including StorNext functionality in its coming Lion Mac OS refresh, and there is the NetApp StorNext deal in the bag as well.
The HP tape library deal supports the idea that big data archives will rely at least in part on tape, as its costs are lower than disk. Disk advocates would dispute this, saying, for example, that the longer recovery times associated with tape have a cost that needs taking into account.
Despite that, this HP deal validates the idea that tape has a future, and also validates the idea that Quantum has a future. Expect good things from Quantum's next few quarterly results statements. ®