Original URL: https://www.theregister.co.uk/2011/06/22/adios_kepler/
Euro space truck consigned to flaming death
Johannes Kepler burns up over Pacific
Posted in Science, 22nd June 2011 09:17 GMT
The European Space Agency yesterday sent its space truck Johannes Kepler to a fiery death over the South Pacific in a perfectly-executed "destructive re-entry" at the end of the spacecraft's four-month mission to the International Space Station.
ESA's second Automated Transfer Vehicle (ATV-2) plunged into Earth's atmosphere after two thruster burns designed to bring any remaining debris down in an uninhabited stretch of ocean. ESA explains: "Just before hitting the atmosphere, Johannes Kepler was commanded to begin tumbling to ensure it would disintegrate and burn up safely."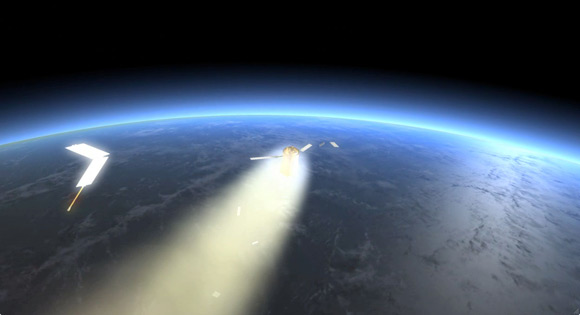 As predicted, a few pieces did survive the intense heat to hit the water at around 21:00 GMT last night. The substantial Russian docking adaptor and main engines came down in an area roughly 6000km west of Chile.
As well as 1,200kg of ISS waste and redundant hardware, the Johannes Kepler was carrying a prototype "black box" which recorded the spacecraft's last moments, grabbing data on "acceleration, roll, pitch and yaw rates, temperatures and GPS coordinates". Once free of the disintegrating ATV, it continued a solo descent, protected by its own heatshield, before making a last call to send the data via the Iridium satphone system.
ESA hopes this info "will help to predict what happens to space hardware as it re-enters and comes apart under aerodynamic heating and loads".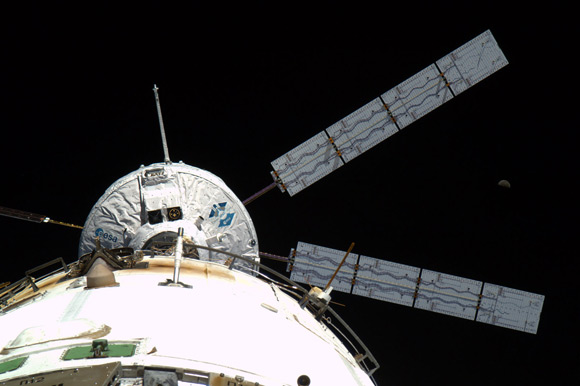 The 20-tonne Johannes Kepler blasted off from Kourou spaceport in French Guiana on 17 February, carrying 4,534kg of propellant for ISS reboost and attitude control, 1,600kg of dry cargo, 850kg of propellant for the Zvezda module and 100kg of oxygen.
Alberto Novelli, head of ESA's ATV Mission Operations, said of the successful mission: "We broke many records with ATV-2. Not only was this the heaviest payload ever launched by ESA and the Ariane 5 rocket, but the ATV's engines also achieved the biggest boost for human spaceflight since the Apollo missions to the Moon: we raised the Space Station's orbit by more than 40 kilometres."
Nico Dettmann, head of the ATV Programme, chipped in with: "ATV has shown again its capabilities in servicing the Station and we are looking forward to the next, Edoardo Amaldi, which will be shipped to Kourou in August for launch in early 2012." ®